Hearts Melt as Rescue Puppy Makes First Journey Home: 'Love at First Sight'
The heartwarming moment a rescue dog went to her new home for the first time has melted hearts.
Luna went to live with owner Bryony Knight in the U.K. in December 2021, when she was adopted from a nearby shelter. Three and a half years old, she is now a huge part of the family.
"I wanted to capture the memory as it was probably the happiest day of both of our lives," Knight told Newsweek.
The Staffordshire bull terrier cross was adopted from the local rescue center, and Knight said that it was "love at first sight."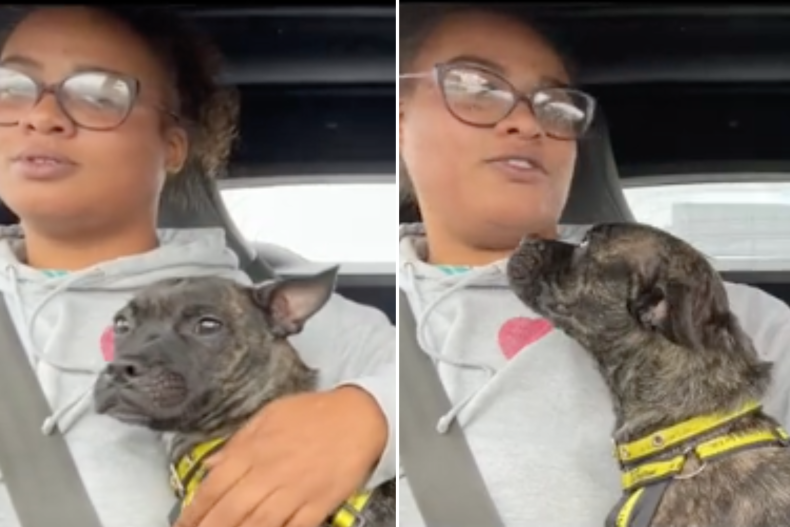 "When we met at the rescue center, we had an instant bond and understanding," said the owner. "It was like she knew, this is my mom and she will do anything to show me the love and protection I deserve."
In the U.S., more than 6 million companion animals enter shelters each year, and while many will find their forever homes, for some it takes longer than others.
Recently there were tears as a shelter's longest resident, Fergie, was finally adopted from the APA Adoption Center in Missouri.
Others have an even longer wait, like a white poodle called Zoe who gained viral attention when her adopter didn't show up.
Knight shared the footage from hers and Luna's first drive together on TikTok where it has been viewed over 160,000 times and has more than 17,000 likes.
Delighted viewers shared their joy at seeing Luna's happy ending. One commenter said: "I love adoption stories," while another wrote: "Wow, the way she acts with you! She knows she's safe and gonna have a great life."
"Not me crying," wrote another TikToker, while one said: "She knows that you're her safe place her mom her world. it's so beautiful."
When they got home, Luna settled quickly. "She's a huge part of the family," said Knight. "I can't remember life before Luna. She was the missing piece of my heart, and I think the feeling is mutual."
Affectionate from the moment they met, the pair are enjoying making memories together and going on plenty of adventures.
"She was so affectionate from the moment we met, she just wanted to be close, and make memories. Although she is a rescue dog, she certainly rescued me just like I rescued her and I think that's part of the beauty of our mummy, puppy relationship," said the owner.
Do you have funny and adorable videos or pictures of your pet you want to share? Send them to life@newsweek.com with some details about your best friend and they could appear in our Pet of the Week lineup.