Heidi Cruz Says She Isn't Bothered by Donald Trump's Personal Attacks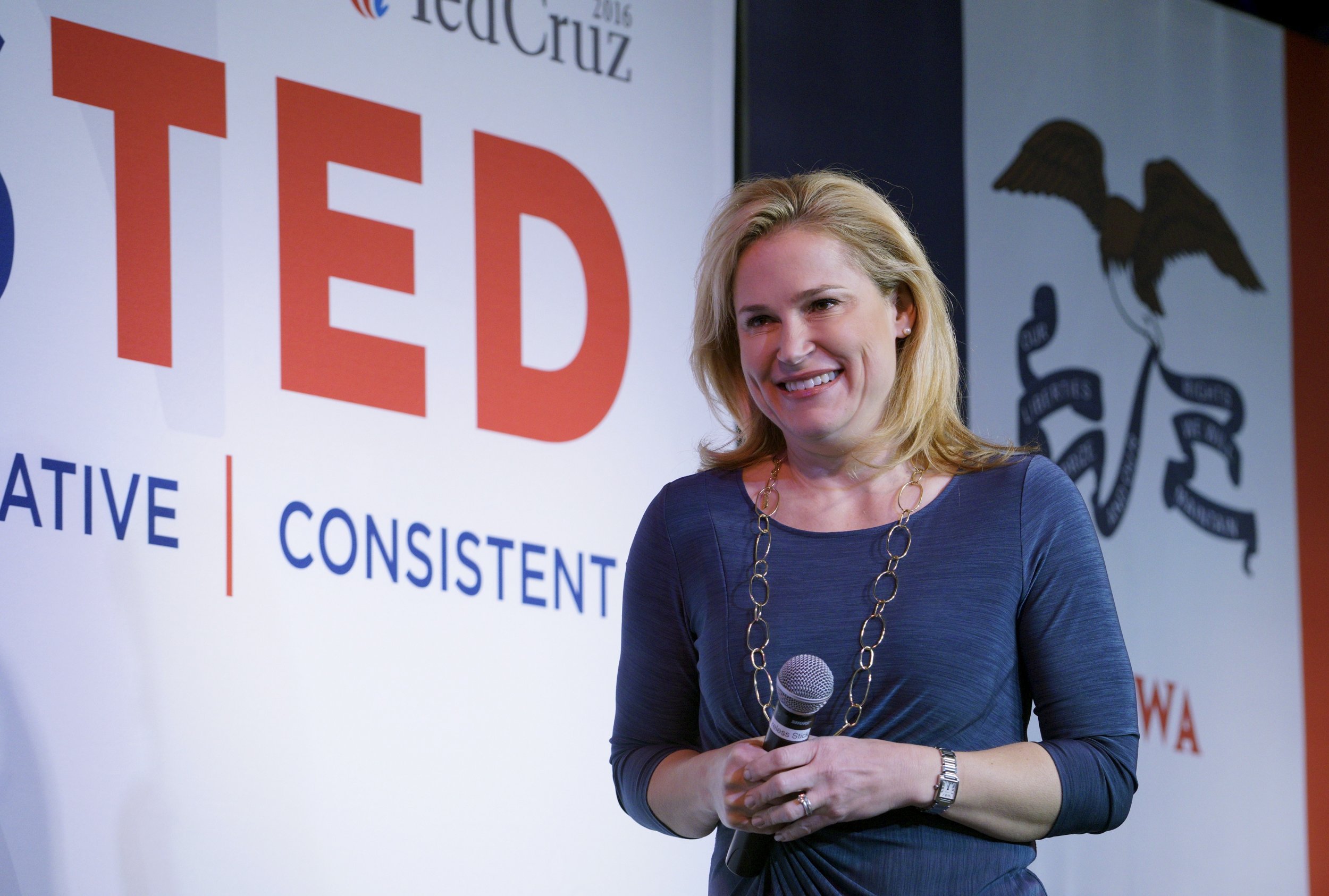 Heidi Cruz, the Harvard-educated wife of presidential candidate Ted Cruz, said she isn't bothered by Donald Trump's personal attacks.
Heidi Cruz sat down with Fox News's Megyn Kelly for a 15-minute interview Tuesday. It marked her first televised interview since reports surfaced last month in the National Enquirer accusing her husband of having five extramarital affairs.
"It's garbage," she said. "These silly barbs and made-up stories did not come out early in the campaign because [Trump] felt he was doing OK."
The Texas senator has denied the tabloid story and blamed Trump, his top Republican opponent, for creating the salacious news. The New York billionaire has denied having anything to do with the infidelity rumors.
"I have no doubt that these things are made up in a certain place for a certain reason," Heidi Cruz said.
Shortly before the Enquirer article was published, Trump and Ted Cruz got into a Twitter fight about their wives that lasted for days (dubbed "the wife wars" by the media). Trump falsely accused Ted Cruz of creating an advertisement with the image of his wife, Melania, posing naked for a photo shoot with the British GQ magazine. But in reality, the ad was created by an anti-Trump super PAC.
Then Trump threatened to "spill the beans" on Heidi Cruz. She later responded, telling an audience gathered in Wisconsin: "You probably know by now that most of the things that Donald Trump says have no basis in reality."
[Related: Who Are the Spouses of the Presidential Candidates?]
On Tuesday, Heidi Cruz dodged Kelly's question asking who alerted her to Trump's "unkind" messages, after noting that she doesn't use Twitter.
"It didn't impact me in the least. I have one job on this campaign, and that is to get out and tell the voters who Ted Cruz is," she said. "It didn't bother me a bit."
It remains unclear what Trump meant in his spill-the-beans message. But speculation focused on a heavily redacted police report that explains how, in 2005, an officer responded to a call about a woman with her head in her hands sitting just feet from an expressway in Austin, Texas. The individual reportedly identified herself as Heidi Cruz.
She since hasn't elaborated much on the incident, but she told The New York Times earlier this year that "we all have rough patches." On Tuesday, she said she encourages Americans to remain humble as they endure transitions in life.
"What was really humbling was to realize that my ability to contribute and to serve others was not oriented toward a geography. It was oriented toward developing the talents that God had given me and my partnership with Ted," she said.
A year before the reported incident, Heidi Cruz had left Washington, D.C., and her role in the George W. Bush administration to join her husband in Texas so he could pursue an elected position. She had worked for the U.S. trade representative's office, the Department of the Treasury and on the staff of the National Security Council.
In his 2015 book, A Time for Truth, Ted Cruz wrote that his wife's move to Texas had "led to her facing a period of depression," according to the Times.
Now, more than a decade later, she is on a leave of absence from her position as a managing director at Goldman Sachs in Houston while her husband seeks the Republican nomination for president. She leads his fundraising operation and campaigns vigorously for him. She often speaks at her own rallies to highlight her husband's views and meets one-on-one with supporters.
Ted Cruz, 45, and Heidi Cruz, 43, married in May 2001 and have two young daughters, Caroline and Catherine. Their family appeared in at least one campaign ad, titled "Ted Cruz's Christmas Classics," in which the senator reads politically related holiday stories to his daughters, alongside his wife.
Heidi Cruz said she got "a little bit itchy" when her husband decided to run for president last year because they had just gone through his Senate race. But "it hit me one day," she added. "Ted is just too talented to be out of the debate."
During her interview, Heidi Cruz said if she becomes first lady, she hopes to work with children for entrepreneurship and for school choice.
The couple will participate Wednesday night in a town hall with CNN in New York City, less than a week before the state's crucial April 19 primary. The network also hosted town halls with Trump and John Kasich this week.