Streamer HelenaLive Speaks Out After Being Banned From Twitch For Saying "There Are Only Two Genders"
Streamer Helena Karamanidou, better known as HelenaLive, normally spends most of her time playing video games, chatting with fans while streaming gaming and IRL content for her 300,000 followers. But things weren't normal on February 5, when the 23-year-old from Greece claimed she was banned on Twitch for saying "there were only two genders." Metro, Dexerto, ComicBook.com, right-wing news outlets and a bevy of other content creators all covered the story, though Karamanidou provided no comment.
On a cold February evening, three days after Karamanidou made her announcement on YouTube, she spoke to Newsweek.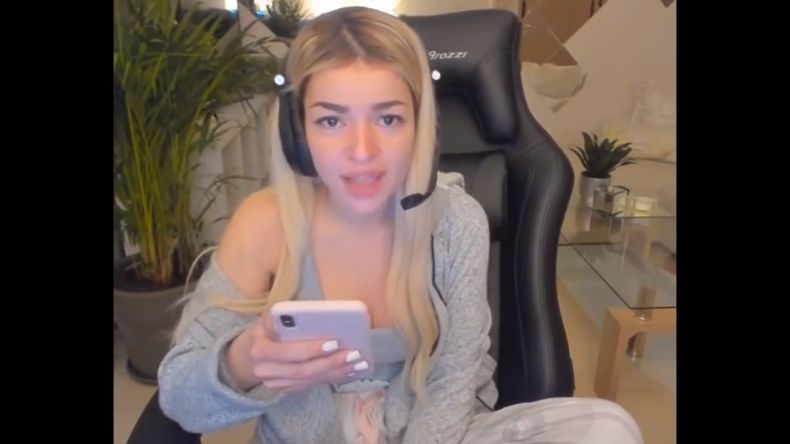 "I just want my channel back, it's all I've known for four years. I'm just going to try and do different things on the internet, but all I really want is my channel back," she said.
Twitch will not comment on individual account bans. Karamanidou's offending content has been removed from the site, which only leaves her version of events.
HelenaLive: The Truth Behind the Troll
In high school, Karamanidou started watching streams, like Sodapoppin's content for World of Warcraft. She quickly fell in love with the format and started a WoW stream in 2014. She locked herself in a room for anywhere from 12 hours to two days straight, and her parents (who were originally skeptical) gave in to her gaming and streaming habits. Her stream quickly picked up steam, and Karamanidou said by the time she was out of high school streaming was basically her full-time job.
When people decide to become streamers, they have to figure out who they want to be in front of their webcam. Some streamers decide to create exaggerated versions of their own personas and turn the vlogger energy up to 11. Others portray an entirely falsified version of themselves, meant to elicit strong emotions from their fan bases. Streamers like Pink Sparkles, Nicktron and Kaceytron aim to be "heels," garnering a fan base that loves to trash talk them for their outrageous behavior and controversial takes.
"I was trying to be an entertainer that people could, not so much relate to, but escape from the reality of how people usually are on the internet," Karamanidou said. "I was trying to be unfiltered and just say things as they were. I wanted to do something different on Twitch and it kind of worked so I kept at it."
HelenaLive's streams might confuse someone who doesn't understand the memes, Trihards and Omegalulz of Twitch. Karamanidou found that "roasting" her viewers, like questioning their use of free time or the size of their manhood, helped her expand her following. Clips of her raging, flaming and throwing fits started to pull in views. "I started thinking that maybe that's what my content should be since so many people liked it," Karamanidou said. "I started forcing myself to make content that should make me popular and grow my channel, but it wasn't something I was ready to do properly."
Viewers could donate money to have their messages appear on stream for Karamanidou (and the rest of chat) to read. Some messages were supportive, but many were degrading, depraved and outright rude. Her responses to fans were often hostile and insulting. "If you're anything like an incel, lonely person, a fat idiot, a weirdo, a smelly guy, I'm not streaming for you," she said on a stream in 2018 talking with her fans.
The combative tone and outrageous behavior attracted viewers who wanted to insult her, donating money to send messages like "die, die, die" or long strings of sexual expletives. Karamanidou would often play up her reactions to these donations, screaming and crying in (sometimes fake, sometimes real) disgust. These performances were how she made her money.
"I don't necessarily get angry," Karamanidou said. "Unfortunately, some of my viewers like to get reactions from me and it took a long time for me to realize that people don't actually hate me, it's just what I've brought upon myself, to have people who always want to see a reaction from me."
In April of 2016, the HelenaLive channel received its first month-long ban. Karamanidou was playing DOTA 2 and a fan had donated with a YouTube video for her to listen to. Queen's "We Will Rock You" played in one ear, while the other side blasted a racial expletive. "Being trolled on stream is something that happens a lot to me," Karamanidou said in the same video, apologizing profusely. "I am very sorry for what was heard in the song." The moderators at Twitch temporarily banned her account, even though the offensive content had been sent by a viewer.
The abuse from fans started to take its toll on Karamanidou's mental health. She said she dissociated from the people watching her while streaming. "It is very stressful, because you only see user names and so you really don't feel like that's a human being writing that to you," Karamanidou explained. "You get detached from that very quickly if you don't keep reminding yourself."
As the HelenaLive persona started to get more popular, Karamanidou transitioned away from video games to the IRL section of Twitch. She would cook with her mother, dance to songs or just talk with fans. This wasn't the sort of content she wanted to make, but she felt she had to take part in order to capitalize on the growing IRL trend. No one forced her to switch to this type of content; the money was good which was enough for her.
"When you enter a new world online, you have to try and adapt and find a way that works," Karamanidou said. "Once you do, you want to keep doing it the way that you've always known how to do it. When you try to leave that and change your content a little bit to fit your current situation, it's hard." Fans who liked HelenaLive unironically were put off by her new content, while newcomers to her stream were giving her "double the hate," she said.
"There are Only Two Genders"
Towards the latter half of 2018, HelenaLive shows consisted of a few hours of League of Legends or DOTA 2 and what Karamanidou describes as "conversations with her fans." She would have controversial takes, like saying a popular movie or game was terrible, and try to basically fight with her viewers. She couldn't tell if they enjoyed arguing with her or just wanted to see her angry.
In December 2018, HelenaLive's channel received a second month-long ban, this time for hate speech. The offending video has since been deleted from Twitch. Karamanidou called it a "conversation with her fans 'about broken families and children.'"
"In My 600 Pound Life, we can see mothers in wheelchairs and their children are caring for them, I was disagreeing with that and saying what I believe." Karamanidou claims moderators at Twitch classified her mockery of disabled mothers as hate speech, and that this is the reason her account was banned a second time.
One month later, in early January 2019, the HelenaLive channel received it's third ban and second in two months for hate speech. The clip and channel have been deleted, but Karamanidou said the incident involved a donor asking on stream if she believed there were only two genders. She agreed and tried to move on with the conversation. (Newsweek contacted Twitch to view the clip, but has received no response.)
"There were people trying to tell me that I might be wrong saying this, but I brushed off the topic," Karamanidou recalled. "I was shocked that this happened because I was just having a conversation. I wasn't actively trying to hate any specific group or send hate to any specific group. I didn't know that sentence meant anything, the conversation just moved on."
Gender identity issues are a delicate subject, frequently misunderstood by those outside of them and deeply personal to those within. Gender Spectrum is an advocacy group that provides education and training on gender sensitive topics. On their website, they break down why sex and gender are not the same thing:
Gender is personal. Each dimension of gender is informed by our unique intersection of identities, experiences, and personal characteristics... Our gender is personal because, while we share some of these aspects of self with others, the way that all of these identities, influences and characteristics come together is unique to each of us.
Natalie "ContraPoints" Wynn is a former adjunct philosophy professor, trans woman and YouTuber who makes content explaining the complicated world of gender, identity and a myriad of other topics."Insisting there are two exact biological genders leaves us unable to accurately describe the anatomy of people who can't conform to our preconceived conceptual schema," Wynn says in a video essay titled "What is Gender?" "If you still want to insist on strictly binary sexual categories, than you are trying to force reality to fit your preconceived conceptual scheme instead of adapting your concepts to fit reality."
"How do you feel when you lose your job after four years? I felt anger at myself for not taking better care of myself as a person"
Karamanidou got an email on February 5 from a Greek Twitch representative telling her that her account had been permanently banned. In the email exchange, which she leaked on a livestream the same day, the employee says "I understand your concerns and that you are trying to make a change. Unfortunately, the last chance is already gone since you've already been banned several times earlier and warned that the behavior you are showing is not allowed on Twitch."
Twitch has a very strict ban policy, with users receiving incremental strikes depending on the severity of their claim. The Twitch hub on account suspensions says "after two strikes, the next violation will result in an indefinite suspension, but some severe violations will result in an indefinite suspension on the first violation."
Other streamers have shared potentially offensive perspectives on the "two genders" topic in the past did not received bans. In a clip from July 2018, Sodapoppin mentioned on stream that he "wouldn't want to put a sticker on (his car) that says 'there are only two genders' even though there are only two genders and (he) agrees with that." The clip is still on Twitch, and has not been flagged or reported. It's possible Karamanidou said something more inflammatory than what she shared with Newsweek or this was, as she claims, merely an excuse to remove her from the platform because of her controversial views.
In the livestream, which has been viewed more than 120,000 times, Karamanidou blasts the ban as unjust and unfair. "They have every right to take my channel away, but it just breaks my heart that as a female, other females are allowed to show their tits and get a 12-hour minimum ban, but speaking about biology or what I was taught in my religion is wrong," she said in the video.
Karamanidou told Newsweek she lost control and did that livestream out of anger, but wants to learn from her mistakes. "How do you feel when you lose your job after four years? I felt anger at myself for not taking better care of myself as a person," a tearful Karamanidou explained. "The reason I got banned really hurt me, I'm not a hateful person and I never mean bad intentions to other people."
She claims to have done research on "the difference between transgender and transexuality," that "people can identify as many different types of genders." She said she was trying to be a "comedian" without any malicious intent. She also admitted that she "feels bad" about doxxing the Twitch employee by sharing his personal email on YouTube, but believes "people would have thought I fabricated [the story] since I have such a toxic community."
Streamers getting banned from Twitch isn't especially rare. Content creators with self-claimed "toxic" communities like Ice Poseidon, Hyphonix and Gross Gore have all been barred from creating content on the platform. Karamanidou believes that those at Twitch did not like her "toxic" content and were "looking for a reason to ban" her. According to the Twitch, accounts that break "the Terms of Service" and Community Guidelines" can be suspended, but it's up to moderators to determine how they should be determined and enforced.
After the live stream, alt-right YouTube skeptics and Twitter trolls took HelenaLive's ban personally. "The ban is stupid, but a lot of people believe she's just a dickhead," said one gaming YouTuber. "People are getting banned for stuff I learned in Kindergarten," said another. Before this scandal, Karamanidou claims she had no idea what the American "alt-right" actually was. Naivete or malicious intent, she believes that the story is "getting picked up by the wrong sides and the comments that I read on the articles are heartbreaking."
Moving forward, Karamanidou does not know what she wants to do next. She has plans to expand her content, potentially working on a podcast focusing on sexuality and relationships.
Twitch expects streamers to adhere to a strict set of vague guidelines that can be at odds with its popular creators and its legacy. Since the early days of Twitch, then known as Justin.tv, edgy content has been a constant on the platform. Amazon's acquisition of Twitch changed the landscape, and once-dominant edgelords suddenly found themselves running up against moderators and bans. There will continue to be bans and confusion as long as Twitch tries to reconcile a system that punishes creators for being edgy and offensive only after it rewards them for doing exactly that.