Here Are Trisha Paytas's Biggest Controversies of 2020, Before Her James Charles Slam
Certified Internet troll Trisha Paytas is known for getting involved in some wild drama, even when it has nothing to do with her. It's part of why the Intenet seems to both love and hate her. She's known to be problematic but represents redemption, in a way. Paytas still has a fruitful YouTube and TikTok career, despite being "canceled" hundreds of times.
Paytas's time in the spotlight began in 2007 with the birth of her YouTube channel. Since, she's branched into music, TikTok and porn, each of which has involved its own unforgettable drama.
And the controversial moments started early. From her use of the N-word while singing "F*** Tha Police" back in 2011, to causing widespread outrage and offense over her "coming out" as transgender, but still a woman, in 2019, Paytas continuously commands the spotlight for things that, intentionally or unintentionally, offend someone.
Things have changed a bit for Paytas, though. It appears, over the years, that she's grown some.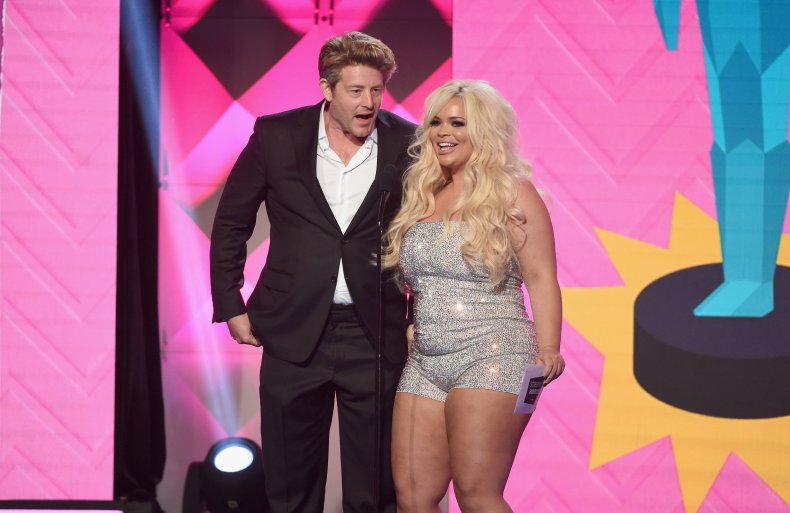 In 2020, Paytas not only denounced using the N-word, but she also voted for the first time. Going to the polls, in her view, was a step in the right direction—using her voice for good. She also admitted to starting therapy in 2020, which led Paytas to remove some longstanding controversial videos from her YouTube channel.
On Friday, Paytas spoke on her personal changes via her TikTok account.
That doesn't mean that her posts are entirely lacking drama, though. Her recent flare-up with James Charles, which took place on Twitter on Thursday and Friday, was just one of the many questionable things that Paytas was a part of this year.
As the creator continues to apologize for, and attempt to make up for, past wrongdoings, let's review some of her biggest 2020 Internet flops.
March 12: "Meet My Alters"
In March, Paytas uploaded a video claiming that she had Dissociative Personality Disorder (DID) and had multiple personalities. The video, titled "Meet My Alters," was uploaded on March 12, according to Insider, though it's since been removed.
Some people who have actually been diagnosed with DID claimed that Paytas' description of DID was harmfully misleading. They also argued that Paytas endorsed offensive stigmas about the disorder. Criticism continued when the content creator uploaded a second video showing how she could "switch identities" on camera.
Things accelerated even more when a DID YouTuber, DissociaDID, called out Paytas for self-diagnosing the condition. Paytas shot back with criticism, calling the YouTuber "crazy." That choice of words further upset many mental health advocates.
August 10: David Dobrik Beef
While Paytas has a rocky history with famed YouTuber David Dobrik, she called him out again in August for apparently being a bad friend. Paytas didn't dive deep into the claim, she was simply following a TikTok trend when she brought up Dobrik. "You think you can hurt my feelings?" her video text read. "I was friends with David Dobrik."
Their feud started in 2019 when Paytas compared Dobrik to the late serial killer Ted Bundy. In that same video, Paytas claimed that Dobrik made his friend, Jason Nash, dump Paytas earlier in 2019.
"Even though Jason's creepy and disgusting, David's on a whole other level of being an actual horrible person," Paytas said in the since-deleted YouTube clip.
Much like with the recent Charles commentary, some fans assumed that when Paytas brought up Dobrik with no real prompt, she was attempting to step into—or start—drama between herself and the famous YouTube "Vlog Squad."
September 2: Paytas Defends Shane Dawson
YouTuber Shane Dawson was publicly canceled this year over past, offensive jokes, one of which involved him pretending to masturbate over a poster of 11-year-old Willow Smith. Even the Smith family became involved, and subsequently, Dawson stepped off of his YouTube platform.
People weren't thrilled when Paytas swooped in to defend him.
"Shane is YouTube," Paytas said of her friend. "He's the most f**king creative and most talented person on planet Earth. But aside from that, so f**king nice and so f**king empathetic. Honestly, f**k the internet. And I can't wait for his comeback, and it may not be YouTube, but his creative comeback. And I can't wait for all these fake-a** b***hes to come back around and praise him and s**t. No."
Paytas targeted Jada Pinkett Smith, too, with personal attacks and allegations that suggested actor Will Smith has a past with some of her friends. "Jada Pinkett Smith, really?" Paytas said. "How about worry about your daughter being naked in bed at 13 with her 20-year-old boyfriend on the Internet? How about worry that? How about worry about your f**king cheating husband f**king my male dancers when they didn't want to."
September 17: Offensive lunch break
In September, Paytas was slammed by some people online who took offense to her calling her lunch from a Jewish store a "Jew lunch" and "Jew food." YouTube comments on the video asked Paytas to consider her wording. "[I]t's middle eastern food... not 'jew' food... literally grow a brain.." wrote one YouTube user.
September 27: "Prob Offensive"
September brought more views and criticism for Paytas, who rose to TikTok fame when she started her own trend. In a clip, Paytas dressed in an Egyptian-inspired costume and boogied to Steve Martin's song "King Tut," which was dueted across the platform.
What really picked up from the video, though, was Paytas's slightly self-aware caption. "[W]ill prob delete. Prob offensive," she wrote alongside the video, which had over two million likes at the time of this article's publishing. The video became a meme on TikTok, and app users couldn't seem to escape Paytas's version of the song for weeks, no matter how much they scrolled. It's remains one of TikTok's inside jokes as 2020 presses on.
November 19: James Charles and D'Amelio Feud
Paytas jumped into the conversation around Charli D'Amelio's sudden follower drop on Thursday. While D'Amelio didn't respond to Paytas, makeup YouTuber James Charles did. The pair entered into a social media exchange in which Paytas called Charles, who's 21 years old, "predatory" for his friendship with 16-year-old D'Amelio.
Charles fired back with a TikTok that called out many of Paytas's career-spanning controversies. She later claimed on Twitter that Charles had used the N-word.
To catch up on their full drama, you can read more here.