Here's What the Trucker Convoy Plans to Protest in California
The trucker convoy that has spent the last three weeks in the Washington, D.C. area has decided to head west, to California.
On Sunday night, during a livestream, one of the organizers of the "People's Convoy"—Mike Landis—proposed that the group travel to the Golden state. Landis read off several bills—10—that he mentioned are up for a vote next week.
On their website, ThePeoplesConvoy.org, 10 bills are listed with the headline "10 CA Bills You Must Oppose."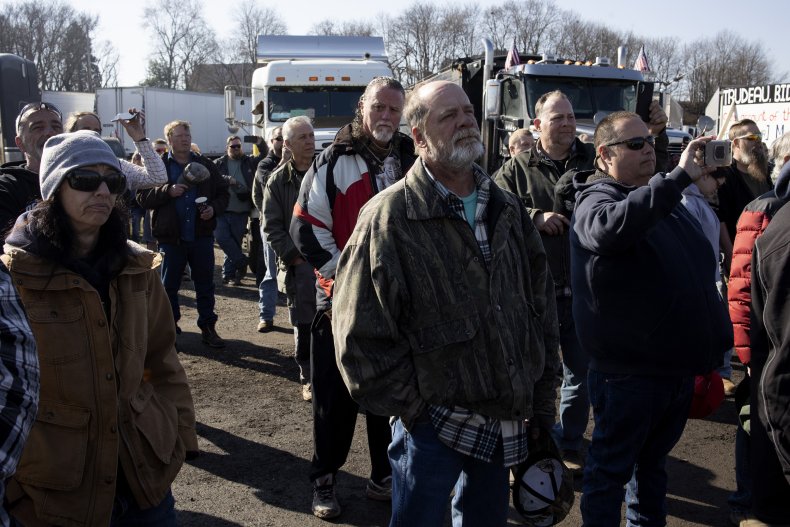 Of the bills the trucker convoy plans to voice their opposition to include, AB2098, which they say would classify "anti-COVID medical opinion as 'unprofessional conduct' subject to discipline by the medical board."
Additionally, the group is also against SB866, which they state would lower the age of vaccine consent to 12 without parental consent or knowledge. The group is also upset with SB1464, which, according to their website, would force law enforcement groups to uphold and "enforce public health guidelines or lose their funding."
The group is also upset by AB1993, which according to the group, "requires proof of CV19 vax for all employees & independent contractors to work in CA."
SB1390, another bill under consideration in California, "prohibits any person/entity from making statements government deems untrue or misleading by any means including on internet/ads," according to their website.
On their website, they call these "universally dangerous" and would affect nearly every area of the lives of California's residents.
"If passed, these bills will change everything for people who want to Live, Work or Learn in the State of CA while exercising their right to medical freedom," the website reads.
In his livestream, Landis said those 10 bills are "the reason we're here."
He went on to say that "we need to stop stuff like these bills from getting in place otherwise the rest of us that don't live in California, are going to end up subject to the same situation."
Landis then mentioned that the issue with the 10 bills under consideration in California "aren't very well known."
"They're public knowledge but they don't ever advertise them because well, I don't think I need to explain why," Landis said.
Landis then proposed to the group the idea of going to California. His suggestion was met with a positive reaction, cheers and yells, seeming to signal their approval of traveling west.
However, before leaving for California, Landis stated that the group would travel to Harrisburg, Pennsylvania early Monday morning for a health freedom rally. Following Monday's rally, the group would then begin making preparations for their journey west, Landis said.
On their way back across the country, Landis mentioned that the group would take a more southern route, given the rather chilly conditions they were experiencing Sunday evening.
During their three weeks in the nation's capital, truckers would regularly travel around in and around the beltway in Washington, D.C. as they protested COVID-19 mandates, according to multiple outlets.
Newsweek reached out to The People's Convoy for comment.