Here's Who Biden Might Pick for OMB Director as Neera Tanden's Confirmation Looks Unlikely
The Biden administration is heading back to square one as the chances for a Neera Tanden confirmation, the president's initial pick for director of the Office of Management and Budget (OMB), seems increasingly unlikely to gain enough Senate votes.
While the White House has said they have no intention of withdrawing Tanden's nomination, officials are looking for a fallback and are expected to move quickly after the vote.
The nonpartisan OMB plays a vital role in estimating the cost of any piece of legislation and will be crucial in terms of getting policies through Congress—all of which could be held up if President Joe Biden fails to confirm a director to lead the agency.
Few were surprised that Democratic Senator Joe Manchin announced he would vote against her confirmation, essentially opening the floodgates for others and giving his party someone to point to if critics complained that Democrats voted along party lines to approve all of Biden's Cabinet-level picks.
Shortly after, Republican Senators Mitt Romney and Susan Collins also announced that they would vote against Tanden, making it difficult for Biden to secure the one GOP senator he would need to bring Tanden's confirmation vote back up to 50-50.
Ann O'Leary, who had originally been floated as a potential alternative to Tanden in November, is once again being considered for the position. She served as California Governor Gavin Newsom's chief of staff up until late December, but some say her former role may present the White House with another challenging confirmation hearing.
David Leblang, a professor of politics and public policy at the University of Virginia, told Newsweek that O'Leary "would suffer in a confirmation hearing because of her tie to Newsom. Even though she left in December, I think that's still the stamp she will be carrying for a bit. The Republicans are out for whatever sort of help they can acquire during these confirmation hearings, so I think that might be a pretty easy one for them to just attack in terms of California's management of a series of things."
Over the weekend, liberal political magazine The American Prospect reported that Gene Sperling, two-time director of the National Economic Council, is also being considered. He has been a progressive veteran of the Clinton and Obama administrations and was one of the few senior Biden campaign aides who did not land a top position.
But Leblang, who also heads the Global Policy Center at UVA, said a Sperling nomination would fail to speak to the left wing of the Democratic party.
"I don't know that the Warrens and the Sanders would be as interested," he said.
Rather, Leblang said he expects Biden will pick someone who is not only qualified, but also speaks to a wider Democratic base.
"I don't think he's going to pick somebody who is a centrist," he said. "What's interesting is that the current nominee, she was criticized by the left because they saw her as being too close to Wall Street. I think he's got to pick somebody who is going to make Wall Street breathe a sigh of relief, but also speak to the distributional concern that the left has."
"He'll try and pick somebody who's not going to be a lightening rod," Leblang added. "He's got so many battles to fight in terms of confirmation hearings, it's a matter of working through and getting these folks appointed so the legislating can commence."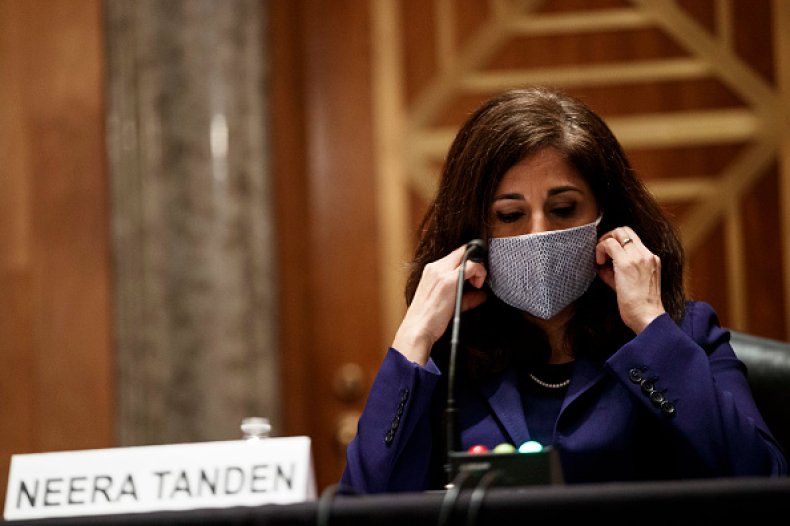 There has also been speculation that the White House might elevate Shalanda Young from her current nomination as deputy OMB director. Young, a Black woman, would be the Biden administration's second chance of confirming a woman of color for the position—a historic first.
But Leblang said Biden's decision to stand by Tanden's nomination, even as chances of a confirmation began to crumble, would signal that the new administration will move away from promoting Young.
"It wouldn't surprise me if they went and picked someone completely new, especially for political reasons, because it's important that Biden has stood by [Tanden] even though Manchin said he was going to vote no," the professor said. "He stood by her. He's got some skin in the game and elevating the deputy at this point in time might be interpreted as a sign of political weakness."
Names that Leblang does think will emerge as the Biden administration figures out its next step include Heather Boushey, Jared Bernstien and John Jones.
Boushey, who has been appointed to the Council for Economic Advisors, previously worked for the Washington Center for Equitable Growth, as well as Tanden's Center for American Progress.
"She spent time working on the Congressional Joint Economic Committee, but importantly for her, she's done a lot of work focusing on inequality," Leblang explained. "That topic is really going to resonate not just with congressional Democrats but rank-and-file Democrats."
He added that Boushey would be a strong pick who signals that Biden is committed both to immigration reform and renewable energy—two areas where the president's early politics have left progressives unimpressed.
If Biden decides to play it safe, another candidate to arise from the Council for Economic Advisors would be Jared Bernstein, who has worked closely with the president in the past.
"The other name who we might see if Biden decides to play it more small-c conservative, if he wants to pick an establishment name, would be Jared Berstein," Leblang said. "Bernstein worked for Biden as his chief economist during the Obama years. He knows him, he trusts him. He's also well known in and around both Democrat and Republican circles, so I think he's a safe pick."
John Jones, who previously served as the chief of staff to congressman Emanuel Cleaver and as a senior aide to Senator Majority Leader Chuck Schumer, was also formerly suggested for the position of OMB director around the time of the election.
His involvement with the congressional Black caucus will bring an important diversity aspect to the role, especially since Tanden had previously been slated to make history as the first Indian-American woman to lead the agency.
A Jones nomination, and subsequent confirmation, would make him the second Black director to head the OMB. Franklin Raines, who was nominated by Clinton, was the first when he served in the position from 1996 to 1998.
"He is certainly somebody who's really going to enforce this idea that issues of income inequality and distribution, especially as it speaks to concerns of the Black community, are going to be front and center in this administration," something the Biden administration has stressed would be prioritized, Leblang said.
Biden has made it clear he doesn't want to continue the Trump administration's practice of using acting directors to lead key agencies.
"He wants to have Senate-approved people sitting in these positions," Leblang said.
But because the OMB plays such a significant role in getting policies in place, Biden may be forced to appoint an acting director for the agency if can't find an individual that will be approved quickly by the Senate, solely so that his legislation can keep moving through Congress.