Herschel Walker Reacts to Hearing Raphael Warnock Pulling Ahead in Polls
Republican U.S. Senate candidate Herschel Walker responded to a new poll showing him four points behind Democratic Senator Raphael Warnock during an appearance on Fox News on Wednesday.
A poll sponsored by the AARP, an interest group that focuses on issues affecting those over 50, showed Warnock leading in the Georgia Senate runoff election, with 51 percent support to Walker's 47 percent.
The poll was conducted from November 11 to 17 of 1,183 likely Georgia voters, which includes a statewide representative sample of 500 likely voters. It had a margin of error of plus or minus 3 percent and showed Walker leading by nine points among voters over 50, while Warnock led by 24 points among those aged 18 to 49.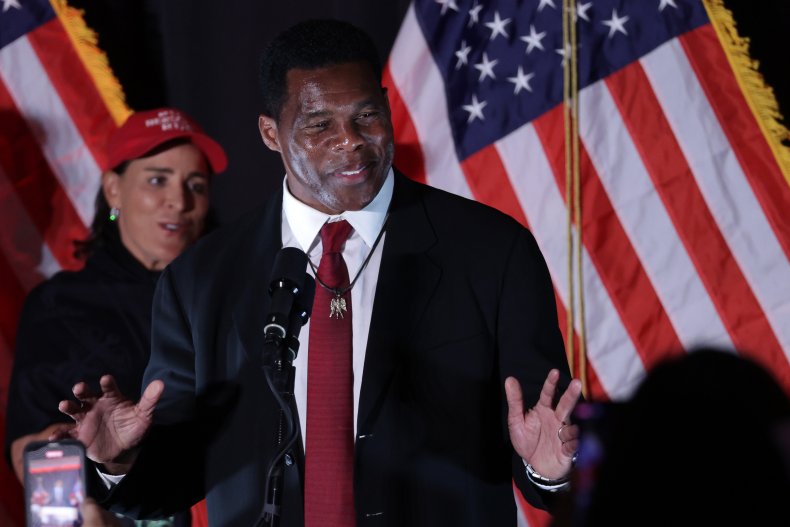 Fox News' host Brian Kilmeade asked Walker if he felt he was four points behind, and he responded with a long answer that criticized the senator and appealed for donations.
"Well, no, I don't feel I'm down four points," Walker said. "Right now, I feel that the race is dead even."
Walker went on: "They're trying to outspend me. I think they're spending almost four to one against me. That's why I encourage everyone to go to TeamHerschel.com. They're trying to buy this seat, 'cause Senator Warnock is very radical. You hear him talk about vote for him, but he voted, and people don't know this, he voted against religious liberties."
"He voted against religious liberties and he is a man of the cloth. Right now, they're trying to outspend me in the media, they're trying to outspend me in getting out the vote, but right now, I'm telling people, 'Help me to step with him,' with the spending, 'cause I will get more votes than he's gonna get," Walker said.
"People's told that he's a great actor and that's what he is," he said. "He's a great actor. He's not a good senator, and he's not a good pastor as well."
Newsweek has asked the Warnock campaign for comment.
A video clip of Walker's answer was shared to Twitter on Wednesday by journalist Aaron Rupar and had been viewed more than 40,000 times as of early Thursday morning.
Tom Nichols, staff writer with The Atlantic, initially highlighted the interview before Rupar retweeted his post and included the video of the Republican's remarks.
Nichols tweeted: "I swear to God that Brian Kilmeade just asked Walker if he feels like he's really four points behind Warnock. I am still waiting for Google Translate to explain what Walker actually answered, but Kilmeade did his best to carry Walker through the rest of it."
Poll tracker FiveThirtyEight's polling average shows Walker narrowly ahead with 47.8 percent to Warnock's 46.8 percent. The runoff election will take place on December 6.