Here Is Who Is Spending the Most on Herschel Walker in the Runoff
National Democrats have already secured control of the U.S. Senate next Congress, guaranteeing their party the ability to confirm President Joe Biden's judicial picks and acquit any members of his administration the Republican-controlled House could potentially bring impeachment proceedings against in the coming term.
That hasn't dissuaded either party from emptying the clip entering the final weeks of the Georgia runoff election between Democrat Raphael Warnock and challenger Herschel Walker, seen by both parties as a needed spiritual and strategic victory.
However, some, namely Senate Minority Leader Mitch McConnell, are spending more than others.
The stakes in the Georgia runoff are clear. For Democrats, a win in Georgia lends the Biden administration the added momentum that comes from victory in a bitterly contested battleground state, particularly after an election many believed to be solidly in the GOP's favor.
For Republicans, the upcoming runoff is about damage control.
The current 50-50 split requires a power-sharing agreement to operate, meaning all Senate committees need an equal number of members from each party—forcing members to employ a greater level of bipartisan cooperation to get things done.
However, a Warnock victory would give Democrats a clear 51-49 majority, putting Democrats on the procedural fast track in the Senate.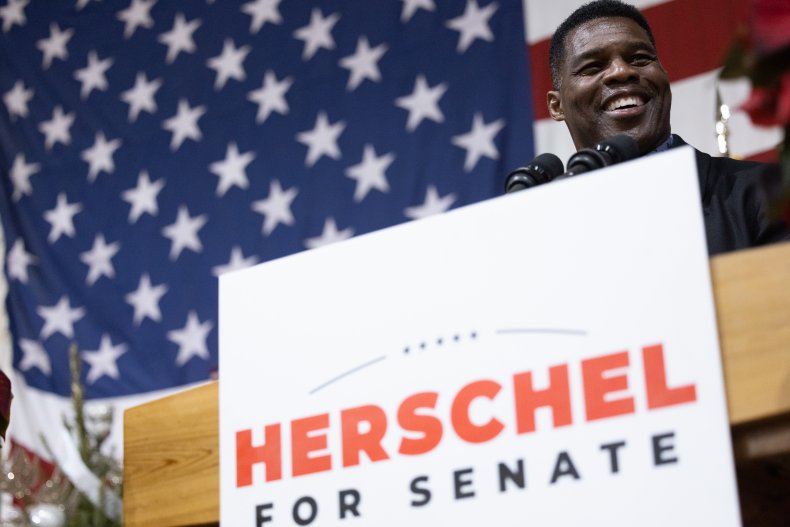 "Chuck Schumer has told you he doesn't want Herschel Walker to win. He doesn't want a 50-50 Senate," Texas Senator Ted Cruz said in a joint interview with Walker and fellow campaign surrogate Senator Lindsey Graham on Fox News Tuesday night.
"Why is that? Because in a 50-50 Senate, the committees are even, which slows him down. If Raphael Warnock wins, Schumer can expedite confirming radical judges to take away your free speech rights or religious liberty rights or second amendment rights," Cruz said.
Both sides are spending wildly to secure victory. According to data from AdImpact, political action committees on both sides combined to spend more than $56 million as of Tuesday afternoon, with the brunt of it—$36 million—backing Warnock.
With only weeks left to campaign, it is appearing highly unlikely Walker will ever be able to match the amount of money Warnock—the Senate's top fundraiser—has been able to sink into the state since Election Day.
And though Walker has begun gradually increasing his rate of spending in the closing days of the campaign—he reported just over $2 million in new ad spending on Tuesday—he remains well behind Warnock, even with help from the outside.
Warnock has also received the backing of figures like former President Barack Obama, who announced his intention to campaign on his behalf throughout the Peach State in an effort to stoke turnout in what is anticipated to be a highly competitive race.
Warnock currently has just a narrow lead over Walker in the polls, even after Walker has committed a number of high-profile gaffes on the campaign trail and faced numerous allegations of abuse and lying about his children, abortions he had financed, and his own academic record.
Walker's biggest advocate in the closing weeks appears to be Senate Minority Leader Mitch McConnell, whose Senate Leadership Fund has easily emerged as the largest single spender backing Walker.
According to campaign finance reports filed in the last several weeks, the fund has dropped just under $8.2 million in advertising supporting Walker or opposing Warnock since Election Day.
Meanwhile, the National Republican Senatorial Committee—aligned with Florida Senator Rick Scott, a McConnell rival—has spent just $686,000 in the race since Election Day while it faces mounting accusations from the national political press of bilking the Walker campaign to benefit itself.
Notably, a Monday fundraising email from the NRSC on Walker's behalf automatically allocated 98 percent of any amount donated to the fund, with the other 2 percent split evenly between Scott and Walker—good for a dime of every dollar raised.
Meanwhile, the NRSC's earlier contributions to Walker's campaign have been a pittance: just $46,500 contributed back in May.
Newsweek has contacted the NRSC for comment.