'He's Going Straight to Hell': Nice's Muslims Disavow Mohamed Bouhlel After Truck Massacre
The al-Wahda prayer room and the Al-Baraka Mosque on the Rue de Suisse in Nice's city center were filling up for their early afternoon services on Saturday. Muslim worshippers arrived, locked up their bikes and took off their sandals and socks on green mats laid outside the entrance to Al-Baraka to protect their feet. The sound of Arabic prayer spilled out from both.
Both Al-Wahda, which only has a limited space of 160 square meters for its worshippers, and the next door Al-Baraka Mosque, are refusing entry to non-Muslims for the prayers services. But once prayers were over Al-Wahda's imam, Sheikh Abdulmonam, initially hesitant at speaking to a Newsweek reporter, gave me permission to enter the house of worship so that we could talk about the actions of Mohamed Bouhlel, a 31-year-old Tunisian that the Islamic State militant group (ISIS) on Saturday claimed as one their own.
After Bouhlel mowed down hundreds of locals and foreigners celebrating Bastille Day on the Promenade des Anglais on Thursday night, killing at least 84 people, Muslim communities across France are once again coming to terms with a mass killing carried out in their religion's name.
"What happened on Thursday has nothing at all to do with Islam because the person who did it, even according to his outward acts, wasn't a Muslim," the 46-year-old Abdulmonam says in Arabic, speaking through a translator. He declined to give his last name. "He smoked, he didn't pray, he didn't fast, he didn't do all these things that Muslims should do. It was a horrible crime."
Nice's Muslims, like Abdulmonam, are adamant that Bouhlel does not represent the community in any way; he was a deviant who should never be termed a Muslim, they say.
Guillaume Gourves, 35, a robed French Muslim convert and worshipper at the Al-Baraka mosque, says that Bouhlel "is going straight to hell" for carrying out such a heinous act, rejecting the notion that ISIS represents Islam and Muslims.
"They just represent themselves. Islam is salam, it's peace," he says. "This man apparently wasn't even doing Ramadan or the prayer. He just thinks, 'Oh let's kill people.' Is that what is Islam? No, it is not."
Lhouasaine Khalfaoui, a 41-year-old French-Moroccan butcher at the Boucherie Atlas, a minute's walk from al-Wahda, was a neighbor of the first person killed in the attack, a 60-year-old Muslim mother-of-six, Fatima Charrihi. Khalfaoui points to a fly on the counter in the shop and says that a true Muslim wouldn't hurt it.
"One person dead, is all of the community dead in the Quran. This was not a Muslim," he says. "He did not practice the religion. No Ramadan, no prayer. This was an animal. This is a contradiction with Islam."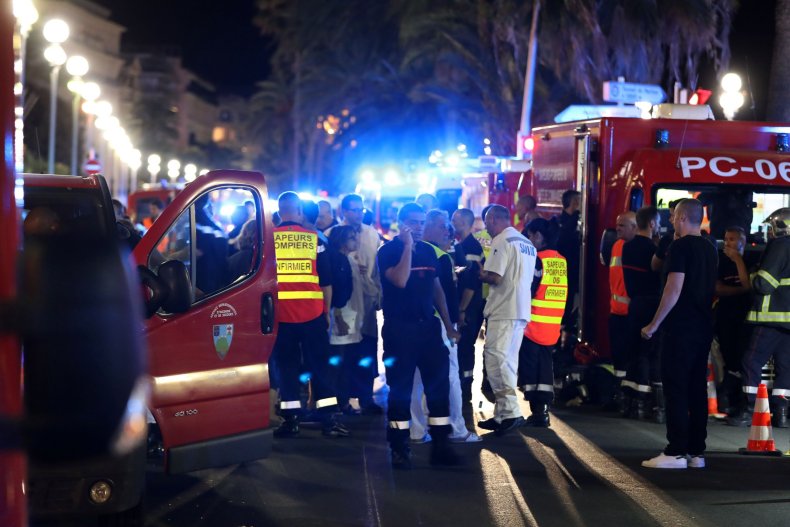 France has now suffered through three major attacks committed by radical Islamists since January 2015; the country's Muslim community is steeling itself for a backlash. "When these things happen in France, we always become the victims because we are one of the weakest sections of society here," Abdulmonam says. "When we saw the prime minister of France [Manuel Valls] come out and say it was a terrorist attack, we think he did that to placate the far-right so they wouldn't rise up against him, but in reality this attack has nothing to do with Islam."
The prospect of a Donald Trump-like surge for the right-wing Front National leader Marine Le Pen ahead of the French presidential elections next April is worrisome for Muslims, and such attacks are likely to further the party's cause.
"I think Marine Le Pen is extreme, just like Hitler, with Muslims or with French people. It is not good, not for us," says 46-year-old Moroccan national Salmi Saed, who sells frozen chickens at the bustling Islam Viandes supermarket on the Rue d'Italie, which sits in the shadow of the city's main train station, Gare de Nice-Ville. "Every Muslim will go away from France."
Saed, who witnessed the carnage on the city's corniche after Bouhlel struck and gave a German mother and her daughter a room to stay in for the night when they could not find a hotel, says that despite what the media says, the city is "united," with people of different faiths continuing to live side by side in peace.
"In our shop, you can look, we have Muslims, French; different people who come here, Jews," he says. "Everybody comes here. You have people with kippahs who come here and buy their things. We stay together."
Bouhlel's family say the delivery driver suffered from depression, saw a psychiatrist for years and often had violent episodes. But the French government has publicly linked Bouhlel with radical Islamism. Interior Minister Bernard Cazeneuve said Saturday that the Tunisian national had been "radicalized very quickly." Authorities gleaned this information from the interrogation of five suspects held on Saturday in connection with the attack.
Approximately 55 residents of Nice have traveled to Iraq and Syria to fight for radical Islamist groups since 2013, according to authorities, suggesting a genuine problem of radicalization within the community. But some of Nice's Muslims are frustrated that some of their fellow citizens expect the Muslim community to apologize for the actions of others.
"What can we do? Every time we say this is nothing to do with us, are we going to all the time say 'sorry, sorry'?" asks Gourves. "We can't say sorry about that—it's nothing to do with us. This is us being attacked in France. It's our country."