High School Plan to Open Planned Parenthood Clinic Leaves Parents Enraged
Protesters rallied against a proposal to open a Planned Parenthood clinic on Monday, while gathered outside a California high school board meeting.
The board of the Norwalk-La Mirada Unified School District was planning to vote during the meeting on whether to allow a reproductive health clinic to open at John Glenn High School in Norwalk.
But amid reports that far-right groups would be coming to protest, the district said the proposal would no longer be considered during Monday's meeting.
"The Norwalk-La Mirada Unified School District Board of Education will postpone discussion of Board Agenda Item #12a regarding the Planned Parenthood clinic at John Glenn High School," the district said in a statement.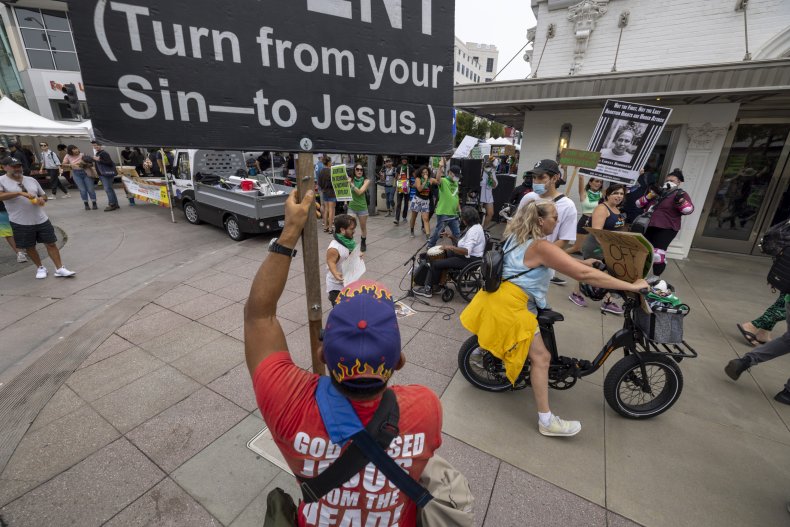 "As a result, action will not be taken this evening during the regularly scheduled Board Meeting."
Nevertheless, a large continent of parents and anti-abortion protesters showed up to demonstrate outside the meeting on Monday evening. The crowd included members of the far-right, including some Proud Boys, according to a tweet from video journalist Vishal Singh.
Anti-abortion protests by far-right groups have taken place in a number of states since the Supreme Court overturned Roe vs. Wade, stripping away constitutional protections for abortion, on June 24.
Concerns about the potential for violence were raised among some law enforcement bodies ahead of a demonstration by one far-right group, AmericanMade Patriots, near a Planned Parenthood clinic in Santa Monica on Saturday, the Los Angeles Times reported.
Chris Reyes, who told the Times that he was the lead organizer of Saturday's protest, placed a banner with the words "Planned Infanticide" and "Babies Lives Matter" to a wall of the school board building, according to a video posted on Twitter.
Others at the protest on Monday included members of Lexit, a conservative Latino movement. "Parents were outraged!" Lexit wrote on Twitter.
Some also railed against the idea that the proposed clinic could offer gender-affirming hormone therapy to students. "We're begging you guys, don't let these kids get these hormone blockers," a speaker said during the meeting.
Abortion and gender-affirming hormone therapy were not listed as among the services that would be provided at the on-campus clinic should the plan go ahead.
But the clinic's staff would be permitted to make referrals to other Planned Parenthood centers for services that are not offered there, according to the proposed agreement.
It says the clinic's services would include physical examinations relevant to reproductive health; diagnosis and treatment of sexually transmitted diseases; and the insertion of non-surgical long-acting reversible contraceptives (LARCS), including IUDs.
The clinic would also be able to write prescriptions and dispense pharmaceuticals related to reproductive health, including contraceptives and antibiotics.
According to Fox11, the proposed agreement also says that while the clinic will encourage students to involve parents in decisions about reproductive health services, minors have the right to consent to them without parental consent or notification under California law.
Planned Parenthood Los Angeles (PPLA) in 2019 announced a program to open 50 "Wellbeing Centers" in high schools across Los Angeles County with the aim of creating "a safe space in each school where students can receive the education and health services they need to lead healthy lives."
"Mental and behavioral health issues, substance use, and lack of knowledge around sexual health can create barriers to academic success," PPLA president and CEO Sun Dunlap said at the time.
"Finding support to grapple with these issues generally requires students to go off campus and means time away from class, money for transportation, and explaining your whereabouts to others, all hurdles that loom large for teens."
The school board and Planned Parenthood Los Angeles have been contacted for comment.