Why Didn't Abortion Rights Protests Sweep Nation Like Black Lives Matter?
Many will recall the summer of 2020 as a summer of protests. They raged night after night, first in Minneapolis and then in cities across the country.
In the days and weeks after a video capturing the excruciating final moments of George Floyd's life went viral, millions of Americans from all walks of life took to the streets to declare that Black lives matter and prompted a reckoning of America's history of racial injustice.
Some anticipated a similar uprising this summer should the Supreme Court overturn Roe v. Wade, the landmark ruling that had guaranteed a right to abortion nationwide for almost 50 years.
After a leaked draft opinion in May suggested the court was poised to strike down Roe, one group vowed a "night of rage" if it happened.
Abortion rights protesters regularly protested outside the Supreme Court in Washington, D.C. and in other places after the leak, unsure when exactly the court would release its ruling in the case that could—and ultimately did—abolish the constitutional right to abortion.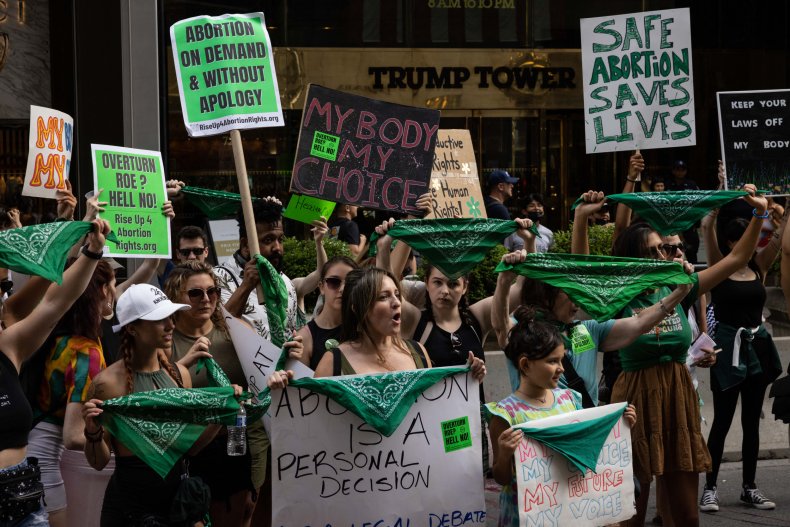 Protests spread across the country when that decision finally came on June 24, as people swathed in green—the color associated with the abortion rights movement—condemned the ruling.
But they have yet to upend American life or generate the same level of attention as the Black Lives Matter protests did in the summer of 2020.
The size of a protest is difficult to measure since organizers and law enforcement tend to differ in estimates. Furthermore, protests that are large and concentrated in one area tend to generate more attention and media coverage.
Both causes saw multiple protests over many days in different locations, but Black Lives Matter had more larger protests—11 protests had over 10,000 participants, compared to four abortion rights protests have amassed that many participants, according to a Newsweek analysis of data from the ACLED database, a project which tracks protests as well as other incidents.
Black Lives Matter also had more protests overall. According to the data, there have been 10,201 protests since January 2020, with approximately 2.2 million people taking part. The number is 1,390 for abortion rights protests, with around 620,000 protesters.
The scale of protests was hindered by most abortion rights groups focusing on preparing for a post-Roe world rather than calling for people to take to the streets, said Sam Goldman, an organizer with RiseUp4AbortionRights.
"We were the only group that called for protests prior to this ruling with the mission to stop it from happening," she told Newsweek.
"The majority of the pro-choice movement in this country made a decision to accept defeat in advance and they did not call people into the streets. That had a tremendously negative impact."
She argued that protesters have also been kept off the streets by Democrat lawmakers' tactics in response to the ruling.
"People are being told and too many are believing that the only thing that people can and should do is vote in November," Goldman said. "And second to that, that we should carve out some safe havens. There can be no safe havens when even one person is prevented from getting abortion care.
"At a time where millions are being stripped of their ability to control their lives, their bodies, their destinies, the fact that we don't have millions [in the streets] is a conversation that we need to be having very quickly. Because this is the time, right?"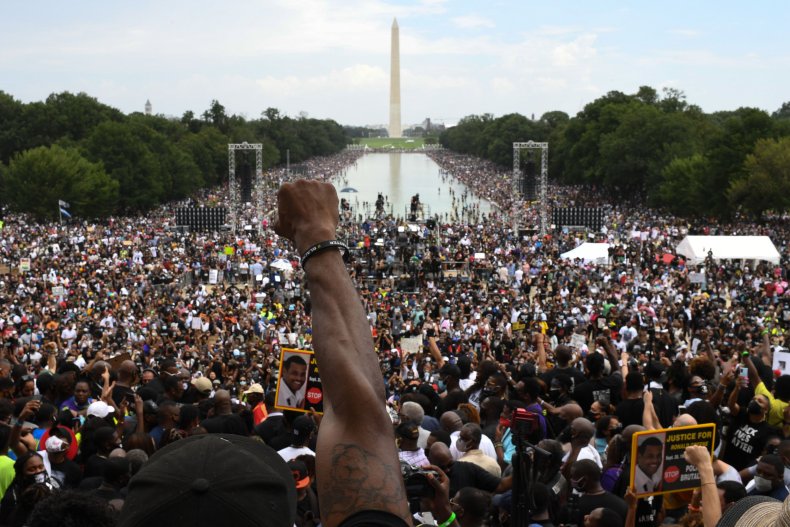 Timing and context matters when considering why there hasn't been as great an outpouring in support of abortion rights, said Deana Rohlinger, a professor at Florida State University and the author of Abortion Politics, Mass Media, and Social Movements in America.
Protests triggered by the police killing of Floyd and other Black people came during the early months of a global pandemic when many Americans had been forced to stay at home due to coronavirus lockdowns. Despite the risk of spreading the virus, people said they took to the streets in numbers that suggested it was the largest movement in U.S. history, The New York Times reported.
This Supreme Court's decision to strike down Roe, on the other hand, was leaked in advance and it wasn't known exactly when a final ruling would come. When it did, it came on a Friday as Americans were preparing to celebrate the July Fourth holiday.
"It's a lot easier for people to attend protests when they're not managing vacation plans," Rohlinger told Newsweek. "We know that this summer, despite the increased gas prices and airline prices, folks are traveling."
In the summer of 2020, people "were pretty much stuck at home," she added. "So it got not only a lot of attention in terms of the coverage, but people were paying attention and so it gave them a common rallying point. People took to the streets, and oftentimes didn't have other demands on their time."
Rather than take part in a protest, those advocating for abortion rights may decide to contribute to the cause in other ways.
"Once the outrage subsides, people look for more productive ways to put their energy," Rohlinger said. "So for some that might just be writing a check to some organization. For others, it might be getting involved in trying to talk to their politicians and representatives."
Abortion rights groups are also focusing their efforts at the state level, fighting in courtrooms to block the enforcement of laws banning the procedure in the wake of the Supreme Court's ruling.
They "know where their attention needs to be," she said. "It can't simply just be on protests, they need to focus on the battles that are being waged within states."
March for Life, a group that organizes an annual national march against abortion in Washington, D.C., is also aiming to focus activism on the state level—but wants to ramp up the number of marches.
The group wants to double the number of state marches they have and "aggressively and quickly grow our state marches program to be in all 50 states," Jeanne Mancini, president of March for Life, recently told The Hill. The group has been contacted for additional comment.
Some abortion rights protesters may also be dissuaded from turning out to protest for fear of police violence or attacks from anti-abortion activists. Texas Sen. Ted Cruz had predicted riots would break out after the court's decision came down and called for police to respond swiftly.
Rohlinger also pointed to an "anti-riot" law that was enacted in Florida in response to 2020's Black Lives Matter protests and which critics viewed as an attempt to stifle social justice protests.
But time will tell whether abortion rights protests will reach a scale commensurate to what the moment demands, Goldman said.
"It does mean something that many, many people in this country took action on July 4, and said if women are not free, no one is free. I do think that that does speak to the continued potential that exists for there to be that kind of mass movement in the streets that's needed."
There need to be concerted days of action, she said, while Congress remains in session. "When the news is still fresh, and people have not yet normalised the atrocity of not having a national right to abortion, now is the time for lots of action," she said.
Rohlinger agrees that larger protests could take place ahead of the November midterms or if Republicans take back control of Congress and seek to enact a national ban on abortion.
"We can envision that protests will become more, more frequent and louder and probably more disruptive," she said.
People in the U.S. should look to Latin America's "green wave"—a mass movement that has achieved historic wins for abortion rights in the region—for inspiration, Goldman added.
"They made the impossible possible, but it was through their actions," she said. "And it didn't happen immediately. It was a product of mass struggle."
Black Lives Matter have been contacted for comment.
A note on the data
Newsweek has used the ACLED database to track protests on Black Lives Matter and Roe v Wade protests in the U.S. since 2020.
The number of protesters cited in each entry is an estimate, expressed non-numerically. Newsweek has translated these estimates into numbers using a methodology, so all numbers are a guide and cannot be verified. For example, we have taken the expression "a small number" and estimated it as 20. A "large crowd" has been entered as 100. A range such as "1000 to 2000" is read as 1,500. A full methodology is available on request.
The ACLED The Armed Conflict Location & Event Data Project (ACLED) is a disaggregated data collection, analysis, and crisis mapping project.