Protesters fuming over the demise of national abortion rights took to a Los Angeles freeway as demonstrators nationwide flooded streets and state Capitol steps.
Cities across the U.S. saw protests erupt on Friday after the Supreme Court struck down federal abortion protections in its Dobbs v. Jackson opinion. The demonstrations are the initial reaction against the Court's decision and is expected to generate ongoing backlash.
Thousands of abortion-rights protesters took to the streets in downtown Los Angeles Friday afternoon, reports ABC affiliate KABC-TV. A group of protesters later marched onto Freeway 110 blocking one lane of traffic, the station reports.
Earlier, an abortion-rights protester scaled the top of the Frederick Douglass Bridge in Washington, D.C., briefly shutting down traffic in both directions. The Metropolitan Police Department also said it was initiating a full department activation through Tuesday in response to ongoing protests.
Protesters on Friday morning also crowded outside the Supreme Court building in Washington, reports WAMU. Demonstrators in the area led chants of, "Never again we won't go back," according to DCist.
A handful of anti-abortion activists argued with the demonstrators, with one group blasting War's 1975 song "Why Can't We Be Friends," according to the New York Post. Some protesters reacted angrily to the Court's decision and blamed Democratic Party leadership for not doing more to protect abortion rights.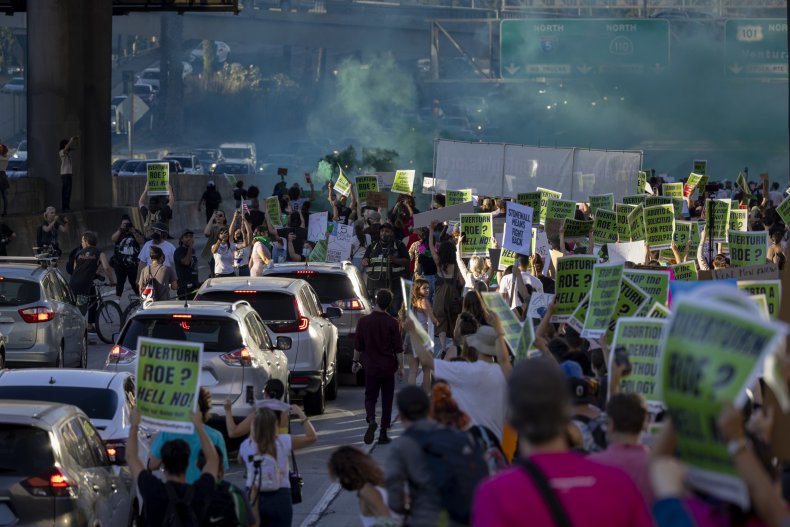 "They promised to codify Roe v. Wade and they did s**t," said McKayla Wilkes, who is mounting a primary challenge to House Majority Leader Steny Hoyer, according to the Post. She added, "F**k voting for somebody because they have a 'D' next to their name or 'R' next to their name."
As the sun set, a group of black-clad protesters marched through the streets chanting radical and confrontational slogans, according to the Post.
Outside the Rhode Island State House, an anti-abortion protester got into a physical confrontation with demonstrators that involved police, reports Boston Globe Rhode Island. Police arrested two counterprotesters, the news outlet reports.
Demonstrators in Portland, Oregon, marched through the streets with no signs of violence, reports the Portland Mercury. In Dallas, hundreds gathered downtown in what appeared to be a peaceful protest, reports CBS affiliate KTVT.
However, videos circulating online show a truck reportedly ran through a group of protesters in Cedar Rapids, Iowa.
City Councilmember Ashley Vanorny tweeted that the "truck jumped out of the line of traffic, driving into the oncoming lane bc they were impatient. Then rammed into people in the crosswalk."
"Have some respect for human life," she said.
Benjamin Wery, police sergeant of Cedar Rapids, told Newsweek there was a pedestrian and motor vehicle accident that he said wasn't serious but was under investigation.
A news release posted on the department's Facebook page said the preliminary investigation indicates that a group of protesters were attempting to legally cross the street when the lights changed, giving way to vehicles.
"Following verbal confrontations between the protestors and a driver, contact was made between a vehicle and one of the pedestrians," police said in the statement. "Cedar Rapids Police quickly responded to the scene. The injured pedestrian was interviewed on-scene by CRPD and then taken by private vehicle to a local hospital for evaluation. The driver of the vehicle was also voluntarily interviewed by Cedar Rapids Police."
Police said the injury to the pedestrian appears minor and authorities are looking for potential surveillance video and other information.