Vote to Codify Roe v. Wade Could See More Senators Targeted at Home
U.S. senators could be targeted by protesters at their homes as the Senate is set to vote this week on whether to codify abortion rights into federal law, and thus supersede state-level legislation.
Senate Majority Leader Chuck Schumer (D-NY) has brought the Women's Health Protection Act of 2022 up for a vote on Wednesday but the measure is almost certainly doomed to fail.
The newly scheduled vote comes after a leaked Supreme Court draft majority opinion obtained by Politico appeared to show five of the nine justices poised to overturn the landmark Supreme Court decision Roe v. Wade, which found a constitutional right to abortion.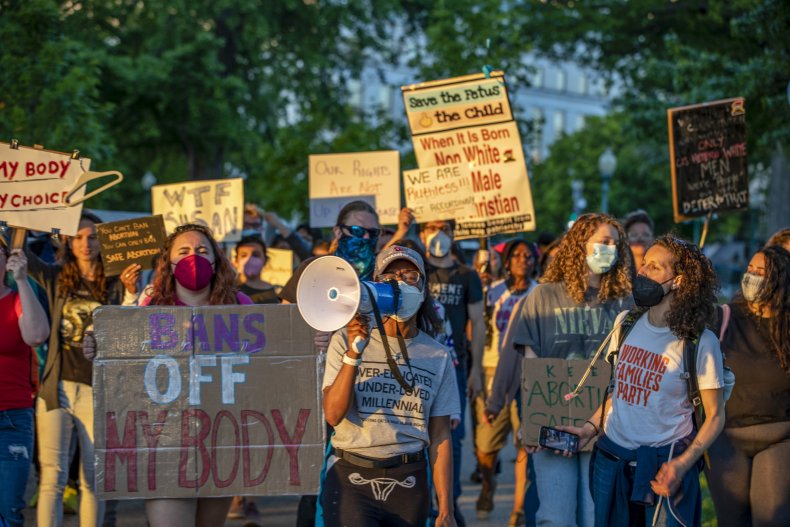 Susan Collins' Home
Senator Susan Collins (R-ME) has been a particular focus of criticism since the opinion leaked, as she voted to confirm Justices Neil Gorsuch and Brett Kavanaugh, both of whom reportedly voted to overturn the 1973 landmark decsion.
On Saturday, police attended Collins' home in Bangor, Maine after a message was written in chalk on the sidewalk outside her house saying: "Susie, please, Mainers want WHPA —–> vote yes, clean up your mess," a reference to the Women's Health Protection Act.
Bangor police spokesperson Wade Betters told The Bangor Daily News: "The message was not overtly threatening" and Collins thanked the police for their response to what she described as "the defacement of public property in front of our home."
There have also been protests outside the homes of Justice Samuel Alito, who wrote the draft opinion, as well as Chief Justice John Roberts and Justice Kavanaugh, though Roberts was not among the reported majority to overturn Roe v. Wade.

Supporters of the 1973 ruling have engaged in other forms of protest since the leaked draft opinion was published, with some abortion rights advocates mailing coat hangers to the Supreme Court justices, and other protesters attending the Cathedral of Our Lady of the Angels in Los Angeles, California dressed as handmaids from the novel and TV show The Handmaid's Tale.
Protecting Officials' Addresses
A group of Republican senators led by Senator Tom Cotton of Arkansas introduced a bill this week that would require individuals and online platforms to remove home addresses and phone numbers of government officials and their family members if they receive a written request to do so.
"Judges and other government officials should not be subjected to angry protests and violent threats at home simply because they serve the public at work. Our bill will protect public servants and their families by allowing them to remove their home addresses from any public website," Cotton told Fox News Digital.
Protests outside senators' homes are not unknown.
In January, 2021 demonstrators protested outside the home of Senator Josh Hawley (R-MO) in Vienna, a suburb of Washington D.C., because he had planned to object to the certification of the 2020 presidential election results.
At the time, Hawley said "Antifa scumbags came to our place in DC and threatened my wife and newborn daughter," while police said the protest was peaceful.
Abortion and the Filibuster
Abortion is a highly emotive and contentious issue, and the possibility of overturning Roe v. Wade has already led to protests directed at the homes of Supreme Court justices and a U.S. senator. It is possible that further protests at senators' homes will result from the failure of the Women's Health Protection Act of 2022.
Wednesday's vote may serve as an indication of which senators are willing to enshrine abortion rights in federal legislation and whether they are willing to break the filibuster to do so.
Sixty senators' votes are needed to overcome the filibuster, end debate on a bill and move it to a floor vote, but Democrats do not have the numbers and it is highly unlikely that Republicans will support the bill.
In February, the the Women's Health Protection Act of 2021 failed to advance for debate by a vote of 46 in favor to 48 against, while six senators did not vote.
The Senate is divided between 50 Republicans, 48 Democrats and two independents who caucus with the Democrats, meaning the current legislation will almost certainly not pass.
The leaked draft opinion is not the Supreme Court's final opinion. That opinion is likely to be published in the coming months and it is not unknown for justices to change their votes during the process.
Newsweek has asked the Republican and Democratic National Committees for comment.