Police Attend Susan Collins' Home Over Pro-Abortion Rights Chalk Message
Police were called to Senator Susan Collins' home on Saturday after a pro-abortion message was written in chalk on the sidewalk outside her residence in Maine.
Local police arrived at the Republican senator's home in Bangor at 9:20 p.m. on Saturday, according to The Bangor Daily News, and the message was no longer visible by Monday afternoon.
The chalked writing said: "Susie, please, Mainers want WHPA —–> vote yes, clean up your mess."
WHPA is a reference to the Women's Health Protection Act, legislation that would have codified the right to abortion in federal law based upon the landmark Supreme Court ruling in Roe v. Wade.
Collins voted against advancing that legislation in February and she has also recently come under fire for her support of Supreme Court justices nominated by former President Donald Trump after a leaked draft majority opinion that showed the court poised to overturn Roe.
Bangor police spokesperson Wade Betters said: "The message was not overtly threatening."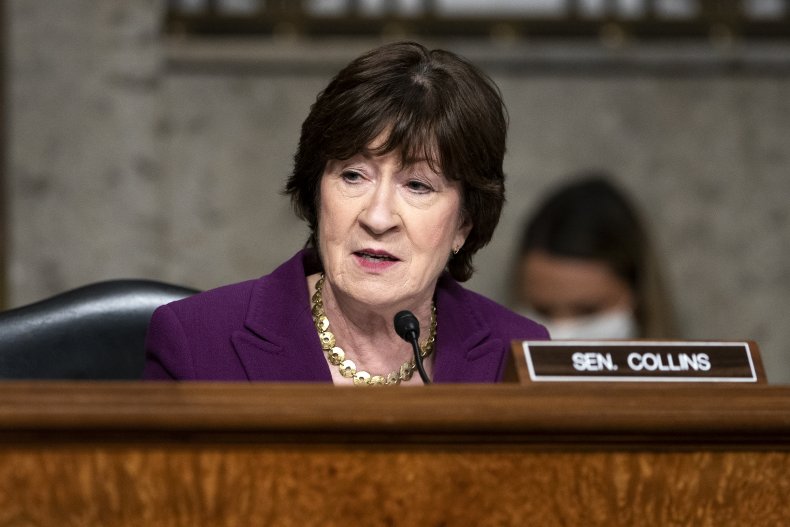 "We are grateful to the Bangor police officers and the city public works employee who responded to the defacement of public property in front of our home," Collins told The Bangor Daily News.
Politico published the draft opinion on May 2 and reported that the three Trump-appointed justices - Neil Gorsuch, Brett Kavanaugh and Amy Coney Barrett - had voted in favor of overturning Roe.
Collins had voted against Barrett but voted to confirm Gorsuch and Kavanaugh. She suggested on May 3 that if Politico's report were correct, it would contradict what both men told her during their confirmation processes.
"If this leaked draft opinion is the final decision and this reporting is accurate, it would be completely inconsistent with what Justice Gorsuch and Justice Kavanaugh said in their hearings and in our meetings in my office. Obviously, we won't know each Justice's decision and reasoning until the Supreme Court officially announces its opinion in this case," Collins said.
Though she opposed advancing the Women's Health Protection Act for debate, Collins introduced a separate bill with Republican Senator Lisa Murkowski of Alaska that would codify abortion rights into federal law but allow states to impose restrictions after a fetus becomes viable.
The chalk message directed at Collins comes as some pro-abortion protesters have gathered at the homes of Justice Samuel Alito, who authored the draft opinion, as well as Chief Justice John Roberts and Kavanaugh.
Roberts, a conservative, was not one of the five justices who reportedly voted to overturn Roe. It remains to be seen how he will vote and the Court's official opinion has not yet been released.
Newsweek has reached out to Collins' office for comment.
Update 05/10/22 8.15 a.m. ET: This story was updated with additional information.