Christine Blasey Ford Death Threats Resurface Amid Kavanaugh Protests
Abortion-rights activists gathered outside the home of Supreme Court Justice Brett Kavanaugh this weekend to protest a leaked draft opinion that indicated he was among the justices who favor overturning Roe v. Wade. Responding to criticism of the protesters, many social media users referenced Dr. Christine Blasey Ford, a woman who accused Kavanaugh of sexual misconduct.
The activists protested at Kavanaugh's home in Chevy Chase, Maryland, where they carried signs and chanted, before moving on to the nearby residence of Supreme Court Chief Justice John Roberts. Though the protests were said to be peaceful, conservative critics denounced the actions of the participants, with some questioning why they were treated differently than the mob who rioted at the U.S. Capitol on January 6, 2021.
A multitude of people came to the defense of the activists on social media. Along with pointing out that crimes were committed and deaths resulted from the Capitol riot, many defenders also brought up Ford, who received death threats as a result of her testimony before the Senate Judiciary Committee during Kavanaugh's 2018 confirmation hearing.
At the hearing, Ford accused Kavanaugh of sexually assaulting her at a party when the two were in high school. Two other women also accused Kavanaugh of sexual misconduct. Kavanaugh denied all the accusations and was eventually confirmed to the Supreme Court.
"Christine Blasey Ford has had to move four times since the Kavanaugh hearing, and I'm supposed to feel bad he has some protestors outside his house?" Shannon Coulter, a progressive activist, wrote on Twitter.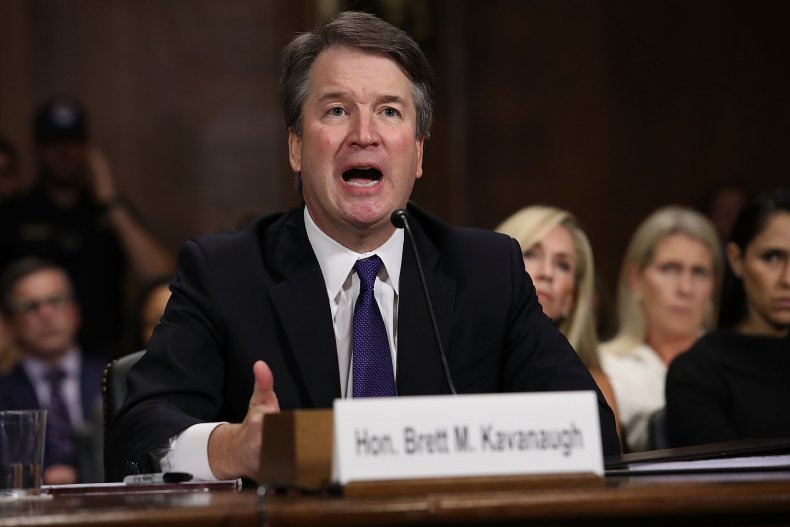 Ford has said she was forced to move multiple times following her testimony. Her lawyers have also said she received death threats and harassment, NPR reported.
Ford, a university professor and research psychologist, was mentioned in so many Twitter posts that her name trended high on the social media platform by Monday.
"Every single Republican condemning the peaceful protesting outside Justice Kavanaugh's home today was absolutely silent when Christine Blasey Ford had to *actually move* because right-wing cranks were sending death threats right to her front door," Democratic strategist Max Burns wrote.
"I'll never forget how Christine Blasey Ford experienced PTSD symptoms around the construction of her own house," comedian Julie Klausner wrote. "It makes me sick that Kav feels safe and cozy in his. I won't protect the sanctity of your home if you're in my womb."
"Where was all of the sanctimonious caterwauling about civility back when Christine Blasey Ford had to move her family because of death threats?" Majid Padellan, who is known as BrooklynDad_Defiant! on Twitter, said.
Not all Twitter users who evoked Ford's name were doing so in defense of the weekend's protests.
"Christine Blasey Ford is a Democrat activist who lied," conservative pundit Carmine Sabia tweeted.