Hilary Duff's Nude Photoshoot Divides Fans
Hilary Duff's nude photoshoot for Women's Health—and accompanying interview about body positivity—has divided opinions on social media.
The How I Met Your Father star, 34, appears on the cover of Women's Health's May issue, with the magazine sharing in a tweet that Duff "spent years trying to live up to Hollywood's standards," before "approaching her life and career on her own terms."
In her interview, the mother of three spoke of the "horrifying" pressure she had previously faced to be a certain size when she was a young actress, resulting in her battling an eating disorder at the age of 17.
Now eschewing the standards that she had previously struggled to keep up with, Duff said: "I'm proud of my body. I've gotten to a place of being peaceful with the changes my body has gone through."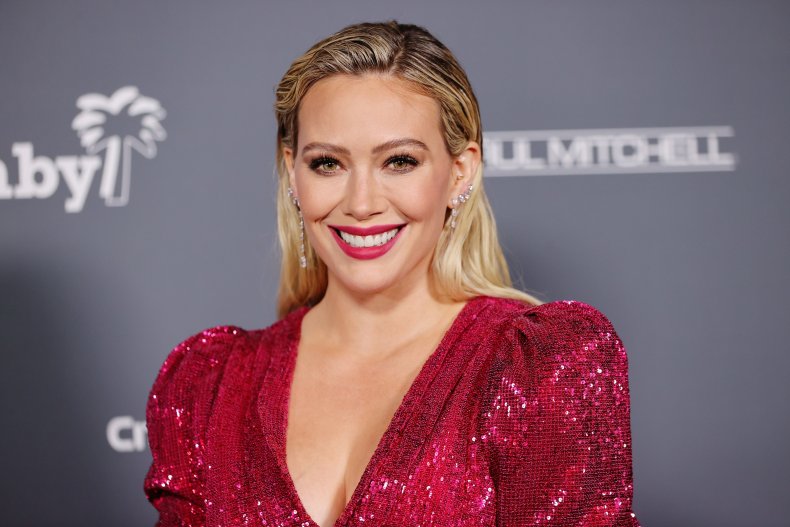 "I think that at 34 I have just gained a lot of respect for my body," she added. "It's taken me all of the places I need to go. It's helped me build a beautiful family. I feel like the older I get, the more confident I get in my own skin.
"And my body's been many different shapes and sizes and I'm really just fascinated by, one, being a woman. And two, all the changes that your body can go through throughout your lifetime."
When Duff's images and excerpts of her interview were shared on Twitter, an overwhelming number of fans shared positive reactions to the star's shoot.
However, there was also questions over why Duff's shoot was celebrated, while Britney Spears was trending on the platform just hours earlier as she sparked debate over the nude photos she had shared on her Instagram account.
Pop culture journalist Grace Medford tweeted: "britney spears and hilary duff trending today in a 'you painted a naked woman because you enjoyed looking at her' vs 'put a mirror in her hand and you called the painting "vanity", morally condemning the woman whose nakedness you had depicted for your own pleasure' kind of way."
Another Twitter user shared screenshots of the nude posts, comparing the positive comments Duff's images received on Instagram, versus the negative reaction to those uploaded by pop star Spears.
"Spot the difference," they captioned the post. "You just love to criticize Britney Spears for everything she does. Jus admit it."
Many others also questioned why somebody who is considered conventionally attractive by Hollywood standards would be the face of a body positivity issue.
One Twitter user commented: "No shade to Hilary Duff, who looks incredible, but how is a conventionally thin and attractive woman with a post-baby six pack redefining anything in Hollywood?"
That sentiment was echoed by another, who shared a tongue-in-cheek take.
"I'm really happy Hilary Duff as a cis white thin woman is able to accept her body that conforms to beauty and body norms," they wrote. "If she can do it so can all of the other cis thin white women who we are all expected to look like."
As well as opening up about her road to body acceptance in her interview with Women's Health, Duff also opened up about her efforts to maintain her mental health through consistent therapy sessions.
"We bust our a*** to get our bodies in shape and to look the best we can. We get facials and Botox and our hair done and highlights and brows and lash lifts and all this s***. But I want to work on the inside," she said. "That's the most important part of the system."