Britney Spears Fans Defend Star As Nude Photos Spark Mental Health Debate
Britney Spears fans have spoken out in the star's defense, after her latest slew of nude photos sparked a social media debate about her mental health.
The pop star, 40, has experienced a host of major life changes over the past 12 months, including getting engaged to partner Sam Asghari, successfully fighting for freedom from her 13-year conservatorship, and announcing her pregnancy.
Amid the many headline-making moments, Spears has been sharing—and later deleting—photos on Instagram showing herself in various states of undress.
The "Toxic" singer continued that trend on Monday, when she posted a string of photos that showed her posing completely nude, with heart emojis and her hands protecting her modesty. In all, she shared three uploads with multiple images.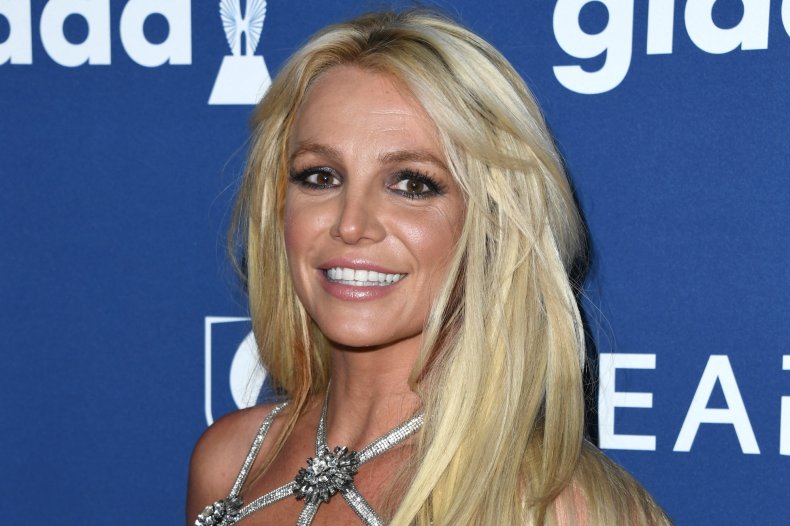 However, the posts were met with criticism from a number of Spears' followers, with one alluding to her recently dissolved conservatorship as they wrote: "Starting to think those who were in control perhaps should have stayed in control."
Meanwhile, another commented: "Anyone else here legitimately concerned?"
Taking the conversation to Twitter, photographer and makeup artist Matt Bernstein shared a screenshot of the critical comments as he defended the singer.
Bernstein wrote: "I swear people forget that Britney was in a prison of her father's design for the past 13 years. she missed the years when we were all terrible at instagram and used those tacky in-app filters. she's feeling herself. let her be."
When a follower asked why people are "mad that [Britney is] able to express herself," Bernstein opined that it was because "they hate autonomous women but frame it as 'concern.'"
One Twitter user pointed out that the reaction was nowhere near the same when Kim Kardashian famously posed nude for Paper magazine back in 2014.
Sharing nude side-by-side shots of Spears and Kardashian, they wrote: "So Kim Kardashian can do this but Britney Spears can't? And you all wanna call her crazy when she is doing the same thing all the other girls are doing? Make it make sense."
Echoing that sentiment, another user posted nude images of a host of celebrities that included Rihanna, Lizzo, Bella Hadid, Christina Aguilera, and Julia Fox.
Captioning the images, they tweeted: "the way so many female celebs post their nude pics on insta but when Britney does it they wanna switch up and say she's 'crazy.'"
The commenter concluded that people should "stop shaming Britney for posting nude pics."
Another user said: "What I truly find bizarre about the amount of people judging Britney's mental health over her nude selfies is we have other celebrities who post similar content on social media but aren't questioned because it's perfectly photoshopped 'glam' shots versus relaxed candid photos."
Naming another celebrity, they added: "Emily Ratajkowski regularly posts nude photos of herself & I never see articles questioning her mental health? It seems like a double standard to me. I think people are upset because Britney is posting those photos to please herself, not fulfill the desires of others."
Back in March, Spears sought to explain her nude photos as she vacationed in French Polynesia with Asghari ahead of his 28th birthday.
She wrote in an Instagram post: "Alrightyyy then folks ... showing my bod in French Polynesia as a rebel and free WOMAN !!!!!"
In January, Spears was defended by a number of fans for previous nude Instagram posts, with many noting that she was celebrating being free from the constraints of her controversial conservatorship, which lasted almost 14 years.
The arrangement, which was put into place in 2008 amid mental health concerns, saw the star's personal and financial decisions taken out of her hands from its inception until a judge ruled in November 2021 that it could be dissolved.
Spears testified in 2021 that during her conservatorship, she was made to take lithium, a mood stabilizer most commonly used to treat manic depression associated with bipolar disorder.
Her father, Jamie Spears, was at the helm of both of the financial and personal branches of the conservatorship. Citing health reasons, he stepped down from the personal arm in 2019. He was suspended from the arrangement altogether in September, amid accusations of misconduct—allegations he has consistently denied.
Last summer—several weeks after Britney Spears' June court testimony, in which she spoke out about her experiences under the conservatorship—the star also posted images of herself posing semi-nude.
Explaining her posts, she wrote on Instagram back in August: "I bet you're wondering why I'd expose my body NOW ... well it's because I was born into this world naked and I honestly feel like the weight of the would has been on my shoulders and it's made me view myself that way !!!!
"I wanted to see myself in a lighter way ... naked ... like the way I was born and to me looking back at my pictures when I shoot it's insane the psychology in seeing myself in my purest form gives evidence that pain ... hurt ... tears ... and heavy burdens aren't who I am.
"I am a woman .... a beautiful ... sensitive woman who needs to look at myself in my purest form !!! No ... I'm not going to do topless pics for the rest of my life cause that would get boring but it sure as hell helps when you need to be enlightened!!!!"