Hillary Clinton Compares Trump to Hitler, Suggests His Fans Use Nazi Salute
Former Secretary of State Hillary Clinton has compared former President Donald Trump to Nazi leader Adolf Hitler, while blasting his supporters for keeping their "arms raised" at a recent rally.
Clinton made the remarks on Friday during an onstage interview at the Texas Tribune Festival in Austin, Texas. Trump's former 2016 presidential election rival recalled wondering as a student how followers of Hitler became "drawn in" by the Nazi leader before pointing out what she suggested was similar behavior by the former president and his followers during a rally in Youngstown, Ohio, last weekend.
"I remember as a young student trying to figure out, how did people get basically drawn in by Hitler?" Clinton said. "How did that happen? And I'd watch newsreels, and I'd see this guy standing up there ranting and raving and people shouting and raising their arms. I thought what's happened to these people, why do they believe that?
"We saw the rally in Ohio the other night," she added. "Trump is there ranting and raving for more than an hour. And you have these rows of young men with their arms raised. I thought, what is going on? ... I think it is fair to say we're in a struggle between democracy and autocracy."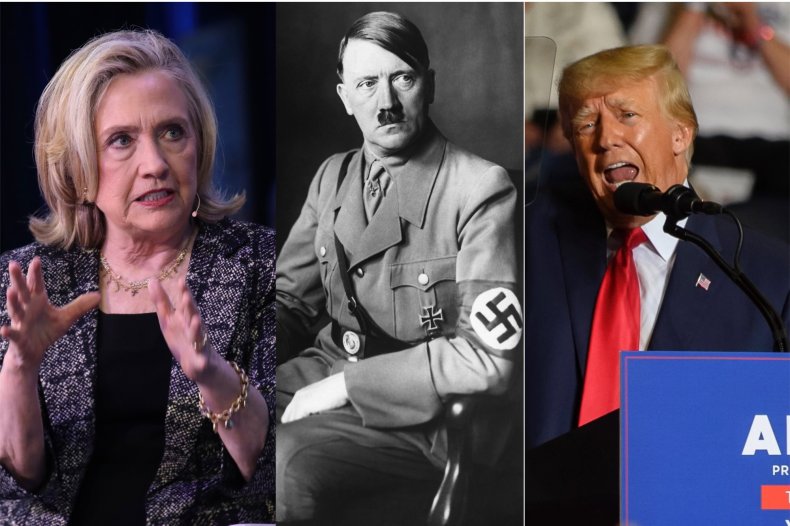 During the Ohio rally speech, supporters of the former president raised their hands in the air and gave what looked like a pointed index-finger salute, which some speculated could represent Trump's "America First" movement.
Others suggested that the salute may have been related to the pro-Trump QAnon conspiracy theory motto "where we go one we go all." Comparisons to a Nazi salute were also made.
Clinton said on Friday that "Trump and his enablers" would make sure the U.S. turns into a "failed democracy" if they "had their way."
She slammed the former president for expressing admiration toward modern authoritarian and autocratic leaders like Russian President Vladimir Putin and Hungarian Prime Minister Viktor Orbán.
"Admiring Viktor Orbán in Hungary?" she said. "Cozying up to Putin and being embarrassed, when he invaded Ukraine, that you couldn't keep cozying up to him? You know, that is a repudiation of our values and of the kind of democratic principles that I think we used to believe."
Retired four-star U.S. Army General Barry McCaffrey also compared Trump's Ohio rally to a 1936 rally held by Hitler in Nuremberg, Germany.
"The crowd is similar to a Nuremberg rally 1936," McCaffrey tweeted after the rally. "A lawless Trump in office in 2024 election would slide us into autocracy and deny our Constitutional safeguards. This is our greatest danger as a nation since 1860."
Comparing a political opponent to Hitler is not a new phenomena, with critics of Trump, Clinton and countless other politicians having made the comparison many times in the past.
Republican congresswoman Marjorie Taylor Greene of Georgia recently shared a video on Twitter that featured a video of President Joe Biden altered to look like the Nazi leader.
A different video making the comparison between Biden and Hitler circulated online before the 2020 presidential election.
Newsweek reached out to Trump's office for comment.