At Democratic Debate, Hillary Clinton Braces for Attacks on Candor, Reversals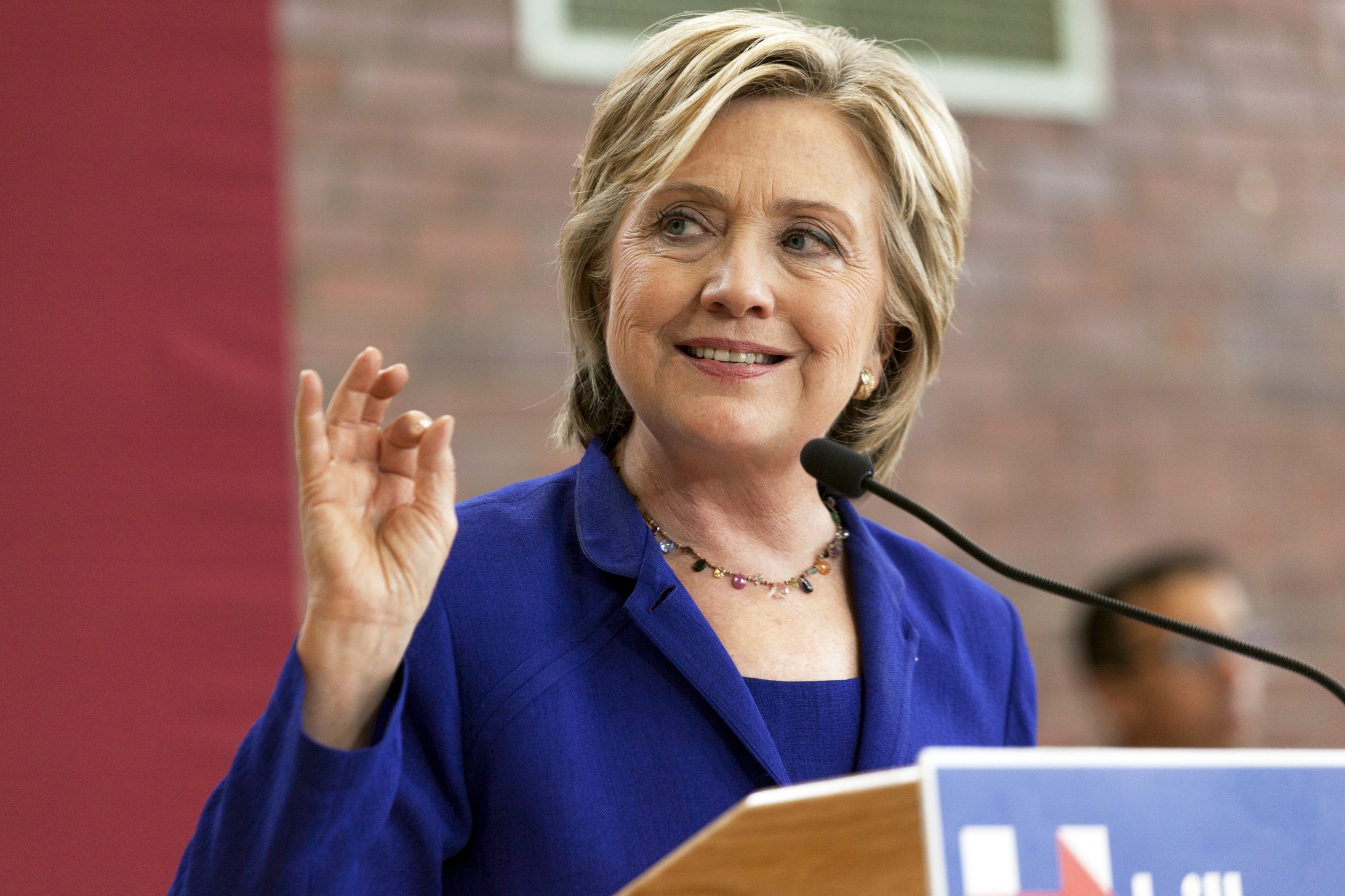 It's like a law of physics: presidential front-runners get attacked. Hillary Clinton will be no exception on Tuesday night when she faces her four rivals for the Democratic nomination in Las Vegas.
The former secretary of state is encountering a tough challenge in some state polls, such as Iowa and New Hampshire, but nationally she still retains leads of over 20 percent above her most serious challenger, independent Vermont Senator Bernie Sanders. That means that on Tuesday night each of the candidates will try to peel off votes from Clinton, who is making her second bid at the presidency. At this time eight years ago, she was also the Democratic front-runner, against the likes of Senators Barack Obama and Joe Biden.
Related: Can Hillary Clinton Move Beyond Benghazi?
Some of the same arguments that Obama used against Clinton in 2008 are likely to be echoed on Tuesday night. Clinton's vote for the Iraq War authorization in 2003 was something she sought to explain in 2008—not by renouncing it but by insisting that she'd voted for force so it could be used to get Saddam Hussein to comply with demands for weapons inspections.
But since 2009, Clinton has categorically declared the Iraq War a mistake. That capitulation will unlikely be enough to spare her attacks from Sanders, who voted against the war when he was a congressman. The same can be said for another debate challenger, former Rhode Island Governor Lincoln Chafee, who at the time of the vote was a Republican senator from Rhode Island and the sole member of the GOP conference to challenge then-President George W. Bush on the war. Chaffee, whose father was a prominent Republican senator, became an independent after leaving the Senate and endorsing Obama. He is now a Democrat.
Clinton may get the most grief on Iraq from James Webb, the former Democratic Virginia senator who served as secretary of the Navy under Ronald Reagan. A Vietnam War veteran, Marine and author of several books, Webb was an ardent opponent of the Iraq War — a position that helped propel him to the Senate in 2006 during a period when American forces in Iraq's Sunni triangle were taking high casualties. Webb was chosen to offer the response to President Bush's State of the Union address in 2007 to make the case against the war. The same arguments used then are likely to be used against Clinton on Tuesday night.
Related: Hillary Clinton, First Lady: The 1993 Newsweek Cover Story
Webb is also a rare public figure who opposed the Iraq War and also opposes the Iran nuclear deal, so it's possible he may go after Clinton on that front as well. Clinton is a staunch supporter of President Obama's Iran deal, which she has said is the best strategy to prevent Iran from acquiring a nuclear weapon.
In addition to her early stance on invading Iraq, Clinton's challengers are likely to cite her long delays before deciding to oppose the Keystone XL Pipeline and the Trans-Pacific Partnership, the multilateral trade pact that was signed last week. Clinton was supportive of the TPP as secretary of state, and her newfound opposition is sure to come up in Las Vegas. With these sudden moves to the left, an aide to Sanders tweeted that Clinton may soon start identifying herself as a democratic socialist.
So far, the Democratic contest has been remarkably civil—especially compared with the Republican scrum, where Donald Trump has hurled insults and gotten them in return. "Jackass," said Senator Lindsey Graham about the billionaire in July on CNN and many times since.
Tuesday's debate is unlikely to feature such untidy language, but Clinton's four rivals are likely to imply—or maybe directly raise—issues about her character. It's doubtful they would make much of the ongoing controversy over her use of a private server for emails while working at the State Department, since most Democrats seem to see that as a GOP witch hunt. But they are likely to turn Clinton's policy reversals on Keystone and TPP into questions of temperament. Is she a flip-flopper? Does she change with the political winds?
Related: Hillary's Secret Weapons to Win the Nomination
Then there's the question of Bill. Clinton's husband, the former president, remains tremendously popular among Democrats, but so many of his policies—financial deregulation, opposition to same-sex marriage, a tough stance on crime, free trade agreements—have become verboten in the Democratic Party. Identifying Clinton as the old guard or yesterday's candidate will carry the implication that she wants to return to some of her husband's policies, which the party has jettisoned.
One advantage Clinton may still have is gender. She'll be the only woman on the stage, and at times she's drawn sympathy for that. In 2000, during her first Senate bid, when she faced off against Rick Lazio, then a Republican congressman from Long Island, Clinton was aided by a backlash when the Republican seemed to invade her personal space and acted in a manner many—men and women—considered condescending. Lazio's walking over to Clinton and waving his finger in her face was called "menacing" by Clinton's campaign. Jon Stewart's called his segment on the debate "Rodham 'n' Creep." And when Obama referred to Clinton as "likable enough" in a 2008 debate, it seemed to aid her. Her opponents may manage to parry and thrust in a way that wounds Clinton without offending Democratic voters.
There's no telling what can happen on stage, especially when there are multiple candidates meeting for the first time. But Clinton, like any front-runner, is going to be front and center—taking slings and arrows about her record and her character.