Hillary Clinton Says Fox News 'Attacks' Defame Her, Hints She Could Sue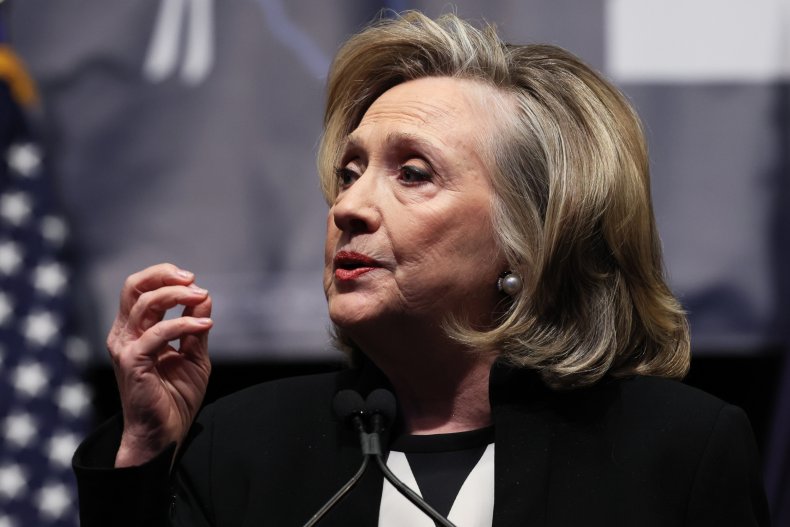 Former Secretary of State Hillary Clinton has hinted that she could file a defamation suit against Fox News for launching malicious "attacks" against her.
Clinton suggested on Thursday that the network's recent reports on what she has called a "fake scandal" pushed by former President Donald Trump were getting close to "actual malice"—a legal standard that is required for public figures to file libel lawsuits. Clinton said that conservative attacks on her were meant to distract from Trump's recent difficulties.
"We can't get distracted, whether it's by the new culture war nonsense or some right-wing lie on Fox or Facebook," Clinton said during a speech at the New York State Democratic Convention. "They've been coming after me again lately, in case you might have noticed. It's funny, the more trouble Trump gets into, the wilder the charges and conspiracy theories about me seem to get."
"Fox leads the charge with accusations against me, counting on their audience to fall for it again," she added. "And as an aside, they're getting awfully close to actual malice in their attacks. But as I said, don't get distracted."
Fox and other conservative outlets have recently reported on claims that a court filing from Special Counsel John Durham showed that Clinton's 2016 presidential campaign illegally spied on Trump.
The filing claims that a lawyer working for the Clinton campaign told the CIA that online data suggested Russian-made smartphones had connected to networks at Trump Tower and the White House.
Trump has insisted that the filing and supposed scandal surrounding it is "bigger than Watergate," while maintaining that Clinton's alleged crimes would be "punishable by death" during a "stronger period of time in our country."
The former president has also claimed that there is a media cover-up of the document, despite multiple outlets offering extensive coverage. On Thursday, Trump claimed without evidence that Clinton had broken into the White House and properties that he owned.
"So, Crooked Hillary Clinton, one of the most corrupt politicians ever to run for President, can break into the White House, my apartment, buildings I own, and my campaign—in other words, she can spy on a Presidential candidate and ultimately the President of the United States—and the now totally discredited Fake News Media does everything they can not to talk about it," Trump said in a statement.
Legal analysts recently told Newsweek that Durham's document is "absolute nonsense" and "not the smoking gun" that Trump and many of his loyalists claim. The filing does not accuse Clinton of illegally accessing Trump's data.
If Clinton does choose to file a defamation suit against Fox News, she could face a difficult legal battle. Public figures who file defamation suits against news outlets often have difficulty in proving the high legal standard of actual malice.
Sarah Palin, former Republican vice presidential candidate and Alaska governor, recently lost a defamation suit against The New York Times after a jury and judge found that she had not shown that the paper acted with actual malice in publishing an editorial that linked her to a 2011 mass shooting.
Newsweek reached out to Fox News and Clinton's office for comment.