Hillary Clinton Set to Be Named Democratic Nominee on Second Day of Convention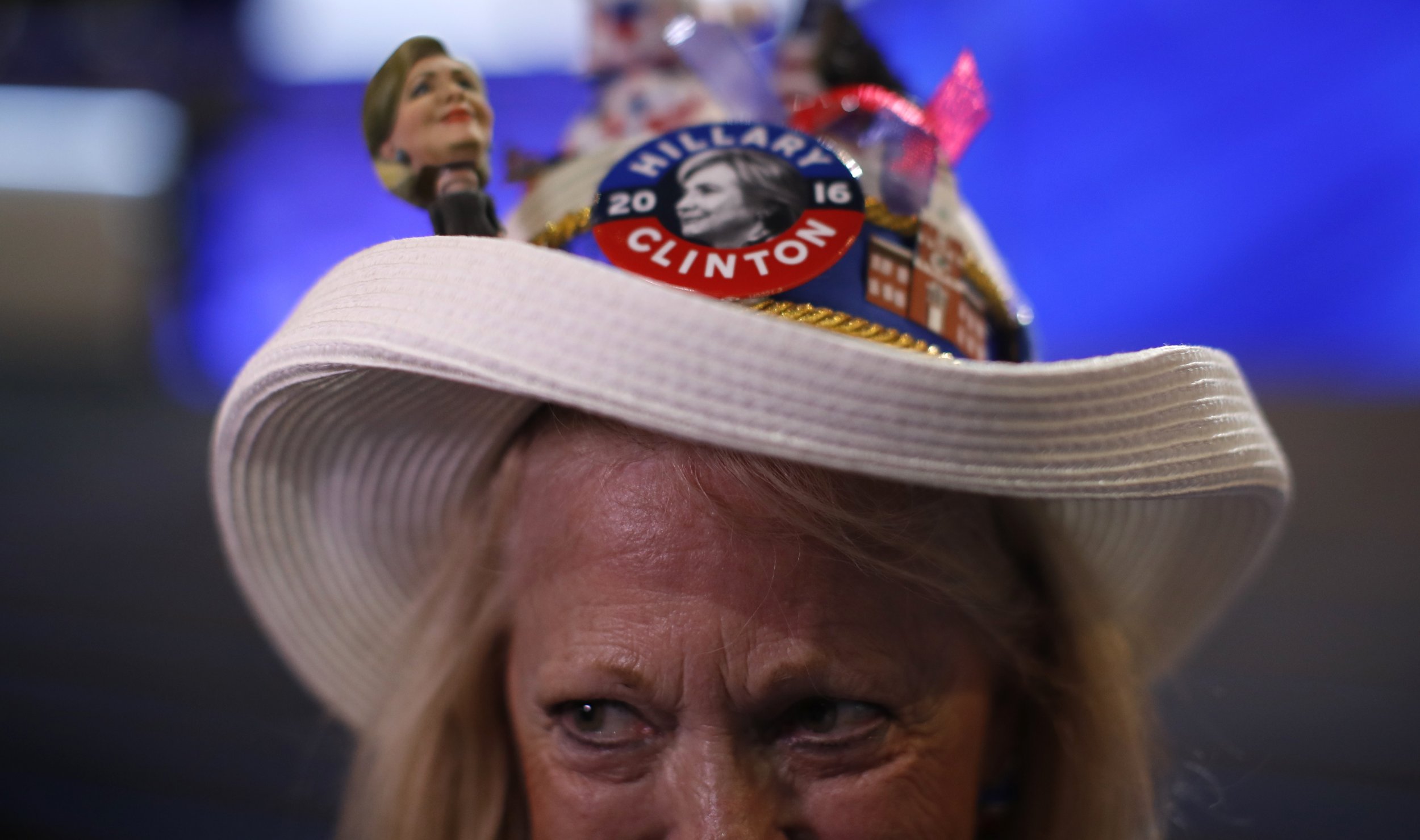 Updated | In 2008, Hillary Clinton ran for the White House against then-Senator Barack Obama, so it is safe to say she has been waiting for this day for at least eight years.
Tuesday is when the delegates at the Democratic National Convention are set to formally name Clinton as their party's 2016 presidential nominee. The former secretary of state has earned enough delegates to receive the nomination, but it becomes official only after a roll call vote of each state at the DNC. It is then that she will become the first woman in U.S. history to be a major political party's presidential nominee.
The second session of the DNC follows a day of turmoil at the Wells Fargo Center in Philadelphia. After Debbie Wasserman Schultz announced over the weekend that she plans to step down as chairwoman of the Democratic National Committee, she decided not to gavel in the gathering on Monday, as was previously planned. Instead, Baltimore Mayor Stephanie Rawlings-Blake officially opened the 2016 DNC.
At one point in the evening, Minnesota Senator Al Franken and stand-up comedian Sarah Silverman took the stage together. Franken said he was a longtime Clinton supporter, while Silverman said she had been "feeling the Bern" as a fan of Vermont Senator Bernie Sanders, the onetime Clinton presidential rival. But together they urged unity in the Democratic Party: "To the 'Bernie or bust' people, you're being ridiculous," Silverman said to a crowd that was chanting "Bernie! Bernie!"
Other notable Democrats that addressed the crowd on Monday night included first lady Michelle Obama, New Jersey Senator Cory Booker, Massachusetts Senator Elizabeth Warren—whom some thought Clinton might pick as running mate—and Sanders. Booker also urged unity, telling the crowd, "If you want to go fast, go alone. But if you want to go far, go together."
The gavel time on Tuesday is scheduled for 4 p.m. Eastern, and the session is set to last until 11 p.m. The day's theme will be "A Lifetime of Fighting for Children and Families." The following is the list of Tuesday's prime-time speakers.
Tom Harkin, former U.S. senator of Iowa
Alison Lundergan Grimes, Kentucky secretary of state
Terry McAuliffe, governor of Virginia
Nancy Pelosi, House Democratic leader
Jason Carter, former state senator of Georgia (video message)
Jimmy Carter, former president (video message)
Chuck Schumer, U.S. senator of New York
Thaddeus Desmond, a child advocate social worker in Philadelphia
Dynah Haubert, a lawyer who works for a disability rights organization
Kate Burdick, staff attorney at the Juvenile Law Center in Philadelphia
Anton Moore, of Philadelphia, founded a nonprofit community group that strives to educate youth on gun violence
Dustin Parsons, a fifth-grade teacher in Little Rock, Arkansas
Daniele Mellott, who adopted a son through the 1997 Adoption and Safe Families Act
Jelani Freeman, who grew up in foster care and is a former intern in Clinton's Senate office
Donna Brazile, Democratic National Committee vice chairwoman of Voter Registration and Participation
Principal and students from Eagle Academy, New York City
Eric Holder, former U.S. attorney general
Cameron McLay, Pittsburgh chief of police
Tony Goldwyn, actor
Mothers of the Movement, whose children died from gun violence or in police custody
Cecile Richards, president of Planned Parenthood Action Fund
America Ferrera and Lena Dunham, actresses
Steve Benjamin, mayor of Columbia, South Carolina
Barbara Boxer. U.S. senator of California
Joe Sweeney, former New York City Police Department detective who served during the September 11, 2001, attacks
Lauren Manning, a survivor of the September 11, 2001, attacks
Joseph Crowley, U.S. representative of New York
Erika Alexander, actress
Ryan Moore, of South Sioux City, Nebraska, who has known Clinton since 1994
Howard Dean, former governor of Vermont
Amy Klobuchar, U.S. senator of Minnesota
Ima Matul, sex trafficking survivor and advocate
Madeleine Albright, former U.S. secretary of state
Bill Clinton, former president and Hillary Clinton's husband
The performers on Tuesday include singers Andra Day and Alicia Keys. Viewers can tune in from home through several different platforms. CNN is offering 24-hour coverage across its platforms. Twitter has partnered with CBS News to offer live coverage on CBSN. PBS and NPR together will offer coverage from 8 to 11 p.m. each night of the convention. The DNC's website and YouTube channel will provide a live stream online.
This story has been updated to include additional speakers.