Buffalo Shooting: Kathy Hochul Rips Social Media Platforms Over Live Stream
New York Governor Kathy Hochul said Sunday that social media companies bear responsibility for the spread of hateful ideology—and should do a better job of monitoring content—after a gunman with white supremacist views live-streamed a racially motivated mass shooting at a Buffalo supermarket.
Ten people were killed and three others were wounded when Payton Gendron, a white 18-year-old, opened fire and methodically targeted Black shoppers and workers at Tops Friendly Market on Saturday afternoon. The attack, which police have described as "racially motivated violent extremism," was broadcast for nearly two minutes on the live streaming platform Twitch before it was taken down.
In the hours after the shooting, Hochul said social media outlets need to be "more vigilant" in monitoring content and expressed dismay that the live stream wasn't taken offline "within a second."
"The fact that this act of barbarism, this execution of innocent human beings could be live streamed on social media platforms and not taken down within a second, says to me that there is a responsibility out there," Hochul told reporters on Saturday.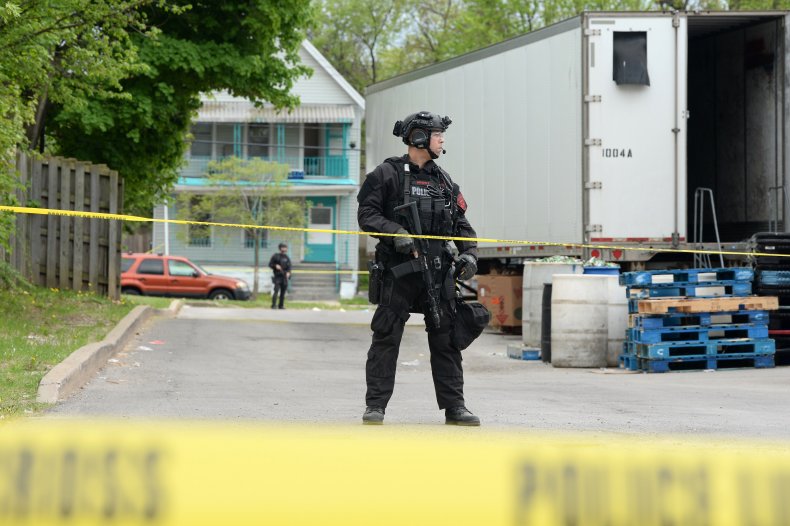 The Democratic governor added Sunday that tech companies have a moral responsibility to prevent the spread of hateful messaging, noting that they should be taking "every step humanly possible" to monitor racist and violent posts.
"How these depraved ideas are fermenting on social media, it's spreading like a virus now," she said during an interview with ABC News' This Week. "This massacre of innocent people, the military-style execution was viewed by other people. This could result in others replicating the same experience."
After the attack, a spokesperson for Twitch said the site "has a zero-tolerance policy against violence of any kind and works swiftly to respond to all incidents," according to the New York Times. The company added that Gendron's account has been indefinitely suspended, and that it will take action to prevent anyone from rebroadcasting the shooting on its platform.
Gendron drove over 200 miles to carry out the attack, which marks the deadliest mass shooting in Buffalo's history. A manifesto believed to have been posted by him has since emerged online, riddled with white supremacist, anti-immigrant views. In it, Gendron said the shooting was motivated by a racist ideology known as replacement theory, which claims that white Americans are at risk of being replaced by people of color.
The 18-year-old added that he chose the Buffalo neighborhood because it has a high percentage of Black residents. Eleven of the people who were shot are Black, and a gun Gendron used in the attack was emblazoned with a racist slur.
Gendron was taken into police custody and arraigned on a murder charge Saturday. His family's home in Conklin, New York, was surrounded by law enforcement officials after the attack.
"This was pure evil," Erie County Sheriff John Garcia said during a news briefing after the attack. "It was [a] straight up racially motivated hate crime from somebody outside of our community...coming into our community and trying to inflict that evil upon us."