Home Video of Dog Starting Major Kitchen Fire Shocks Firefighters
Firefighters in Missouri recently got quite the surprise when they showed up to a house fire that was caused by a dog turning on a stove burner.
Southern Platte Division Chief Chris Denney told Newsweek that firefighters from the Kansas City Fire Department and Southern Platte Fire Protection District responded to the incident at about 8:40 a.m. Friday morning in Parkville, finding smoke and flames billowing from the home.
Two dogs were rescued at the home, and the homeowners were reportedly away at the time. Flames were extinguished and no injuries were reported.
During the investigation, authorities accessed interior video cameras from the home in the Riss Lake neighborhood, which provided clear evidence that one of the homeowners' dogs stood on its hind legs and turned a stove burner on. See video above.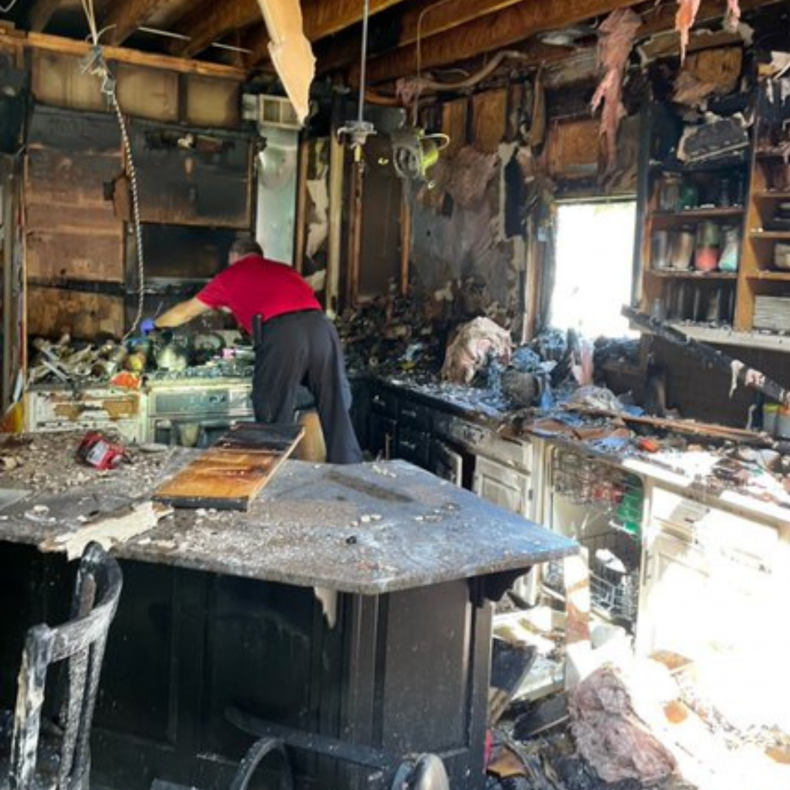 Denney said the burner that was turned on heated a pan that was left on the stovetop. It contained food from the previous night's dinner, which caused grease to ignite and led to the flames and damage.
He said firefighters were called after smoke was noticed by neighbors.
Captain Chris Alvarado of the Southern Platte Fire Protection District told FOX 4 that authorities "could actually see the grease explode in the video," leading to a blaze that lasted for about eight minutes.
The homeowners, who declined to speak to the media, wanted authorities to share their in-home video footage to warn others of the potential damage that could be caused by pets—especially with new-age technology that may be more easy to ignite.
"New appliances are being seen with touch controls that activate by the simple touch of a finger," Denney said. "An animal's paw can also activate these types of controls. Please use built-in safeties if available on appliances when not in use and accessible by children and/or animals."
Fire Statistics
The National Fire Protection Association (NFPA) reported in 2018 that "cooking is such a routine activity that it is easy to forget that the high temperatures used can easily start a fire."
Data provided by the NFPA between the years 2012 and 2016 showed:
Cooking was the leading cause of reported home fires, at about 48 percent, and
Cooking was the leading cause of home fire injuries, at about 45 percent.
Cooking was also the second-leading cause of home fire deaths at 21 percent.
U.S. fire departments respond to approximately 172,100 home structure fires annually that are the result of cooking activities, or about 471 incidents daily.
It is estimated that such fires cause an average of:
530 civilian deaths,
5,270 reported civilian fire injuries, and
$1.1 billion in direct property damage per year.
Home fires caused by cooking peak at Thanksgiving and Christmas, the NFPA said.
Videos on the internet have shown dogs of different sizes climbing onto stovetops, causing owners to think twice about trusting their furry friends.
Videos have also shown dogs walking on their hind legs, as the dog did in Missouri that caused the fire in the first place.
Sometimes, like in Rhode Island earlier this year, dogs alert their owners to a fire, rather than cause one.