Homeowner Says Workers Tore Roof Off Wrong House in 'Disaster' Mistake
A Kansas homeowner said workers ripped off the "entire roof" of his house before realizing they were at the wrong address.
Steve Kornspan, a realtor in Overland Park, Kansas, has been leasing the house for short-term rentals since he moved out a few months ago, according to local station KCTV. On Tuesday, a guest messaged him to ask why workers were "banging around" on the roof.
Kornspan said he had not hired any contractors to work on his house. But by the time he got there, the workers had realized their mistake and vanished—leaving "99 percent" of his roof gone, he said.
"A crew showed up at my house and tore the entire roof off, then left," Kornspan said in a Facebook post, along with photos of the extensive damage.
"Police, insurance, and my roofer are working on it," he added. Please let me know if anyone in North [Overland Park] had their roof done yesterday."
The homeowner's security cameras captured the workers arriving and quickly taking off when they realized their mistake. After circulating a photo of their gray Chevy Astro on Nextdoor, he learned that the correct home was a few blocks away on his street.
"It was a disaster," Kornspan told KCTV, saying he was "pretty excited and upset."
Fortunately, on Wednesday, he reached the owner of the roofing company.
"He verified the story and called back, and said he would drop off a check for our new roof tomorrow," Kornspan said in an update on Facebook. "He sounds very sincere and upset that his people did not tell him of the mistake."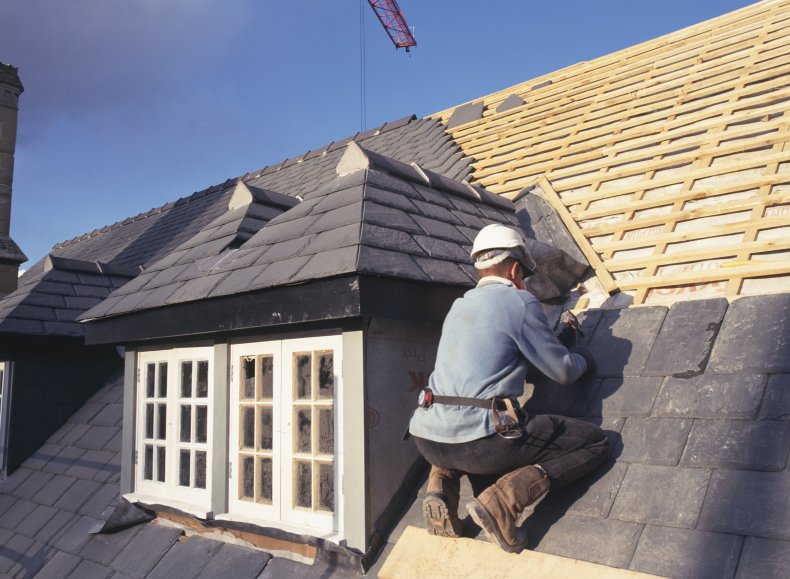 Since the owner agreed to pay for repairs, Kornspan said he decided not to pursue criminal charges.
Forbes has estimated the national average cost to replace a roof at around $8,000, with most people spending between $5,500 and $11,000. However, the house's square footage and the type of roofing material can dramatically drive up that cost.
Newsweek reached out to Kornspan for comment.
While bizarre, accidental roof removals are not entirely unheard of. For families strapped to pay soaring rents and record-high mortgage rates nationwide, the errors can be disastrous.
An Idaho family found themselves in the same predicament as Kornspan in June, returning home to find their roof gone after a contractor went to the wrong address. Their house remained roofless and covered in tarp for over 20 days, while rainstorms seeped into their floor, carpet and walls.
In 2019, a Kansas City roofing company stripped off the roof at another wrong house, reported WDAF-TV. The owner promised to return and replace the family's roof, but two months later, the residents said it was still destroyed while the interior suffered damage from the elements.