'Nightmare': Family's Entire Roof Removed in Contractor Mistake
An Idaho family was shaken to find the roof of their house gone after a grave error from a contractor they never hired.
Jessica Hotvedt, a mom in Spirit Lake, Idaho, told local station KXLY-TV that her daughter came home from school to see people removing their roof on June 1. The building has now been roofless and covered in a tarp for over 20 days.
"This is a nightmare. This is absolutely the worst thing I could have imagined," Hotvedt said.
It turned out that a contractor for D.R. Roofing LLC had gone to the wrong address for a roof removal.
The only explanation left behind was a letter from the contractor, which read, "Due to miscommunication I was given the wrong address to do some roof work. After I did some tear-off I was informed this was the wrong house. I deeply apologize for the inconvenience."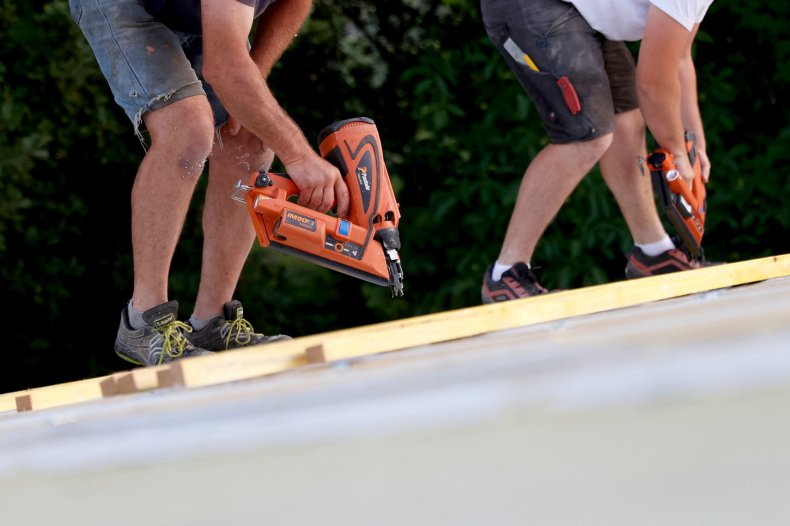 The note also directed Hotvedt to call the roofing company for assistance and promised to repair the roof "in a timely manner," adding, "we will take responsibility for this mistake."
But over three weeks later, Hotvedt said her home is still missing a roof. D.R. Roofing told her the company's insurance would cover the damage, but so far, their insurance claims have been denied she told KXLY-TV.
A letter from the insurance company informed her that "the policy issued to D.R. Roofing contains an exclusion for property damage arising out of an open roof condition."
The tarp covering the family's home has not been able to withstand recent rainstorms in the region, with water seeping into the floor, carpet and drywall, according to Hotvedt. Hotvedt said they have been forced to remove parts of their water-damaged floor and her children can't sleep in their room because of its moldy smell.
Price estimates to redo the metal roof have only further demoralized the mom, who said bids from other companies have quoted over $70,000.
Forbes estimated the national average cost to replace a roof at around $8,000, with most people spending between $5,500 and $11,000. However, the square footage and type of roofing material can dramatically drive up that cost.
For families strapped to pay soaring rents and record-high mortgage rates across the country, an error by contractors or building managers can be disastrous.
In April, a single mom of three was devastated to lose all her belongings in her new Nebraska apartment after it was emptied by her own building management, which mistook her move-in for a move-out.
Meanwhile, a house inspector went viral last year for sharing all the construction mistakes built into a brand new home.
Newsweek reached out to D.R. Roofing and Hotvedt for comment.