Horrific YouTube Video Shows People Laughing as Man Kicks Cat Into the Sea
People at a restaurant in Greece laughed as a man kicked a cat into the sea, a horrific YouTube video shows.
The video, which was originally taken by social media user mkaramanolis and reposted to YouTube by Proto Thema, shows a man teasing two cats with a piece of food on the edge of some decking placed over the sea. People can be heard laughing in the background.
As one of the cats gets close to the piece of food, the man moves his hands away, dangling it over the edge of the water.
The cats seem timid and afraid to approach the man. However, the man then suddenly kicks one of the cats straight into the water.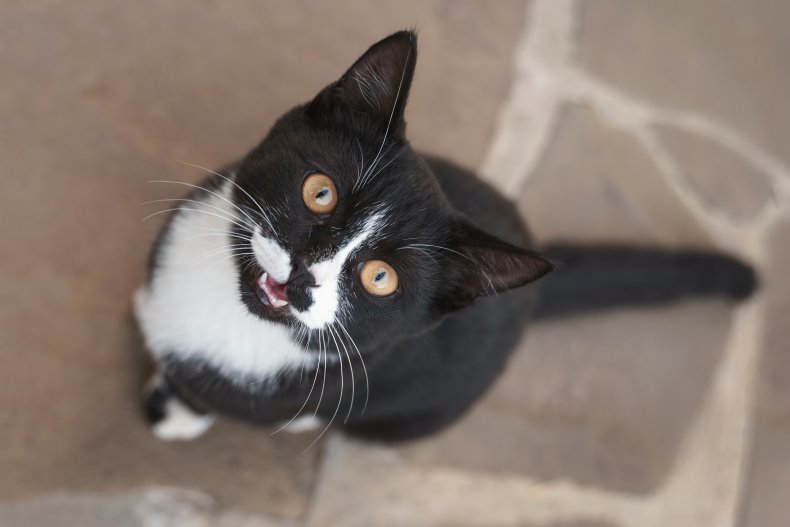 The other cat then begins approaching the man as he attempts to lure it closer to the water's edge. As the man continues to try and lure the second cat into the water, it backs away and runs.
The man in the video has now been arrested.
YouTube's violent and graphic content policy states that "violent or gory content intended to shock or disgust viewers, or content encouraging others to commit violent acts" is not allowed. If YouTube finds a creator to be violating the content guidelines, the video is removed and a notice is sent to the creator.
Newsweek has contacted YouTube for a comment.
The video was taken at a restaurant on Evia island, according to the Greek Reporter.
The man in the video claimed that the footage was only a joke, the Greek Reporter said. He said that the cat was only kicked a short way down, and there were pebbles below it, not water. The Greek Reporter said he also claimed to love animals, saying that he takes care of many strays.
Greek politician Takis Theodorikakos announced the man's arrest on Facebook, alongside a picture of the incident.
"Violence against animals is unacceptable. The government has passed a strict law on protecting animals from abuse which is now in effect, but in every case this is a matter of humanity and culture," he wrote. "I am deeply saddened for those who abuse animals and for those who tolerate it. I heartily salute those who pointed out the issue. The reason now belongs to Greek justice."
Both of the cats—who belonged to the restaurant owner—were unharmed, the Greek Reporter said. The news outlet said the cat kicked into the sea had been taken for a medical examination after the abuse.
In 2020, the Greek government approved plans to make animal cruelty a felony that could result in ten years in prison.
Before this, animal cruelty had not been a serious offense in the country. People who carry out acts of animal abuse could also face a fine from $5,273 to $15,820.