An alleged hospital worker in Illinois said he was suspended without pay for nearly a month after looking at his cell phone, according to a post that went viral this week.
"I'm being suspended for 25 days for glancing at my phone," the employee titled his story in Reddit's "Antiwork" forum, posting as u/SgllsTaklnDux on Wednesday. The man said he was employed at Elgin Mental Health Center in Elgin, Illinois, a city northwest of Chicago.
"I'm already paycheck to paycheck with my four children and various medical situations between my kids and spouse," the worker told Newsweek, asking to remain anonymous.
Despite working at least 60 hours a week in the hospital and receiving "glowing reviews," the employee said he had been suspended after a manager spotted him looking at his phone outside of a break room.
"But f**k me and my family because I had a cell phone in my pocket, right?" he said bitterly in the post, amassing 12,500 votes.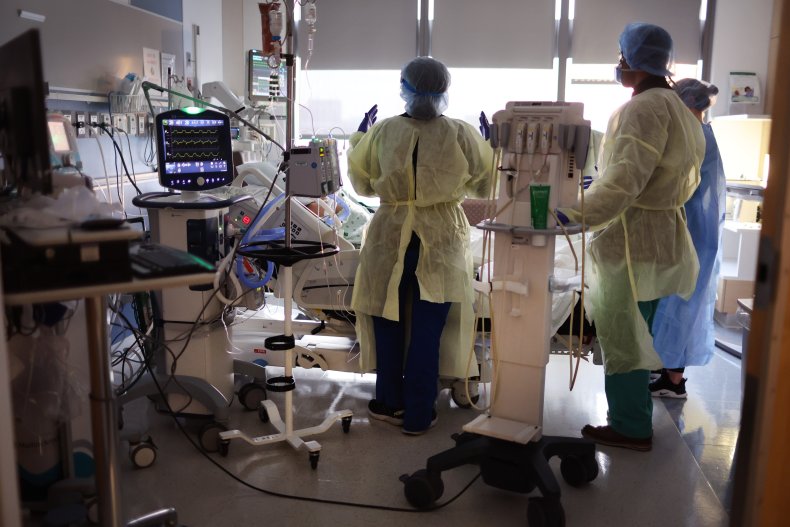 "Why do they keep this policy that they use to bludgeon only their lowest level staff with?" he asked. "You can bet your a** they and everyone around them is constantly on their devices. If they weren't going to pay for my master's degree, and I weren't going to try to use the hospital setting to get my clinical hours while at work, I'd be running for the door."
A spokesperson for the Illinois Department of Human Services confirmed a strictly enforced policy against staff cell phone use at Elgin Mental Health Center. Employees receive a 15-day suspension for their first violation and 25 days for their second violation. The third violation results in discharge.
"Since Elgin Mental Health Center is a psychiatric facility, the patients are often unstable and unpredictable and it is of utmost importance that staff are attentive to patient needs and their surroundings at all times. If a staff is attending to their cell phone, they are not able to be fully attentive to the unit," said the spokesperson in a statement.
He added that personal phones are "a risk to patient confidentiality and security, as cell phones have cameras."
Should Hospital Workers Have Phones?
Whether or not hospital workers should be allowed to use cell phones is a question intensely scrutinized in the medical field.
A 2016 study from the International Journal of Medical Informatics found that nurses could use their personal cell phones at work to "enhance their clinical performance and improve patient care."
According to the survey, 88 percent of nurses said they regularly used apps on their personal phones to research names of medications or review how to perform nursing procedures. Another 69 percent said they used their phones to communicate with colleagues such as a physician, a charge nurse or the nurse's aide.
However, the potential distraction from personal phones can also cause significant errors and injuries, warned RegisteredNursing.org. Moreover, the distraction of a phone can bring a nurse's attention away from building human connections with patients, according to Dr. Michael Francis with the Institute for Nursing Excellence at the University of California, San Francisco.
Reddit readers overwhelmingly took the Illinois hospital worker's side, saying that even if his cell phone use violated administrative policies, his suspension was over the top.
One commenter said, "25 days suspension is a completely disproportionate punishment."
"If you work in healthcare in any capacity, it sounds like your boss is a massive moron (on top of being on an ego trip) because hospitals are fighting for staff of all kinds these days," another user added.
More From Elgin Mental Health Center
Elgin Mental Health Center has weathered multiple horror stories in recent years.
Last year, an 18-year-old patient at the facility was charged with attempted first-degree murder for allegedly severely beating a nurse.
In 2018, hospital employee Christy Lenhardt was arrested on 14 felony charges after allegedly taking advantage of her position to have sexual encounters with patients. Lenhardt was accused of forcing one patient to be her "sex slave" over nearly three years.
Update: 08/08/22 12:39 p.m. ET: This article was updated with a comment from u/SgllsTaklnDux and the Illinois Department of Human Services.
Uncommon Knowledge
Newsweek is committed to challenging conventional wisdom and finding connections in the search for common ground.
Newsweek is committed to challenging conventional wisdom and finding connections in the search for common ground.
About the writer
Shira Li Bartov is a Newsweek reporter based in New York. Her focus is on trending news, human interest and legal stories. She has covered labor and civil rights lawsuits extensively. Shira joined Newsweek in 2022 from Inside Edition. She is a graduate of Brown University. You can get in touch with Shira by emailing s.bartov@newsweek.com. Languages: English, German, Hebrew and Mandarin.