$2,000 Stimulus Check Update as House Democrats to Put Forward Trump's Proposal for Vote
President Donald Trump's last-minute demand that the massive COVID-19 relief deal package passed through Congress this week be amended to raise the amount of stimulus checks to $2,000 is set to be put forward for a Christmas Eve vote.
House Speaker Nancy Pelosi has said she will put forward the proposal during a pro forma session on Thursday, a move that will test the loyalty of Republicans to the president.
The proposal will be put forward under a procedure that permits only one lawmaker to object to its consideration. According to The Associated Press, House Republicans are expected to block the vote, although Democrats may try again on Monday.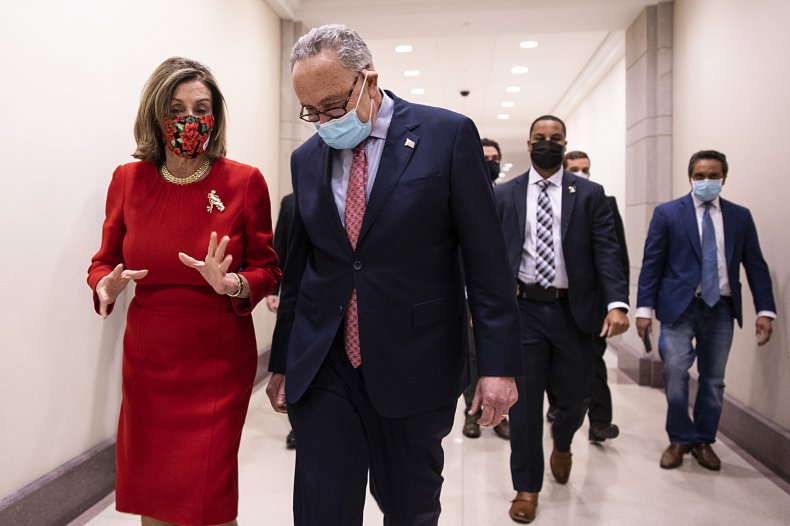 Republicans had resisted $2,000 stimulus checks during negotiations for the bill as too costly, but were thrown a curveball when Trump suddenly denounced the bipartisan COVID-19 relief bill as a "disgrace" a day after it passed and indicated he may not sign the legislation.
But Democrats, who had pushed for larger stimulus payments, seized on the president's demand and called for Republicans to acquiesce.
"Just when you think you have seen it all, last night, the President said that he would possibly veto the bicameral agreement negotiated between Republicans and Democrats," Pelosi said in a letter to colleagues Wednesday. "He said he would do so, unless the economic impact payments were increased to $2,000."
She added: "If the President truly wants to join us in $2,000 payments, he should call upon Leader McCarthy to agree to our Unanimous Consent request."
Angered by Republican leaders acknowledging Joe Biden as the victor in the presidential election, Trump demanded stimulus checks for most Americans be raised from $600—a figure he deemed "ridiculously low"—to $2,000 for individuals and $4,000 for couples in a video tweeted Tuesday night.
His interjection put Republicans in an uncomfortable position, and neither Senate Majority Leader Mitch McConnell nor House Minority Leader Kevin McCarthy have publicly commented on the matter.
Treasury Secretary Steven Mnuchin, who led negotiations on the relief package for the White House, had said stimulus checks would be sent out as early as the beginning of next week—an unlikely prospect if Trump doesn't sign the bill.
The New York Times reported that some House Republicans privately vented about Trump's attack on a private conference call Wednesday, with Rep. Don Bacon reportedly saying the president had thrown them under the bus.
Some Republicans publicly called out the president for reversing course. "Why didn't the president say this before? Why did his administration say it had to be $600?" Rep. Peter King said. "They were the ones driving this."
As well as derailing the delivery of direct payments and unemployment checks to struggling Americans at a critical time, the president's objection to the bill also risks a federal government shutdown next week.
Lawmakers passed the massive COVID-19 relief bill on Monday after months of stalemate by combining it with a larger $1.4 trillion omnibus spending bill to fund government operations for the coming fiscal year. The broader spending bill included routine provisions for foreign aid, which Trump decried as "wasteful and unnecessary."
"Congress found plenty of money for foreign countries, lobbyists and special interests while sending the bare minimum to the American people who need it," he said. "I am asking Congress to amend this bill and increase the ridiculously low $600 to $2,000 or $4,000 for a couple."
He called on Congress to "send me a suitable bill or else the next administration will have to deliver a Covid relief package."
The package Trump assailed would establish a temporary $300 per week supplemental jobless benefit as well as additional funding for struggling businesses, schools and renters facing eviction.
Some Democrats questioned whether the president was aware that some unemployment programs are ending soon. "Does the president realize that unemployment benefits expire the day after Christmas?" Sen. Mark Warner, a Democrat, tweeted.
Senate Minority Leader Chuck Schumer said Trump needed to sign the bill "to help people and keep the government open" and more aid can come later.
"We spent months trying to secure $2000 checks but Republicans blocked it," he tweeted. "Trump needs to sign the bill to help people and keep the government open and we're glad to pass more aid Americans need."
Biden also acknowledged that more economic relief would be needed in the coming months. He described the $900 billion package as "far from perfect" in remarks on Tuesday, but said "it does provide vital relief at a critical moment."