Houston Police Union Condemns Chief Art Acevedo's Comments After He Accused GOP of Siding With NRA
The Houston Police Officers' Union has hit out at Chief Art Acevedo's words against GOP lawmakers for failing to pass the Violence Against Women Act. Acevedo made the comments after a police sergeant was killed on-duty while responding to a domestic violence call.
Acevedo singled out Senate Majority Leader Mitch McConnell and Texan Republican senators Ted Cruz and John Cornyn for criticism during an emotional press conference outside the funeral home of Sergeant Christopher Brewster.
The police chief condemned the GOP-controlled Senate for stalling the bill, which would ban those convicted of domestic abuse from purchasing firearms.
Brewster, 32, was shot multiple times after police received a call from a woman saying her boyfriend was armed and assaulting her. Brewster was killed at 7400 Avenue L about 5:45 p.m. on December 7, after seeing the couple walking down the street together.
"We all know in law enforcement that the one of the biggest reasons that the Senate and Mitch McConnell and John Cornyn and Ted Cruz and others are not getting into a room and having a conference committee with the House and getting the Violence Against Women's Act is because the NRA doesn't like the fact that we want to take firearms out of the hands of boyfriends that abuse their girlfriends," Acevedo told reporters.
"And who killed our sergeant? A boyfriend abusing his girlfriend.
"I don't want to see their little smug faces about how much they care about law enforcement when I'm burying a sergeant, because they don't want to p*** off the NRA.
"Make up your minds. Whose side are you on gun manufacturers, the gun lobby or the children are getting gunned down in this country every single day."
Acevedo added: "That will be the last thing I say this week because the rest of this week is going to be about Christopher Brewster and his sacrifice. And the fact that his mom, his father, his wife, his sisters, his friends, and ultimately the community that he laid down his life for, will be putting him to rest before Christmas because of the cowardice of the political people that we have in office."
Following the press conference, the Houston Police Officers' Union board sent a memo to its members in which it described the timing of Acevedo's remarks as "offensive and inappropriate."
"There is a time and place for every discussion, and this was neither the time or place," the memo adds. "We are all grieving for Chris and the focus should be on him and his family and not on the Chief's agenda.
"It is very clear to anyone watching, the chief owes the entire Houston Police Department an apology for hijacking this somber moment."
The Houston Police Department did not immediately respond to a request for comment.
This graphic from Statista shows the number of people killed by guns in the U.S. over a five-year period.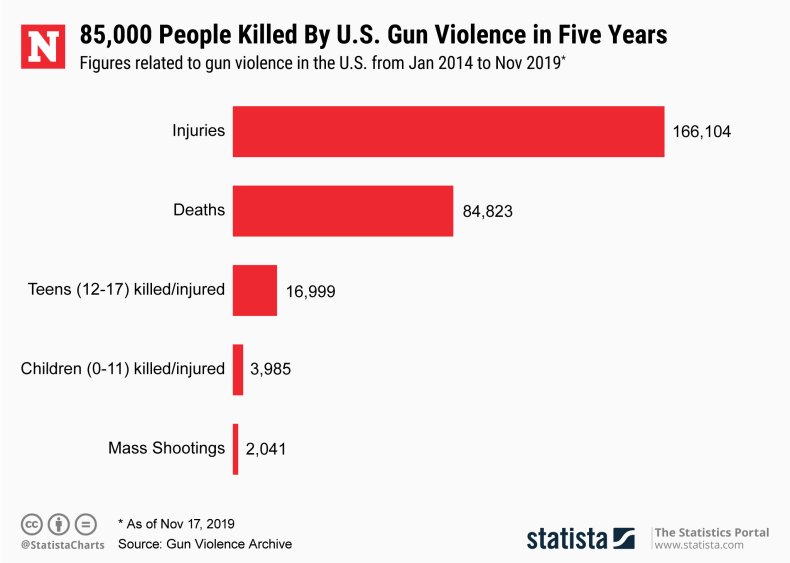 In a statement to CNN, a spokesperson for Cruz said the congressman "is currently reviewing Violence Against Women Act legislation" in the Senate.
"For many years, Senator Cruz has worked in law enforcement, helping lead the fight to ensure that violent criminals-and especially sexual predators who target women and children-face the very strictest punishment," the statement added.
Cornyn's office accused Acevedo of getting it "backwards" with regards to the pushing through of the bill, which originally passed in 1994 before expiring in February. The Democratic-controlled House reauthorized it in April with added protections, but it still has not made it past the Senate into law.
"Democrats in DC walked away from negotiations and that's when it fell apart," a spokesperson said.
McConnell did not immediately respond to a request for comment.
Houston Police have charged 25-year-old Arturo Solis in connection to Brewster's murder.