How Abortion Clinics on Federal Land Could Work
President Joe Biden is facing growing calls to take action to help women access abortion in the wake of the Supreme Court's bombshell decision overturning Roe v. Wade, including using federal land to provide abortions inside states that ban it.
Roe's demise gives states the authority to regulate abortions at any stage of pregnancy, and researchers say about half of U.S. states will move to ban the procedure. Some Democratic lawmakers have been pushing for the Biden administration to take sweeping action, with one proposal touted in a letter from Senator Elizabeth Warren and 23 colleagues suggesting the use of federal land for access to abortions.
That could work because there "is neither a general federal prohibition on abortion, nor...a prohibition on abortions being performed on federal land," Professors David Cohen, Greer Donley and Rachel Rebouché argue in a forthcoming paper for the Columbia Law Review.
In the paper, they note that while the Assimilative Crimes Act (ACA) generally incorporates state criminal laws for crimes committed in federal enclaves, it does not generally assimilate a state statute if there is federal law or policy on an issue.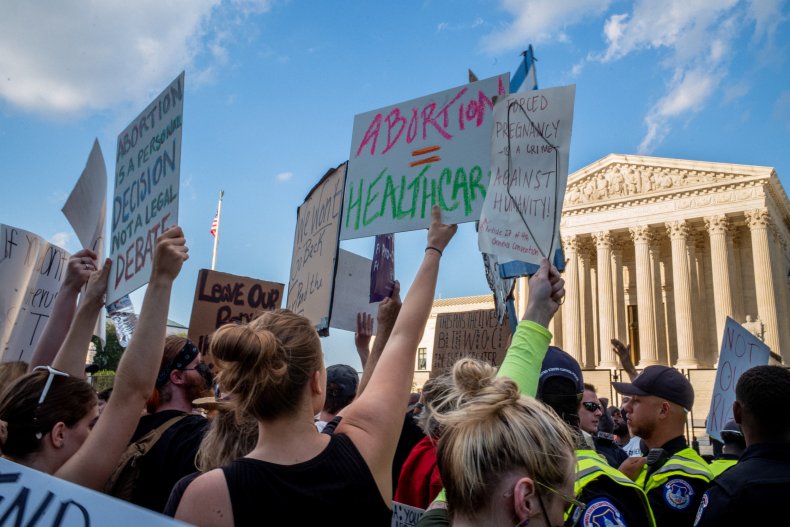 "We make an argument in our paper that because there is a lot of federal law on abortion, in particular, federal law on abortion pills, that state law should not apply" in federal enclaves, Cohen, a law professor at Drexel University, told Newsweek.
"In theory, state abortion bans would not apply to those federal enclaves, so it would essentially be an island of federal jurisdiction in a state that otherwise bans abortion," Rebouché, a law professor at Temple University, said.
The authors noted that even if the ACA incorporated state criminal laws on abortion, it would be up to federal prosecutors to decide whether to bring charges for any crimes committed on that land.
"I would hope that in the Biden Justice Department, the federal prosecutors, would a) agree with their arguments and b) even if they didn't or thought they were shaky, would decide not to prosecute," Cohen said.
But if Republicans were to regain the White House in 2024, federal prosecutors could prosecute abortion providers for care they provided during the Biden administration. To protect providers before the statute of limitations runs out, the "most failsafe response would be to issue pardons," according to Cohen.
While the Hyde Amendment prohibits federal funds from being used to pay for abortions, it does not preclude the federal government from leasing space on federal land to private abortion providers, Rebouché said.
"It shouldn't be [a] Hyde Amendment problem because the federal government isn't paying for abortions, it actually would be the provider paying the federal government," she told Newsweek.
She noted, though, the logistical difficulties of setting up a fully-functioning clinic, and that expanding access to medication abortion would be a better solution in the short term.
"You could even have a provider who is counseling a patient via telehealth from another state with the patient on federal land. These state laws don't target patients, they target providers," Rebouché said.
"So everything that state laws currently target would happen on federal land. If states decided to punish patients for taking medication abortion, then there would be a question of where the abortion occurs."
Civil laws like SB8 in Texas—which empowers private citizens to file lawsuits against abortion providers and others who help a woman obtain an abortion in the state—would not be assimilated under the ACA, the authors argue, because state civil laws do not apply on federal land unless they existed at the time the land was transferred to the federal government.
"SB8, being so novel, did not exist at the time any transfer of land to the federal government happened in Texas," Cohen said.
However, abortion providers may have to weigh the risk of wrongful death lawsuits. State prosecutors could also target abortion providers for abortion-related crimes conducted off federal encalves,
"Everything that my co-authors and I have proposed, everything that other people are proposing involves some level of risk," Cohen said.
"That's going to be inescapable because we're in this horrible moment where the Supreme Court has taken away people's rights. And so now, people are sorting through all of the less perfect options. Less perfect options involve risk."
Jennifer Driver, State Innovation Exchange's senior director of reproductive rights who works with legislators committed to preserving abortion rights, said it is urgent that Biden "use the full force of the executive branch" to expand access to abortion.
"The Biden administration must declare a public health emergency as urged by the Congressional Black Caucus, establish abortion provisions on non-tribal federal lands, and use federal funds to make the interstate travel they have committed to protecting possible," Driver said.
Asked about the proposal to provide abortion care on federal land, a White House official told Newsweek that "while this proposal is well-intentioned, it could put women and providers at risk. And importantly, in states where abortion is now illegal, women and providers who are not federal employees could be potentially be prosecuted."
White House press secretary Karine Jean-Pierre on Tuesday also warned of the legal danger women and care providers who are not federal employees would face in states where abortion is now illegal.
Vice President Kamala Harris said on CNN on Monday that the administration is not currently discussing using federal lands to provide abortion care. But Health and Human Services Secretary Xavier Becerra didn't rule it out when asked about the proposal at a briefing on Tuesday.
"Every option is on the table," Becerra said. "We will take a look at everything we can, and everything we do will be in compliance with the law."
The graphic below, provided by Statista, shows the state of U.S. abortion laws after the Supreme Court overturned Roe v. Wade.