How Amber Heard Can Win Her Appeal Against Depp, According to Lawyers
Amber Heard's legal team has undergone a major shake-up with the actress's attorney, Elaine Bredehoft, stepping down ahead of the appeal against the Johnny Depp verdict.
A number of legal experts agree that the Aquaman star is making a "smart move" by reshuffling her counsel for the appellate trial and some have weighed in on how her team can pursue a court victory this time.
In July, Heard filed a motion at the Circuit Court of Fairfax County to appeal the defamation verdict. She has hired two new lawyers for her appeal: David L. Axelrod and Jay Ward Brown of the firm Ballard Spahr.
"In order for Heard's appeal to be successful, her counsel will need to convince the appellate court that there was such a mistake of law or fact that occurred during the trial and furthermore that the error caused harm to her ability to receive a fair trial," Eric D. Subin, senior trial attorney and partner at Subin Associates, told Newsweek.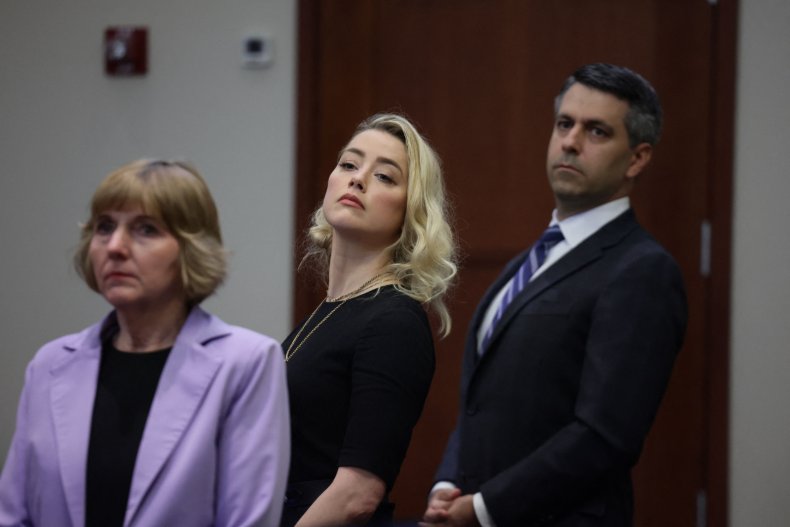 The blockbuster defamation trial between the former married couple earlier this year saw a jury largely side with Depp and award the actor $10 million in compensatory damages, as well as $5 million in punitive damages. The punitive damage award was reduced to $350,000 due to a Virginia law that caps punitive damage awards.
Both parties leveled severe accusations of physical and psychological abuse during the televised trial, which was discussed on social media at unprecedented levels.
While announcing the appeal in July, a spokesperson for Heard said: "We believe the court made errors that prevented a just and fair verdict consistent with the First Amendment. We are therefore appealing the verdict. While we realize today's filing will ignite the Twitter bonfires, there are steps we need to take to ensure both fairness and justice."
Subin added that if Heard is successful in her appeal, "then she'll receive the opportunity to try the case again and the trial judge in the retrial will be bound by the ruling of the appellate court."
Meanwhile, Andrew M. Lieb from Lieb at Law said that Heard is making a "smart move" by hiring new lawyers for her appeal and stated that she needs a "new tone" to ensure victory.
"For Heard, she needs a new tone to reverse her big loss and bringing in new attorneys is just how to get it done," Lieb told Newsweek.
The lawyer previously said that the actress is making a "smart" and "strategic" play by appealing the verdict of her defamation battle.
Jacqueline Newman, managing partner of Berkman Bottger Newman & Schein LLP, previously told Newsweek that "attorneys like doctors have certain specialties," adding: "If you want to appeal a lower court's decision, it would be wise to retain an attorney that specializes in appellate work."
Depp's lawyers previously branded Heard's request for a retrial as "outlandish," but have since said they are "confident" that the verdict will stand.