Amber Heard's New Legal Team a 'Smart Move' for Next Court Battle
Amber Heard has hired new lawyers ahead of her appeal of the verdict in her case against ex-husband Johnny Depp, with Elaine Bredehoft no longer on the case—and legal experts have said that this is a "smart move" for the Aquaman star.
Heard is about to embark on an appeal to overturn the defamation suit she lost against Depp, and has hired two new lawyers for her appellate case; David L. Axelrod and Jay Ward Brown of the firm Ballard Spahr.
Bredehoft, who represented Heard during the trial in Fairfax, Virginia, said in a statement shared with Newsweek that it is "the perfect time to pass the baton."
"I have pledged to Amber and her appellate team my complete cooperation and assistance as they move forward on a path towards success," Bredehoft said.
Bredehoft was one of the lawyers that represented Heard in her legal proceedings against Depp which saw a jury award the actor $10 million in compensatory damages, as well as $5 million in punitive damages. The punitive damage award was reduced to $350,000 due to a Virginia law that caps punitive damage awards.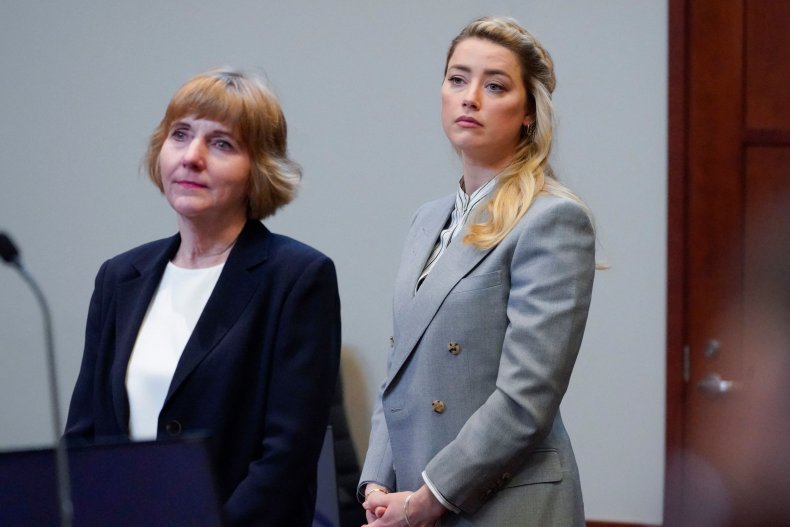 In July, Heard filed a motion at the Circuit Court of Fairfax County to appeal the defamation verdict.
"There is no real surprise that Amber Heard has hired more niched representation for her appeal," Eric D. Subin, senior trial attorney and partner at Subin Associates, told Newsweek.
"It is common practice to bring on appellate counsel to either replace or supplement trial counsel after an adverse jury verdict. Appeals are argued before and decided by a panel of appellate judges, as opposed to a jury," Subin explained.
Frank Salzano, an entertainment attorney with Salzano Lampert & Wilson, LLP, said "that often clients who are appealing a lower court's decision will hire new counsel to file an appeal. One driving reason is that appellate work is a very highly specialized area of legal practice which is very nuanced.
"It also can be beneficial for a client to have a new set of eyes on the file to get a new perspective on the issues in the matter."
Jacqueline Newman, managing partner of Berkman Bottger Newman & Schein LLP agrees that Heard's decision to switch up her legal team makes sense to her and added: "Attorneys like doctors have certain specialties. If you want to appeal a lower court's decision, it would be wise to retain an attorney that specializes in appellate work."
Andrew M. Lieb from Lieb at Law said that Heard is making a "smart move" by hiring her new attorneys because an appeal is a completely different beast than a trial.
"Amber Heard is making a smart move by changing up her legal representation from trial to appeal," Lieb told Newsweek. "Not only is this smart because her new attorneys are First Amendment champions, which is a key issue on her appeal but more so, because an appeal is a completely different legal challenge than a trial where different types of lawyers are considered the best."
Meanwhile, Carole Lieberman, a forensic psychiatrist and expert witness, bluntly explained: "If Amber kept the same attorneys, she would get the same results—a huge loss!"
"Elaine Bredehoff was not only a disaster at trial, she compounded her problems by going on a media tour badmouthing the judge and the jury, making anyone who didn't hate her before, hate her now," Lieberman added. "She was an embarrassment."
Last month, Depp's attorneys said they are "confident" that the verdict in the defamation trial against Heard will stand in her appeal.
A spokesperson for Depp responded to the motion, telling Newsweek: "The jury listened to the extensive evidence presented during the six-week trial and came to a clear and unanimous verdict that the defendant herself defamed Mr. Depp in multiple instances," the statement read.
"We remain confident in our case and that this verdict will stand."