Amber Heard's Lawyer Steps Down: Elaine Bredehoft's Viral Trial Moments
Amber Heard is experiencing a veritable changing of the guard in her legal team, following the announcement that she is forging ahead with new lawyers, as long-time attorney Elaine Bredehoft steps down.
As Heard embarks on her appeal to overturn the defamation suit she lost against ex-husband Johnny Depp, the screen star has hired two new lawyers: David L. Axelrod and Jay Ward Brown of the firm Ballard Spahr.
Bredehoft, who represented Heard during the recent trial in Fairfax, Virginia, said in a statement shared with Newsweek that it's "the perfect time to pass the baton."
"I have pledged to Amber and her appellate team my complete cooperation and assistance as they move forward on a path towards success," Bredehoft added.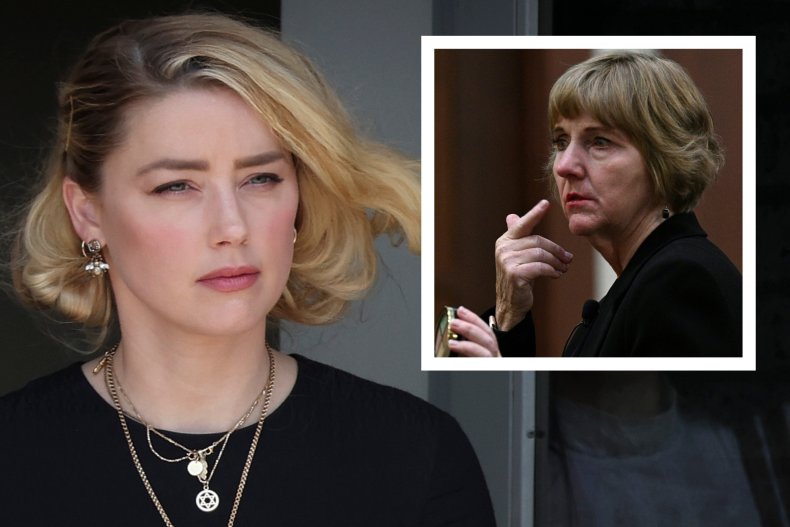 "When it comes to protecting the fundamental right of Freedom of Speech, we look at the jury's decision—to paraphrase a famous quote—not 'as the beginning of the end, but merely the end of the beginning,'" a spokesperson said on behalf of Heard.
"A different court warrants different representation, particularly as so much new evidence is now coming to light," they added.
Though Ben Rottenborn, who also represented Heard in the recent trial, will continue as co-counsel, Bredehoft's stepping down marks something of an end of an era.
While the esteemed attorney battled it out in court on Heard's behalf this year, she became the focus of many a viral moment on social media as fans pored over every detail of the televised court proceedings.
Newsweek has taken a look at some of Bredehoft's more memorable moments in court.
The Milani Cosmetics Moment
Depp, 59, filed a $50 million defamation lawsuit against Heard, 36, in response to a 2018 op-ed in The Washington Post, in which she said that she was a domestic abuse survivor. During opening statements as the trial kicked off in April, Bredehoft said that Heard had used makeup to cover up bruises throughout her relationship with Depp.
"All kinds of people saw Amber that week, and she didn't have any bruises on her face. Well, let me show you this," said Bredehoft while holding a makeup palette. "This is what Amber carried in her purse for the entire relationship with Johnny Depp."
In reaction to the statement, Milani Cosmetics released a video on TikTok in which it stated that its Conceal & Perfect All In One Correcting Kit, which it purports Bredehoft was holding, was not in circulation during Heard and Depp's relationship, which started in 2012 and ended in 2016.
"You asked us... let the record show that our Correcting Kit launched in 2017!" Milani's caption read on the video, which went viral and clocked up millions of views within hours. It was also used as apparent proof of a mistruth across social media.
"Take note: Alleged abuse was around 2014-2016, got divorced 2016, makeup palette release date: December 2017," read the text added to the video.
While the video went viral and made for one of the trial's first huge TikTok moments, Bredehoft did not claim that the specific brand or kit was the very one used by the Aquaman star.
The Look of Loss?
In May, Bredehoft became a talking point on social media once again, but it appeared to be more about what she didn't say than what she did.
A video went viral that showed Depp's attorney, Camille Vasquez, grilling Heard about incidents when she alleged she was assaulted by Depp. As Heard was questioned by her own attorney Bredehoft, Vasquez repeatedly objected to the testimony as hearsay and lacking evidence.
Bredehoft conceded that she had no more questions and the judge told Heard to go and sit with her counsel. However, Heard was shown choosing not to sit with Bredehoft and instead left the courtroom.
A clip of the moment amassed more than 5.5 million views on TikTok, with creator @that1girl143 writing: "It was at this moment she knew she lost the case."
Weeks later, Heard did, indeed, largely emerge defeated following the high-profile trial.
The jury in June found that Heard had defamed Depp and awarded him more than $10 million. Depp was ordered to pay $2 million to Heard—who had counter-sued for $100 million—for defaming her via comments made by his attorney Adam Waldman.
Claims of Tears in Court
After the trial drew to its close on May 27, it was claimed by a bystander that Bredehoft broke down in tears in the Fairfax County Circuit Court.
The final day of the trial saw lawyers for both sides drive home their points on why the jury should rule in favor of their respective clients, following six weeks of testimony from the stars themselves and a packed roster of witnesses.
Twitter user @jamesfromcourt, who had been in and around the court during proceedings, took to the social media platform several hours after the jury started their first day of deliberation to claim that he saw Bredehoft in tears.
Responding to a tweet from somebody who said that the lawyer "looks like this trial has broken her," @jamesfromcourt wrote: "Late after trial, before the jury went home, #ElaineBredehoft left for the bathroom crying. We all felt terrible for her. After she came out, we tried to make her smile. I hope it helped."
In a follow-up tweet, @jamesfromcourt said that while he was unaware why Bredehoft was purportedly in tears, he and those he was with at the time "noted how it must be hard for her to deal with all of this public attention."
The tweet sparked an outpouring of support from Depp fans who stated that Bredehoft was simply doing a job she was hired to do.
After the tweet went viral and sparked debate, @jamesfromcourt made an appearance on Andy Signore's YouTube show, Popcorned Planet, to further discuss his claims about seeing Bredehoft in tears at court.
"It was around 5 o'clock, right before the jury decided they were going to go home for the day," he told his interviewer about the alleged incident. "Everyone had pretty much left, but there were a few people hanging around, just in case they had [reached] a verdict."
He went on: "Three of us were standing outside the bathroom when we saw her basically kind of not run, but go into the bathroom very quickly crying. And then one of them was going to go in after her, but another woman entered the bathroom, too."
According to @jamesfromcourt, when Bredehoft departed the restroom, "she had, like, a red nose. Maybe she had been blowing her nose or something. She seemed a little bit better, but...we noticed. It was very visible, because she's cried a couple of times in court as well that we've noticed. So we all had said something about it, like...we feel so bad for her.
"So after she came out, we all were like, 'Hey, you're doing a great job. It must be so hard. We understand. It's not you,' and stuff. She smiled and she said thank you and then went back into the courtroom."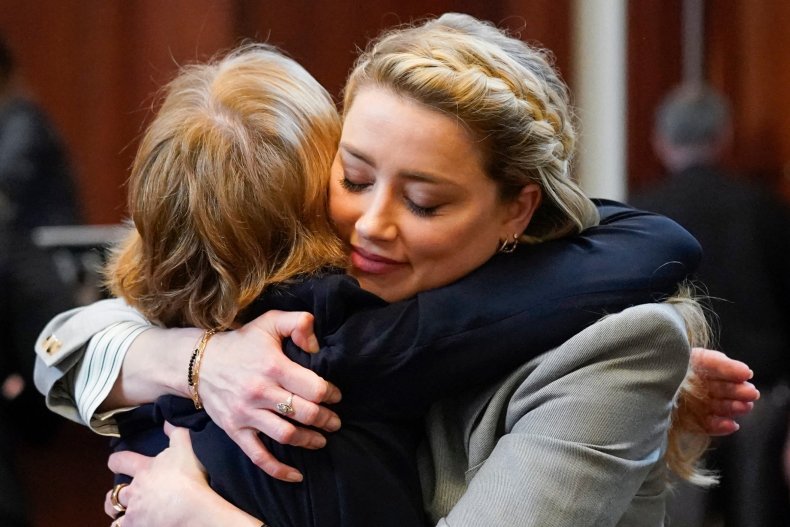 Speculating on why Bredehoft may have been emotional on the final day of the trial, @jamesfromcourt explained that the attorney had been criticized by Depp fans on social media as proceedings came to a close.
"They still have their phones in court. They're allowed to look, so I think she's getting a lot of the public attention towards her as well and she's not used to that," he said. "She's not used to defending actors and actresses and stuff."
Of the reaction to Heard's legal team by those who attended the trial, he added: "No one's rude to them, no one says anything when they walk around. But I think they know that they are the disliked team in the court, especially by the audience.
"And, you know, it's got to be hard to have all that directed at you...They're lawyers, they are doing their job. Their whole point is to do that and they would be bad at their job if they, based on their client, acted a certain way or didn't try as hard. So they definitely need credit for that."
At the time, Bredehoft did not respond to Newsweek's request for comment.