How Britney Spears and Sam Asghari Met As Star Announces Engagement
Britney Spears has announced that she is engaged to her longtime boyfriend Sam Asghari.
The pop star—who has recently seen success in her bid to end her court-appointed conservatorship—shared the news with fans on Instagram.
"I can't f***** believe it," the 39-year old captioned a post showing off her engagement ring from her new fiancé.
In the seconds-long clip, the 27-year-old model, actor, and personal trainer asks Spears if she liked the diamond ring. She excitedly responds: "Yes!"
The couple has since received an outpouring of support and well-wishes, with Paris Hilton being one of the first to congratulate them.
"Congratulations love!! So happy for you! Welcome to the club!" the heiress commented.
In a statement, thanking fans for their support, a representative for Asghari told Page Six: "The couple made their long-standing relationship official today and are deeply touched by the support, dedication and love expressed to them."
Spears has been famously living under a strict conservative mostly imposed by her father Jamie Spears for the past 13 years. He filed to end the conservatorship last week.
The star was previously married to Kevin Federline, with whom she shares two teenage sons, Sean Preston and Jayden James.
Spears and Asghari met in 2016 on the set of her music video "Slumber Party."
"I was excited that I [would] get to meet one of the biggest artists of all time," he told Men's Health about being booked to be in the video in July 2018. "I had butterflies."
Asghari revealed that in trying to be witty when meeting Spears he almost ruined his chances.
"She said, 'Hi, I'm Britney,' and I said, 'I'm sorry, what's your name again?'" he recalled to the magazine. "I tried to be funny. I don't think anybody got it."
Spears is said to have seen the funny side, however, and the two exchanged numbers.
The "Toxic" hitmaker was the subject of a documentary called Framing Britney Spears earlier this year.
Days after its release, Asghari spoke about his future with Spears, telling People: "I have always wanted nothing but the best for my better half, and will continue to support her following her dreams and creating the future she wants and deserves.
"I am thankful for all of the love and support she is receiving from her fans all over the world, and I am looking forward to a normal, amazing future together."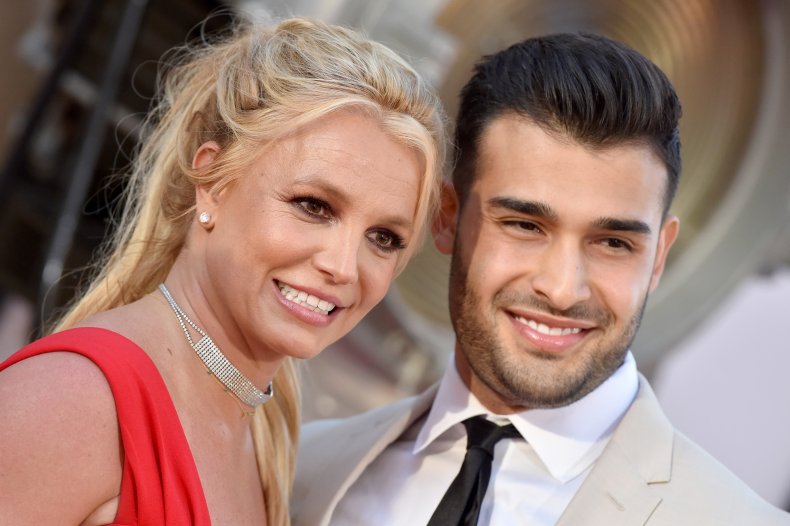 He has also publicly spoken about his wish to settle down and have a family with Spears.
"My priorities in life are to remain humble and understand where I came from and where I'm going," he told Forbes in March.
"I want to take my career to the next step when it comes to acting. I want to take my relationship to the next step, as well. I don't mind becoming a father. I want to be a young dad."