How 'CBS This Morning' Addressed Charlie Rose Sexual Harassment Suspension: Veteran Anchor 'Doesn't Get a Pass,' Says Co-Host Gayle King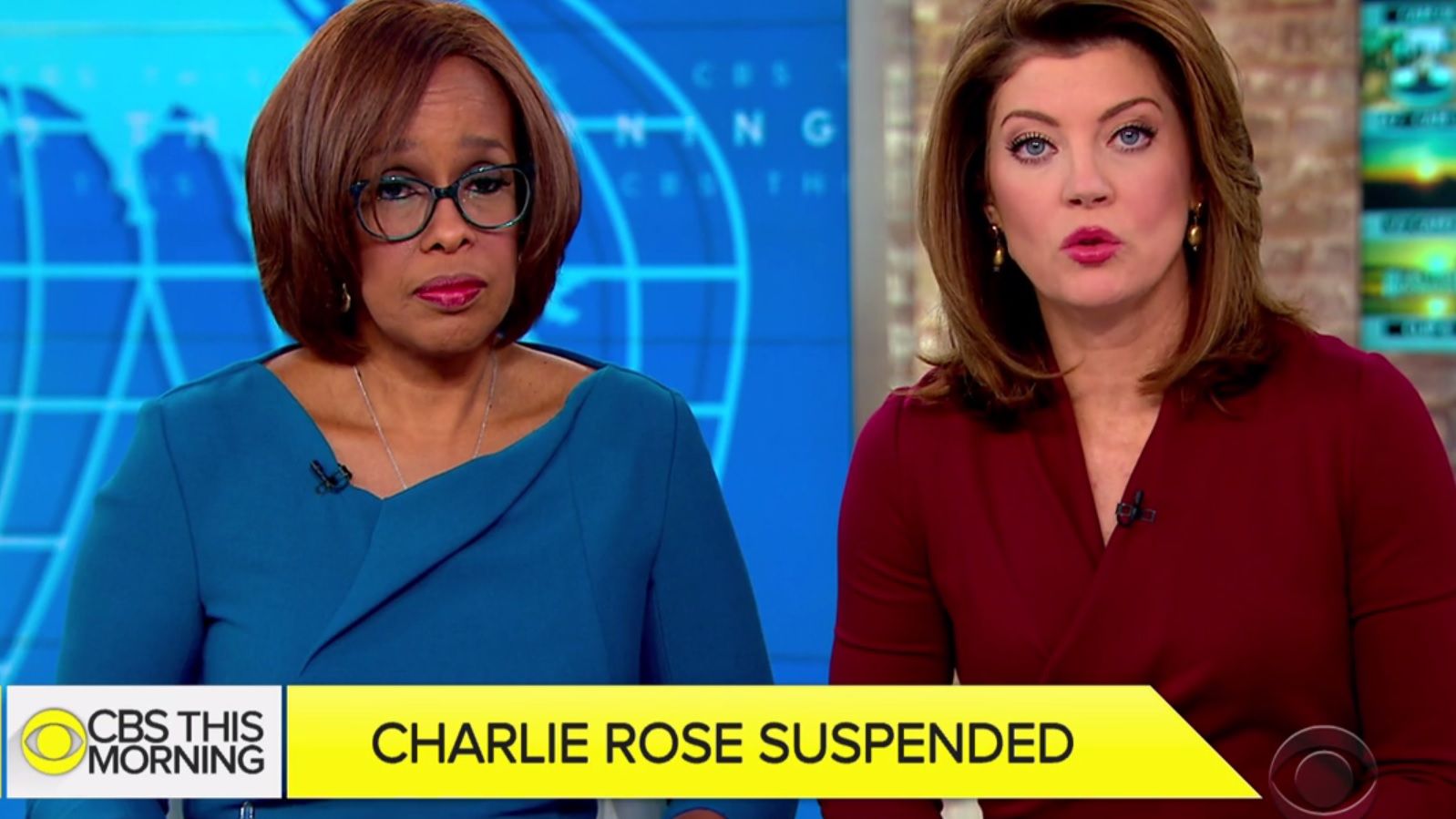 How CBS This Morning would handle its first episode in the aftermath of co-host Charlie Rose's suspension was always going to be curious. Would the network sweep the story under the rug or tackle sexual harassment allegations against one of its own head-on?
The CBS morning news program opted for the latter on Tuesday. Rose's co-hosts Gayle King and Norah O'Donnell opened the show with Rose—who has sat beside them since 2012—as their top story.
CBS News suspended Rose Monday after eight women accused him of sexual harassment between the 1990s and 2011 in an article published by The Washington Post. PBS, which airs the veteran journalist's eponymous talk show, has suspended broadcasting of new episodes.
"Gayle, I know you and I have talked a lot about this," O'Donnell said. "It takes a lot of courage for these women to come forward, and they should continue to do so. This is a moment that demands a frank and honest assessment about where we stand and more generally the safety of women."
O'Donnell continued: "Let me be very clear, there is no excuse for this alleged behavior. It is systematic and pervasive. I've been doing a lot of listening, and I'll continue to do that.
"This I know is true: Women cannot achieve equality in the workplace or in society until there is a reckoning and a taking of responsibility."
King, clearly troubled by the allegations against Rose, said she was "still reeling" from the report published Monday.
"I got an hour and 42 minutes of sleep last night. Both my son and my daughter called me, Oprah [Winfrey] called me and said, 'Are you OK?' I'm not OK," said King. "After reading that article in the Post, it was deeply disturbing, troubling and painful for me to read."
King said that though she considers Rose, 75, a friend, he "doesn't get a pass here."
"I'm really struggling because what do you say when someone you deeply care about has done something that is so horrible? How do you wrap your brain around that? I'm really grappling with that," said the journalist. "I really applaud the women that speak up, despite the friendship. He doesn't get a pass because I can't stop thinking about the anguish of the women—what happened to their dignity, what happened to their bodies, maybe even their careers."
CBS's transparent reporting of Rose's suspension was refreshing, said viewers on Twitter. Comparatively, Fox News was criticized for devoting more time to the Harvey Weinstein scandal than the one involving their own host Bill O'Reilly earlier this year. NBC News and MSNBC covered the initial news of sexual harassment allegations against Morning Joe analyst Mark Halperin in late October, but despite co-host Mika Brzezinski vowing the program wouldn't "avoid the story," Morning Joe has made little reference to Halperin since.
O'Donnell said on CBS This Morning that the program is "going to continue to do our reporting on this story and other allegations that have come forward."
O'Donnell and King were praised by viewers for handling the story with objectivity Tuesday morning.
See some of the social media reactions below: