How A Democratic Sweep in Georgia's Senate Races is A Small Victory for Trump
Losing both Senate runoff races in Georgia—and, subsequently, control of the upper chamber—was undoubtedly a major and unexpected blow to the Republican Party, delivering Democrats the control needed to advance a more progressive agenda under President-elect Joe Biden.
However, while the longshot Democratic feat was bitter news for the Grand Old Party, Democrats Jon Ossoff and Raphael Warnock ousting GOP Senators David Perdue and Kelly Loeffler did offer a silver lining for at least one Republican: President Donald Trump.
The runoff losses will further fuel the outgoing commander-in-chief's baseless claims and conspiracies that the presidential election was stolen due to rampant fraud that allowed the Peach State to flip from red to blue for the first time since former President Bill Clinton in 1992.
The Democratic duo's wins also offer more room for future divisions between the party's moderate and progressive factions, given what will be a razor-thin majority in both chambers. The left-wing of the caucus will have the power to push Biden toward their agenda.
A shift to the left would allow Trump—and Republicans—to continue decrying "socialist" policies for years to come, potentially awarding himself another party platform heading into 2024. Republicans have already signaled that Trump, should he choose to run again, would likely be the nominee.
It is not immediately clear how, if at all, GOP lawmakers will change their stance on the president after a violent insurrection at the U.S. Capitol on Wednesday by pro-Trump rioters as Congress met for a joint session to certify Biden's win.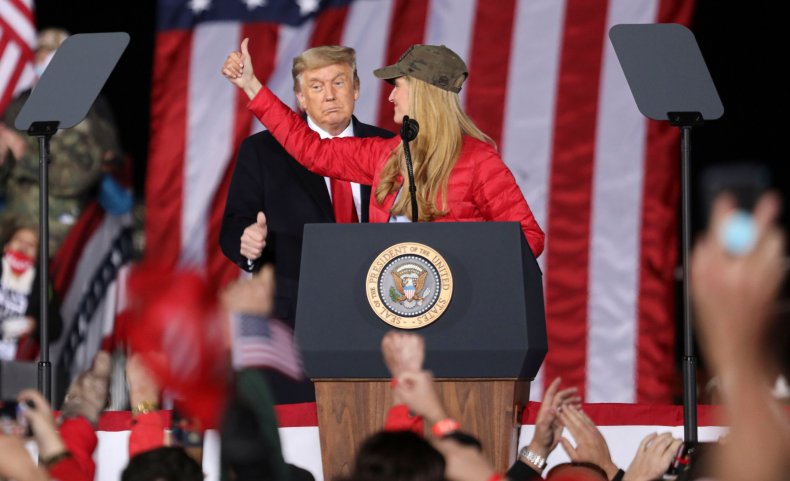 Indeed, Trump and his allies perpetuated false election fraud claims long before Tuesday. But they continued to do so throughout Tuesday and Wednesday. Trump much such assertions before the polls were even closed, and his campaign sent a text shortly after that suggested Democrats were "trying to STEAL this Election" and urged supporters to "FIGHT BACK!"
In several tweets, Trump made baseless claims that the contest was "rigged," that there was a "fake voter tabulation process" and that extra Democratic votes were miraculously found as part of a conspiracy against the Republican candidates. The rhetoric foreshadowed the type of fallacious assertions that are surely to come from the president and his allies in the wake of the Republican defeats.
"They just happened to find 50,000 ballots late last night," the president said Wednesday. "The USA is embarrassed by fools. Our Election Process is worse than that of third world countries!"
"Looks like they are setting up a big 'voter dump' against the Republican candidates," Trump wrote in another post. His tweets came as votes were still being tallied. "Waiting to see how many votes they need?"
Earlier in the day, while voters were still casting ballots, he posted that Dominion voting machines in a congressional district were "not working in certain Republican Strongholds for over an hour. Ballots are being left in lock boxes, hopefully they count them. Thank you Congressman @RickAllen!"
The state's top Republican election officials quickly batted down the claims as untrue and misleading. Voting System Implementation Manager Gabriel Sterling said Wednesday that there was no evidence of widespread malfeasance.
"The biggest thing we've seen is from the president's fertile mind of finding fraud where no exists," Sterling told reporters Wednesday.
The day prior, Sterling said the voting machine issue was "resolved hours" before Trump posted about it and that his office publicly released information "in real time."
"The votes of everyone will be protected and counted," Sterling added in a tweet of his own. "Sorry, you received old intel, Mr. President."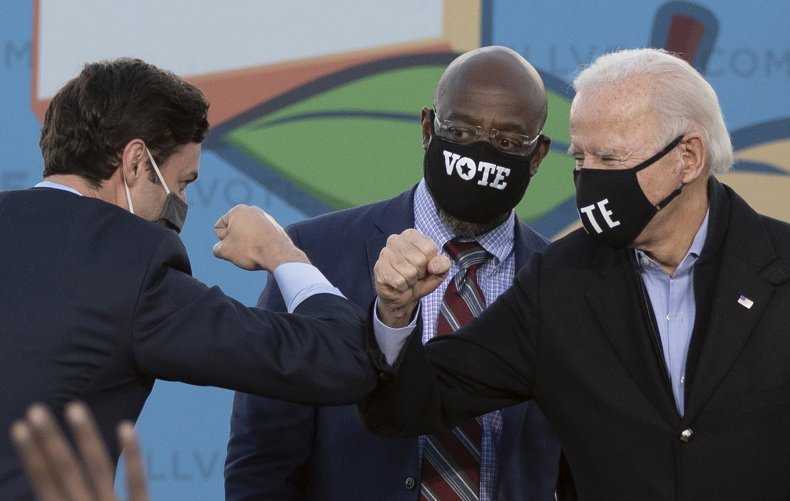 Georgia Secretary of State Brad Raffensperger, a Republican who rebuffed Trump's pressure over the weekend to manipulate the results of the presidential election in the state, explained that a "small number" of keys to start machines for scanning paper ballots were incorrectly programmed. In addition, some poll workers had cards to access the machines that were programmed incorrectly, according to Raffensperger.
"At no point did voting stop as voters continued casting ballots on emergency ballots, in accordance with the procedures set out by Georgia law," he said in a statement.
The wins by Ossoff and Warnock were representative of successfully capitalizing on their main message: winning back the Senate would erode any blockades from Senate Majority Leader Mitch McConnell (R-Ky.), who would be demoted to minority leader, to implementing Biden's agenda. The two candidates highlighted that electing them could have swift, real-world consequences, such as approving the $2,000 stimulus checks that McConnell and other Republicans oppose.
But therein lies another win for Trump. Passing the new direct payment, an increase of $1,400 from Congress' recent $600 checks, would be a plus for Trump. His 11th-hour reversal in favor of $2,000 checks became the primary reason why he nearly vetoed the $900 billion relief bill approved last month.
Perdue and Loeffler had argued that they were the last line of defense against "socialism," given Biden's win and Democrats' control of the House.
"If you send Jon and the Reverend to Washington, those $2,000 checks will go out the door, restoring hope and decency and honor for so many people who are struggling right now," Biden said Monday at a campaign event for Ossoff and Warnock. "And if you send Senators Perdue and Loeffler back to Washington, those checks will never get there. It's just that simple. The power is literally in your hands."