How to Disinfect Your Groceries, Face Mask and Phone Safely
Disinfecting frequently touched surfaces is an important part of reducing the risk of contracting or spreading the novel coronavirus. The Centers for Disease Control and Prevention (CDC) has published advice on how to disinfect your home, including how to disinfect clothes and dispose of trash safely.
But as more and more members of the public begin wearing cloth face coverings, as recommended by the CDC, it is important they are regularly washed and disinfected. Additionally, one of the most frequently touched surfaces are phones, and electronic devices need to be disinfected carefully and safely.
Finally, groceries should be handled carefully and, in certain cases, also disinfected, though this also needs to be done safely and correctly.
Below is advice from the World Health Organization (WHO), the CDC, phone manufacturers and experts on how to disinfect your groceries, face masks and phones safely and effectively.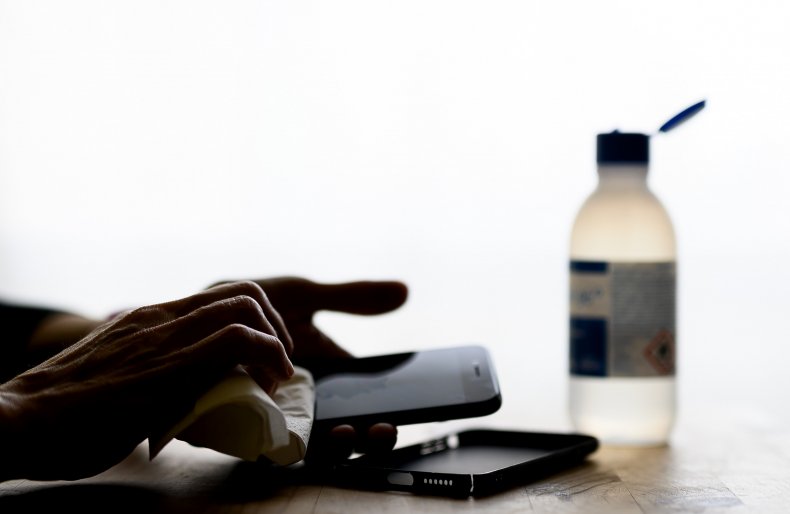 How to Disinfect Groceries
The WHO advises washing your hands before handling fruits and vegetables and then thoroughly washing the food with water, avoiding the use of chemicals.
Dr. Jenna Macciochi, an immunologist at the U.K.'s University of Sussex, recommends that when handling packaged groceries: "People should be careful and remove and dispose of packaging without touching their face and washing hands afterward."
Disinfect groceries with a disinfectant spray containing 62-71 percent alcohol, or 0.5% hydrogen peroxide bleach or household bleach containing 0.1% sodium hypochlorite.
How to Disinfect a Mask
The CDC recommends wearing a cloth face mask in public. Cloth face masks can be reused and should be washed between uses.
When handling a used cloth face mask, use disposable gloves, and keep the mask away from your face. If your face mask has a removable filter or ear elastics, remove them before washing.
Cloth face masks can be hand-washed or machine-washed, but should always be washed at hot temperature and with a heavy-duty detergent. Dry your washed face mask in a dryer or by leaving it in direct sunlight.
How to Disinfect your Phone
Frequently touched surfaces like phones and keyboards should be disinfected regularly, but do so carefully so as to not damage your device.
According to Apple, you should clean your phone using a soft, lint-free cloth, a 70 percent isopropyl alcohol wipe, or Clorox disinfecting wipes.
Samsung recommends using a disinfectant like a hypochlorous acid-based solution (containing 50-80ppm) or an alcohol-based solution (containing more than 70 percent ethanol or isopropyl alcohol), carefully applied to a microfiber cloth, and not directly on the phone.
Apple recommends avoiding the use of liquid, aerosol sprays, bleaches, and abrasives, and advises against spraying cleaners directly on the phone. It suggests you avoid getting moisture in any of the phone's openings or submerging your phone in cleaning agents.