How Do the Musical Performers at Joe Biden's Inauguration Compare to Those at Donald Trump's?
Every four years on January 20, the president of the United States gets sworn into office on Inauguration Day. Today, Joe Biden will become the 46th president of the United States after he takes the oath of office, and Kamala Harris will make history as the first woman Vice President. The ceremony represents a peaceful transfer of power from one president to the next, and the incoming president addresses the nation during his first moments on the job. Typically, thousands of people would pack onto the National Mall to watch the historic moment, waving American flags and carrying signs. However, this year, because of the coronavirus pandemic, folks won't be able to gather like years past.
Of course, there's another tradition that will continue on, even in the face of pandemic protocols, and that's the musical performances that help celebrate the occasion. Lady Gaga is slated to sing the National Anthem, while Jennifer Lopez is tabbed for "This Land Is Your Land" and "America the Beautiful." The Foo Fighters, John Legend and Bruce Springsteen are all also booked to perform songs later in the day, as part of the primetime event dubbed Celebrating America, hosted by Tom Hanks. That same special will boast performances from Jon Bon Jovi, Demi Lovato, Justin Timberlake and Ant Clemons. The Celebrating America event takes place at 8:30 p.m. and will air on several television networks and stream via a number of services and platforms.
While Inauguration Day performances might seem a bit frivolous, or like just another bit of pomp and circumstance, they can actually send a message to the people all across the country who tune in to the festivities. And Biden's big day won't be an exception—his administration clearly wants to use today's musical performances to communicate something to Americans.
In a recent statement, Tony Allen, Inaugural Committee CEO, spoke highly of this year's performers, saying that they are "committed to the President-elect and the Vice-President-elect's steadfast vision of a new chapter in our American story in which we are an America united in overcoming the deep divisions and challenges facing our people, unifying the country, and restoring the soul of our nation."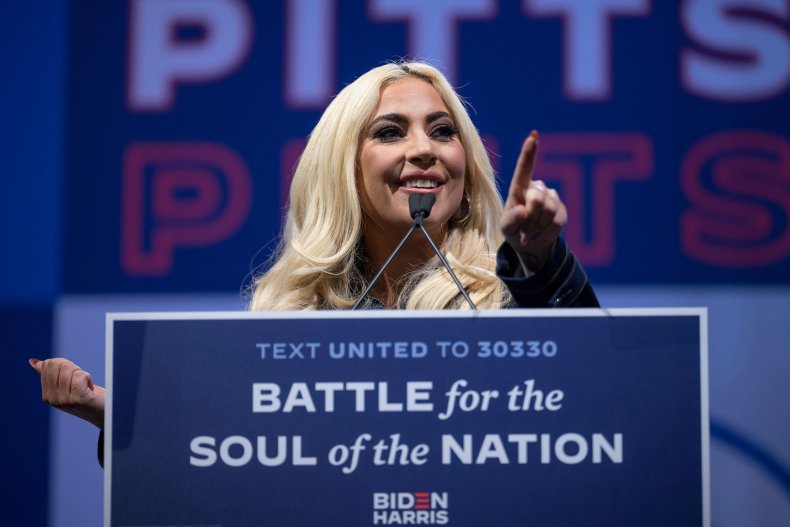 Now, even if that sounds a bit highfalutin, there's no denying that the artists who perform at an inauguration say something about the president being sworn in and the people that president is hoping to reach. For instance, regardless of your political affiliation (or your taste in music), it's plain to see that the performers taking part in Biden's Inauguration Day are more diverse and represent more genres than those who performed at Donald Trump's inauguration back in 2017.
Jackie Evancho, 3 Doors Down and Toby Keith were among the artists who ushered in the Trump era. Their very involvement proved to be controversial, not just because of Trump's divisive campaign in the 2016 presidential election, but also because several noteworthy artists—including Andrea Bocelli and Elton John—either declined invitations to perform, or were quick to distance themselves from rumors that they would be taking the stage. After the event, many critics weren't exactly generous when evaluating the assembled talent.
"What better way to spurn America's elite than to host a concert on the National Mall with a bunch of aggressively mediocre performers?" Ian Crouch of The New Yorker wrote, while taking note that the billing served as an "approximation of mostly white American pop culture." The Daily Beast's Kevin Fallon called it "the lamest—certainly the worst concert the poor statue of Abraham Lincoln was ever forced to attend."
In advance of Trump's inauguration, the New York Times pointed out that (qualitative judgements aside), the artists taking part were "reflective of the cross-section of the United States that buoyed Mr. Trump to victory in November, while belying the opulence he is known for."
In a recent email to Newsweek, Pitchfork's Marc Hogan recalled that the performers at Trump's ceremony lined up with the 45th president's vision for the country. "When Trump hosted a concert by country singer Lee Greenwood, whose biggest hit was 'God Bless the USA,' he was right on brand for his 'America first' pandering," he wrote. "Toby Keith's red-white-and-blue swagger was unfortunately another harbinger."
The artists set to appear at Biden's inauguration, meanwhile, are performing amid a much different context, and are communicating a much different message. Vulture's Craig Jenkins told Newsweek via email that the job of Biden's inauguration will be "to signal what a Biden presidency can offer, namely the mending of a nation that has slowly and methodically come apart."
Jenkins also zeroed in on several of the artists picked to perform, and explained how they each complement different facets of the overall mood that Biden's hoping to strike. "Justin Timberlake is a smart pick, as someone who has made a career out of the tasteful mixing of genres and who is unafraid to be cloyingly sincere, as are John Legend, a singer who can reliably bring an audience to tears, and Bruce Springsteen, a poet who speaks to the plight of the middle-aged American working class," he wrote.
Pop songs aren't the only Inauguration Day tunes that are loaded with meaning, though. "Politicians have always drawn on music's lyrics and other meanings to mold and unify a nation, hence the significance of 'The Star-Spangled Banner,' which has traditionally been a fixture in presidential inaugurations and intended to instill in the citizenry desired social values, such as patriotism and respect for authority," music professor Paul Woodford, of Ontario's Western University, told Newsweek via email. "Those meanings, though, are malleable and sometimes subject to change in response to political or other events."
Like Jenkins, Hogan feels that the artists performing for Biden's inauguration make sense, considering his incoming administration's focus on bridging divides and unifying people.
"Lady Gaga and Justin Timberlake are both hugely popular stars. Neither seem likely to alienate moderates. Gaga seems like an especially meaningful choice because of her long-standing support for the LGBTQ+ community," he wrote. "Bruce Springsteen is an obvious choice and I've seen him perform at an event for Obama—Republicans always misunderstand 'Born in the USA,' but the Boss is famous for singing about uplifting the downtrodden. John Legend seems like a natural fit and a smart addition with his award-winning civil rights ode 'Glory.' Foo Fighters are some of the biggest arena rockers you can get."
If that talent roster seems a little down-the-middle, even despite the variety of genres and styles on display, that's probably not a coincidence. "Biden's pitch to America is that he's safe," Hogan wrote. "His choice of performers reflects that, and honestly, that's probably fine."
Correction, 1/20/21, 12:15 p.m.: This post has been corrected to reflect that Jennifer Lopez performed "This Land Is Your Land" and "America the Beautiful," not her own songs, and to clarify that Foo Fighters, John Legend and Bruce Springsteen are performing as part of the Celebrating America primetime event.