How to Get Free Games 'Overcooked 2' and 'Hell Is Other Demons'
Overcooked 2 and Hell Is Other Demons can now be yours free of charge, but this offer will only be available for a limited time. They are the latest games to be included in Epic Games Store's 2021 giveaway.
At least one new title is added to the giveaway each week and Newsweek is keeping a log of all the free releases. The article is updated each Thursday morning (or sometimes a little earlier if we already know what is coming) so be sure to check it regularly.
What is 'Overcooked 2'?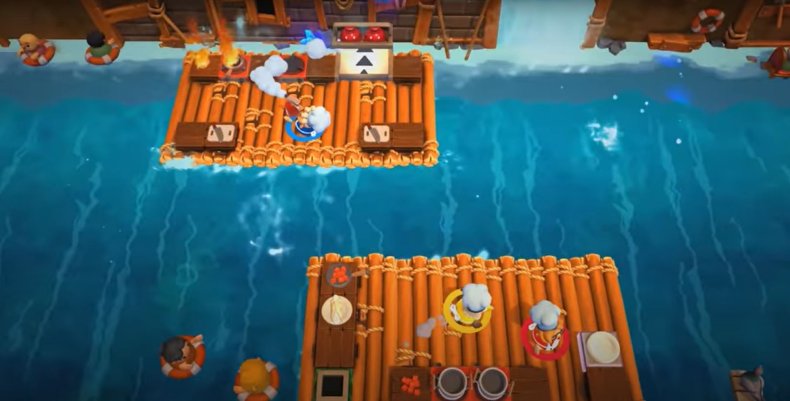 The perfect couch co-op game, Overcooked 2 is a wacky restaurant simulator in which players must work together to prepare food orders in increasingly outlandish scenarios. It takes precise co-ordination to chop the ingredients, cook them, serve meals to customers and wash up afterwards without stepping on each other's toes.
Things are guaranteed to go wrong, but that is all part of the fun. The sequel is fairly similar to the first Overcooked (which was included in Epic's 2020 giveaway), although it does introduce an online matchmaking feature, a new throwing mechanic and more high-concept kitchens.
Overcooked 2 will ask you to prepare meals in the unlikeliest of places, each with its own gimmick. One minute you could be passing entrees between a fleet of hot-air balloons, the next you are trying to figure out how to navigate the magical architecture of a wizard's castle.
It's a great party game that is endlessly repayable. Just be prepared for one of your friends to start channelling their inner Gordon Ramsay when you make the slightest error.
What is 'Hell Is Other Demons'?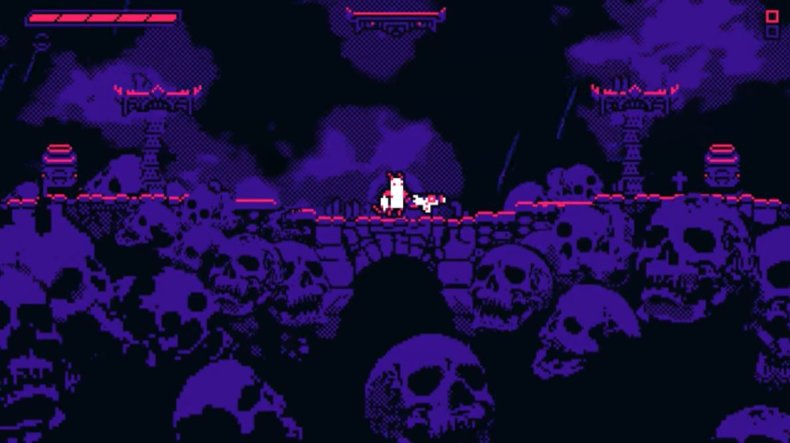 A bullet-hell shooter that is, appropriately enough, set in the bowels of the underworld, Hell Is Other Demons was originally released in 2019. Featuring a catchy synthwave soundtrack, a retro pixel-art aesthetic and exacting combat mechanics, the title is a deliberate call back to the hard-as-nails arcade games of yesteryear.
You control one of the goat-hooved denizens of Hell (with a surprisingly cute design), who has been unearthed from his resting place and enlisted in a revolutionary uprising. As with the manic shooters of the 1980s, you will need lightning-quick reflexes to dodge all the enemy projectiles that clutter up the screen.
Flawless muscle memory is a necessity here, along with the ability to perfect double jumps and process a lot of visual information. Bonus rewards are available for completing levels without taking any damage, firing your weapon or restoring to ultimate power-ups. Should you meet these criteria, you will earn additional currency that can be spent on weapons upgrades, such as a twin gun that fires in both horizontal directions.
It is certainly an acquired taste and if you have not got the skill set you are going to have a rough time. On the other hand, if this kind of thing is up your street, Hell Is Other Demons is an immensely addictive experience.
How to get 'Overcooked 2' and 'Hell Is Other Demons' free
Overcooked 2 and Hell is Other Demons have been added to the Epic Games giveaway.
The Fortnite developer began handing out titles free of charge in 2020. Last year, more than 70 free games were uploaded to the company's distribution service, the Epic Games Store, where they could be downloaded by anyone with an existing account. The only caveat was that you had a limited time window in which to redeem each title.
To the delight of gamers, Epic has continued to do this throughout 2021, offering a new game every Thursday at 11 a.m. ET. Last week it was giving away Remedy Entertainment's sleeper hit Control and today it has added Overcooked 2 and Hell Is Other Demons.
To download your copies, head to the Epic Games Store and log into your account or create a new one. From there, find either Overcooked 2 or Hell Is Other Demons on the homepage and hit the "Get" button. The titles will be permanently added to your library.
You have until June 24 to claim the free games.