How Joe Biden's Physical Compares to Donald Trump's
President Joe Biden is due to undergo a routine medical examination, his second since taking office in 2021, on Thursday at Walter Reed National Military Medical Center in Bethesda, Maryland.
A summary of Biden's condition, written by his physician, Dr. Kevin O'Connor, will be released to the public in what could be a key moment in determining if the president, who is 80, decides to seek reelection in 2024.
When Biden was sworn into office on January 20, 2021, he was the oldest person to assume the post in U.S. history at 78. Should he win a second term, the Delaware Democrat will smash his own record, and be 86 by the time he leaves the White House.
Biden last received a medical exam in November 2021 from O'Connor, who has worked as Biden's primary care physician since 2009.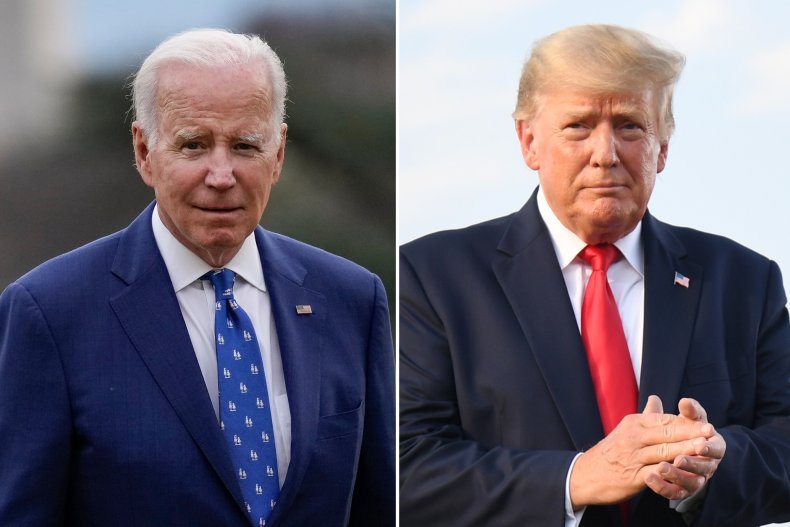 After that exam, O'Connor's six-page summary concluded: "President Biden remains a healthy, vigorous, 78-year-old male, who is fit to successfully execute the duties of the Presidency."
O'Connor did note two "specific observations" about changes in Biden's condition, which he claimed that the "patient has affirmed." He said the president was "experiencing increasing frequency and severity of 'throat clearing' and coughing" during public speaking, which "warranted detailed investigation."
The physician also said Biden's ambulatory gait, or style of walking, was "perceptively stiffer and less fluid than a year or so ago."
O'Connor confirmed that Biden was taking medication to help manage non-valvular atrial fibrillation, a heart condition that can cause strokes, along with hyperlipidemia, caused by the blood containing too much fat, and gastroesophageal reflux disease, which sees stomach acid leak up into the gullet. He also confirmed that Biden receives treatment for seasonal allergies, which he has "dealt with...for most of his life."
The examination concluded that Biden was 5 feet, 11.65 inches tall and weighted 184 pounds.
Details of an examination of President Donald Trump were released in June 2020, with his physician, Dr. Sean Conley, concluding: "There were no findings of significance or changes to report."
Kayleigh McEnany, then Trump's White House press secretary, said the exam proved Trump was "healthy."
As part of the examination Trump completed more than two hours of physical exams at Walter Reed in November 2019 in a visit that had not been publicly announced in advance.
Conley's summary confirmed Trump had been taking hydroxychloroquine, a controversial drug that the president believed helped combat COVID-19, though this claim has been rejected by medical experts.
The document said Trump had been taking the drug "in consultation with his appropriate care team members," and had not experienced any adverse side effects.
Trump weighed 244 pounds and stood at 6-foot-3 when the exam was conducted, according to the memo, meaning he weighed 60 pounds more than Biden.
In 2018, CNN reported that Trump had a "common form of heart disease," scoring 133 on a coronary calcium CT scan, with anything more than 100 suggesting heart disease. That increases his risk of a heart attack, though cardiologist Dr. Rachel Bond of Lenox Hill Hospital noted that it is "common for someone his gender, race and age."
Trump is now 76, meaning he will be 78 on January 20, 2025, when he could be reinaugurated as president following the 2024 election.
In November, Trump announced he will seek the Republican Party's 2024 presidential nomination with a speech at Mar-a-Lago, his Florida home.
Nikki Haley, the former governor of South Carolina who later served as U.S. ambassador to the United Nations, announced she also will run.
A Washington Post/ABC News poll released this month found that 53 percent of Americans disapproved of Biden's performance as president, versus 42 percent who approved. Biden has yet to announce whether he will run again in 2024.
Newsweek reached out to Trump and Biden for comment.