How Kate Middleton's New Style Statement Echoes Meghan Markle
Kate Middleton appeared in a bold new look on Wednesday as she attended the annual St. David's Day parade for the Welsh Guards, after Prince William became colonel of the regiment in December.
The princess' bold red longline coat by Alexander McQueen and color-blocked skirt were paired with black leather accessories and a statement black hat which bears a striking resemblance to one worn by sister-in-law Meghan Markle back in 2018.
The felt-based pillbox style hat, designed by London-based milliner Juliette Botterill, features a stylised bow embellishment with two crossed-quill black feathers.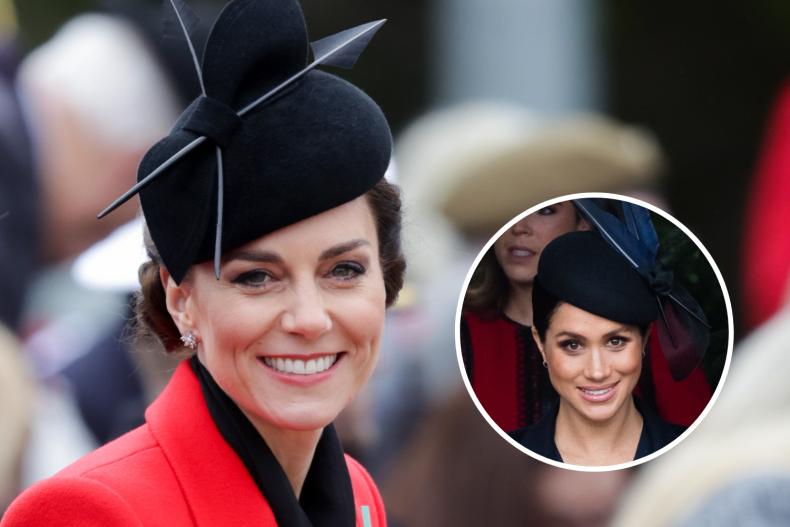 The hat is close in style and aesthetic to one worn by Meghan on Christmas Day 2018 to a church service at Queen Elizabeth II's Sandringham estate.
The duchess, who had married Prince Harry in May that same year, wore a black outfit designed by former pop star, Victoria Beckham, for the occasion with the black pillbox style hat featuring bow detailing and crossed-quill feather embellishment being made by British milliner Awon Golding.
On Kate, the classic style of her St. David's Day ensemble harks back to the conservative style of royal dressing often leant on for daytime engagements, something that has not enthused fashion experts.
"The style is neat and chic with undertones of vintage," royal fashion expert and celebrity stylist Miranda Holder told Newsweek.
"It definitely suits Kate, as the princess—being blessed with a shapely figure and great bone structure—can get away with wearing many things that us mere mortals cannot—and although the hat looked elegant, for me it is lacking a little bit of drama and panache."
Although typically neat in her styling, Holder observes that the princess' new "working wardrobe" of longline coats and high neck blouses can begin to feel a little "staid."
"It is possible to look refined and elegant without playing it safe," she observes. "But alas, I feel that Kate's aesthetic is feeling a little too predictable and conservative at the moment."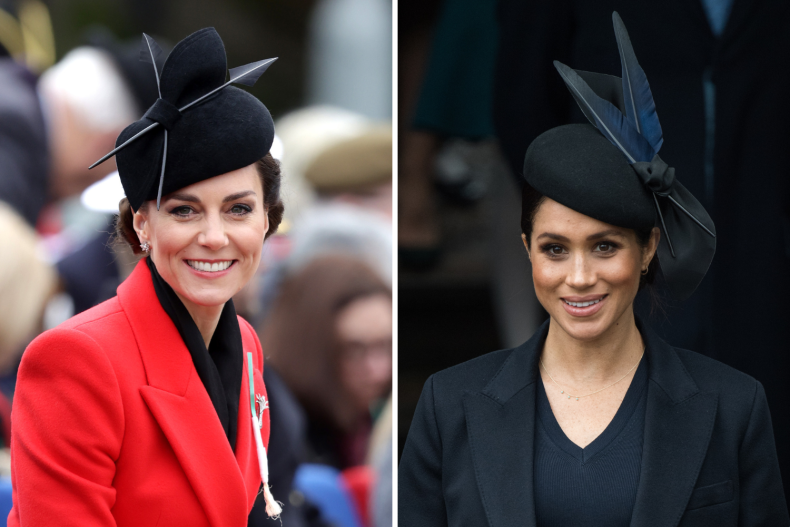 To Holder, the fact that Meghan chose to wear such a similar hat in 2018 illustrates the point that it was a "safe" option, as at the time, Meghan has explained, she was dressing to "blend in" and not stand out among the crowd of more senior royal women.
Meghan revealed this in her Netflix docuseries, in which she said: "Most of the time that I was in the U.K., I rarely wore color.
"There was thought in that. To my understanding, you can't ever wear the same color as Her Majesty (Queen Elizabeth II) if there's a group event. But then you also should never be wearing the same color as one of the other more senior members of the family. So I was like, 'Well, what's a color that they'll probably never wear? Camel? Beige? White?'
"So, I wore a lot of muted tones, but it also was so I could just blend in. Like, I'm not trying to stand out here."
According to Holder, Meghan's version of the hat was chosen at that time "because although smart, it was unobtrusive and not particularly memorable."
Despite its safety in terms of aesthetic, this style of hat has been utilized by a number of royal women and continues to make an impact, royal expert Christine Ross told Newsweek.
"This style of hat is so classic and quintessentially British, with similar styles popping up at the races every year," she observed. "In fact, Kate has similar style hats in her own wardrobe and Zara Tindall owns the same Juliette Botterill hat in teal.
"Meghan undoubtedly chose the style in 2018 because it is such a classic, flattering style, and Kate chose the style today for its timeless appeal.
"These cocktail hats are really versatile, pairing just as well with Kate's classic red coat as it did with Meghan's more trendy ensemble. Hats are such a royal wardrobe staple, elevating a great look from fashionista to Duchess of Dressing."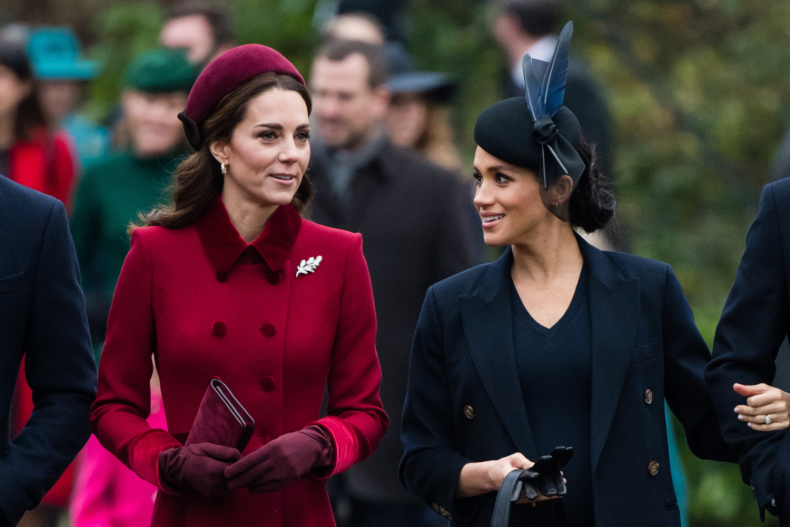 This is not the first time that Kate has appeared to take style cues from Meghan.
The princess was seemingly introduced to the shoe brand Aquazzura by her sister-in-law who became one of the brand's most prominent clients when she wore its shoes for her engagement photoshoot with Prince Harry, and again many times afterwards.
Since 2021, Kate has incorporated a number of Aquazzura's shoe styles into her wardrobe, including a white and gold geometric style pump worn during the Caribbean tour last spring.
Together with the black hat, Kate's St. David's Day accessories included a pair of black leather gloves with pattern cut-out detailing. These were first worn by Kate over a decade ago at Prince William's passing out (graduation) from Sandhurst military academy in 2008.
James Crawford-Smith is Newsweek's royal reporter based in London. You can find him on Twitter at @jrcrawfordsmith and read his stories on Newsweek's The Royals Facebook page.
Do you have a question about King Charles III, William and Kate, Meghan and Harry, or their family that you would like our experienced royal correspondents to answer? Email royals@newsweek.com. We'd love to hear from you.