Meghan Markle 'Took Power Back' With Rainbow Revenge Looks for Final Duties
Meghan Markle ditched her usual muted color scheme of beige, cream and white for her round of final royal engagements in 2020, giving off an "unapologetic air of 'I can wear what I want,'" royal fashion experts told Newsweek following the duchess' own revelation that she purposefully wore a "rainbow" of shades for the occasion in her Netflix docuseries.
From her marriage to Prince Harry in 2018, Meghan Markle has become known as one of the most fashion conscious royals in the British monarchy, widely celebrated for her simplistic wardrobe and patronage of a broad mix of designers.
Meghan provided insight into her style choices while a working member of the royal family in the Netflix docuseries Harry & Meghan that debuted in December, explaining that she dulled down her color choices so as not to upstage other members of the family.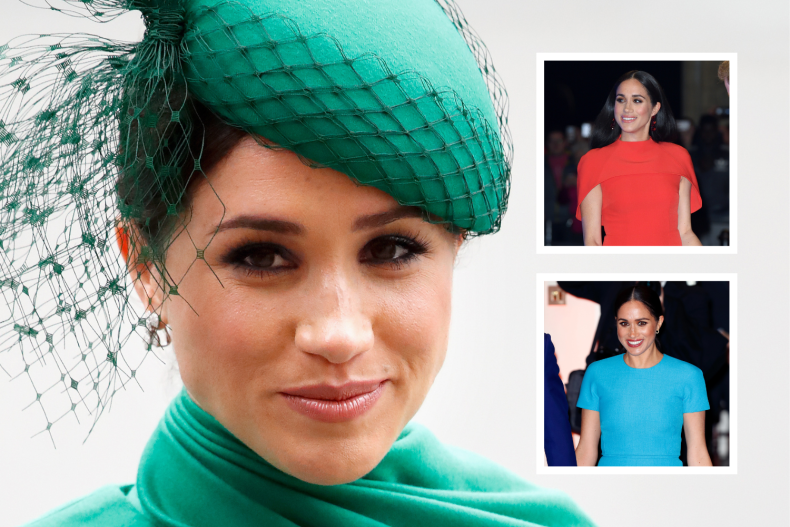 "Most of the time that I was in the U.K., I rarely wore color," she said.
"There was thought in that. To my understanding, you can't ever wear the same color as Her Majesty (Queen Elizabeth II) if there's a group event. But then you also should never be wearing the same color as one of the other more senior members of the family. So I was like, 'Well, what's a color that they'll probably never wear? Camel? Beige? White?'
"So, I wore a lot of muted tones, but it also was so I could just blend in. Like, I'm not trying to stand out here."
This attitude, Meghan revealed, changed entirely when it was announced that she and Harry would be stepping away from working roles within the monarchy and moving to the United States after a strained period with both the royal family and the British press.
The couple undertook a final week of engagements in March 2020 before embarking on their new life.
"Until that last week in the U.K., I rarely wore color. I never wanted to upstage or ruffle any feathers," Meghan said in the docuseries. "So, I just tried to blend in. But I wore a lot of color that week...Yeah. I just felt like, 'Let's just look like a rainbow.'"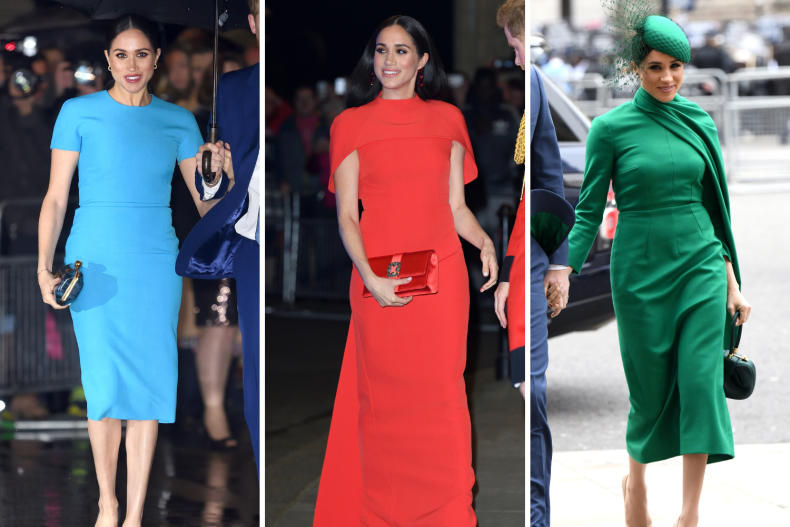 The adoption of a revenge wardrobe, full of bright and attention-grabbing colors, saw the duchess wear a bold cyan blue Victoria Beckham midi dress to the Endeavour Fund Awards, a statement red caped evening gown by Safiyaa to the Mountbatten Music Festival and an emerald green ensemble from Emilia Wickstead to the Commonwealth Day service at Westminster Abbey.
"When she appeared in March 2020 in that series of bright colored outfits, it definitely gave off a kind of unapologetic air of 'I can wear what I want,'" royal fashion author and creator of the Instagram account @ladydirevengelooks, Eloise Moran, told Newsweek.
"I think that they were some of her best and more interesting looks during the time she'd been in the royal spotlight. It reminds me of what Princess Diana said to Roland Klein when asking him to shorten the hemline of her skirt. She said: 'Whatever I wear, I'll be criticized for it, so let's go for it.'"
Diana's own foray into revenge dressing has become infamous with the black Christina Stambolian dress which knocked Prince Charles off the front pages after a landmark television interview earning itself the nickname of "the revenge dress."
"Meghan did seem to really transform during that final period. It was as if she was throwing caution to the wind, determined to enjoy every single moment of her incredible circumstances," celebrity stylist and royal fashion expert, Miranda Holder told Newsweek of Meghan's final working royal looks.
"For once, she was dressing for pleasure, expressing herself with beautiful bold color, and she didn't care what others thought. It was the sartorial equivalent of 'taking her power back' and the resulting radiant smile and 'inner glow' spoke for themselves."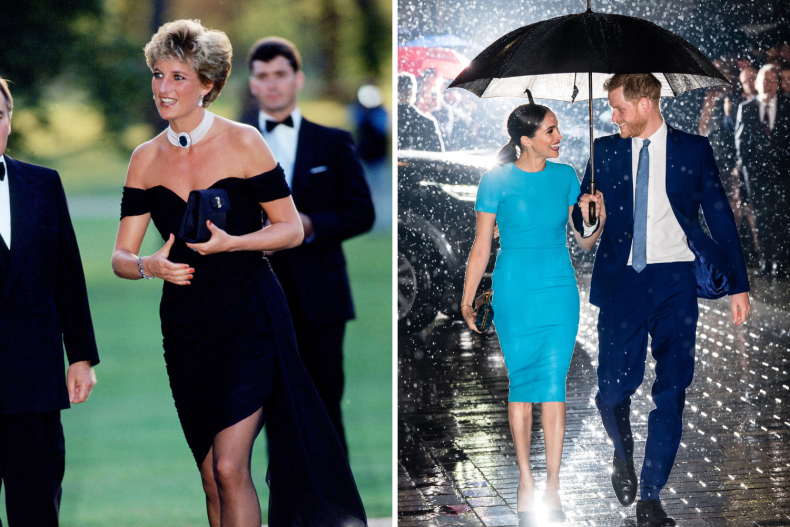 Her personal presentation has been something that Meghan has taken pains to control since becoming a person of public interest, expressing to an aide in a 2018 message disclosed to a U.K. court her frustration over claims that she used a stylist.
"You know how personally frustrating I find the 'stylist' narrative," she wrote to communications secretary Jason Knauf, "(as it's the only thing I seem to still have any control over—my personal styling)."
On Meghan's royal style prior to her final engagement engagements, Holder said: "With her acting background Meghan is no stranger to the limelight—in fact, some might say that her previous career would suggest she seeks it—so on reflection the more considered, subtle neutral clothes were not an accurate reflection of who she really was, and there was a definite sense of her 'holding back.'"
This has developed now that Meghan and her family have moved to California, with the duchess adopting a wardrobe typical for women living in the area, Moran said.
"To me, Meghan is a quintessential California girl. We've seen snippets of her everyday wardrobe while she's at home in Montecito, California, or attending casual events, and those looks usually involve some skinny jeans, a basic button-down shirt, some stilettos and occasionally some kind of flowing bohemian dress.
"I wouldn't say she's that stylish in her day-to-day wardrobe, but certainly when she has an event to go to she pulls out all the stops."
One of the biggest fashion moments on Meghan's horizon is the coronation of her father-in-law, King Charles III on May 6.
Though Prince Harry has said that "a lot that can happen" between now and the coronation, appearing not to confirm whether he and Meghan would travel to the U.K. for the ceremony amid strained relations with his family, reports state that the monarch is keen for his youngest son and his wife to be in attendance.
Newsweek reached out to representatives of Meghan Markle for comment.
James Crawford-Smith is Newsweek's royal reporter based in London. You can find him on Twitter at @jrcrawfordsmith and read his stories on Newsweek's The Royals Facebook page.
Do you have a question about King Charles III, William and Kate, Meghan and Harry, or their family that you would like our experienced royal correspondents to answer? Email royals@newsweek.com. We'd love to hear from you.