Kate Middleton Wears New Dress by Designer of Meghan's Iconic Rain Look
Kate Middleton has debuted a brand-new dress from the designer who made the outfit Meghan Markle was famously photographed wearing during a downpour on one of her final royal engagements.
Kate, Britain's new Princess of Wales, launched her early childhood development awareness campaign in the city of Leeds, in Yorkshire, England, on Tuesday. The project has become her personal area of social interest since marrying into the royal family over a decade ago.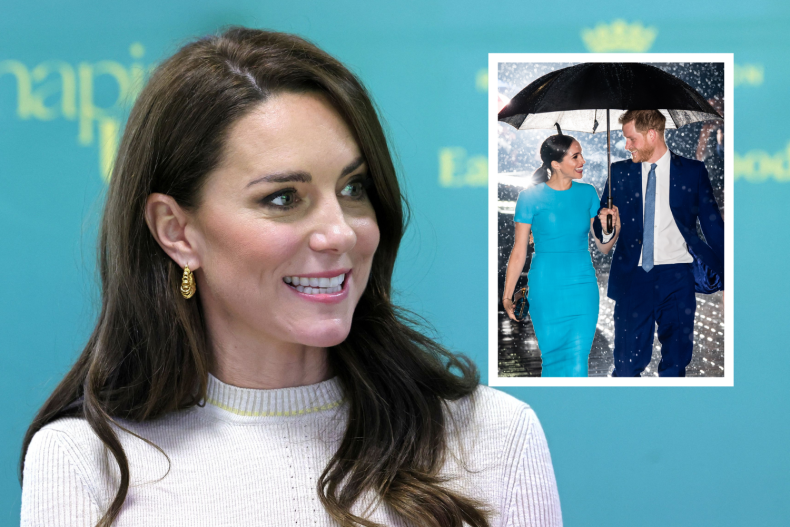 To draw attention to the event, Kate wore a statement green longline coat from Alexander McQueen, the design house responsible for making her wedding dress and a number of her most-iconic looks. Underneath this coat, the princess wore a new cotton-blend midi dress from the studio of Victoria Beckham, the pop star turned fashion heavyweight.
Beckham, 48, who founded her design label in 2008, was well known for her "girl power" motto during her time with girl group the Spice Girls. She has put the empowerment of women at the heart of her brand, making pieces of elevated daywear suitable for the workplace environment.
Though Kate has been spotted on a number of occasions wearing Victoria Beckham accessories, namely the brand's Quincy handbag, it is Meghan Markle who has fully embraced the label's apparel for public events.
Meghan and Kate both have personal relationships with Victoria and her husband, former footballer David Beckham, since the celebrity couple were guests at both of the royals' weddings.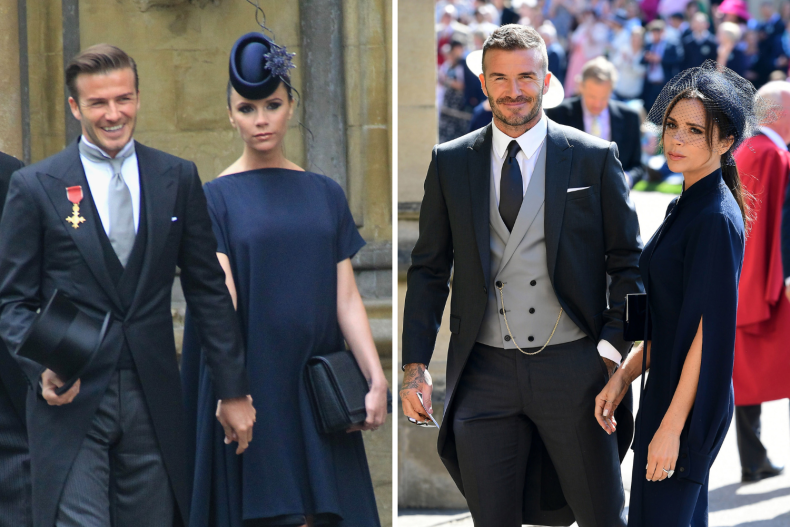 Meghan's most-famous appearance in a Victoria Beckham dress took place during her final rounds of engagements as a working royal, before she moved with Prince Harry to the U.S. in 2020.
The duchess wore the label's blue pencil midi dress to the Endeavour Fund Awards in London and, during the evening, the royals were caught in a downpour as they arrived.
With increased press attention on the couple because of their shock exit from the monarchy, a number of photographers were covering the event, snapping pictures of Meghan with raindrops illuminated by the flashes. The resulting images have become some of the duchess' best-known from her time in Britain.
Here, Newsweek looks at Kate Middleton and Meghan Markle's top Victoria Beckham fashion moments:
Kate Middleton's Wimbledon Accessory
Kate Middleton's most frequently used Victoria Beckham accessory is the brand's Quincy bag in white.
The tote-style accessory is one of Kate's larger handbags, with the princess usually opting for smaller clutch bags or mini-handled models.
The Quincy appears to be a favorite option for the royal's many visits to Wimbledon, worn to the tennis tournament in 2016 and 2017. In 2022, one of Kate's aides was seen carrying the bag as the royal watched the men's singles final with Prince William and Prince George.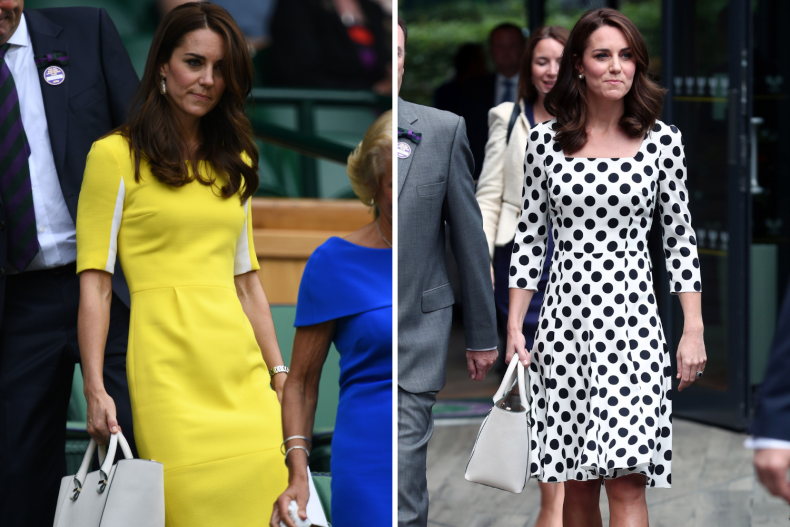 Meghan Markle, Christmas Day 2018
Meghan wore a classic example of Victoria Beckham tailoring for the royal Christmas Day celebrations at Queen Elizabeth II's Sandringham estate, Norfolk, England, in 2018, opting for a slim longline coat in navy cashmere.
The duchess paired the coat with a small box bag with elongated leather handle from the brand.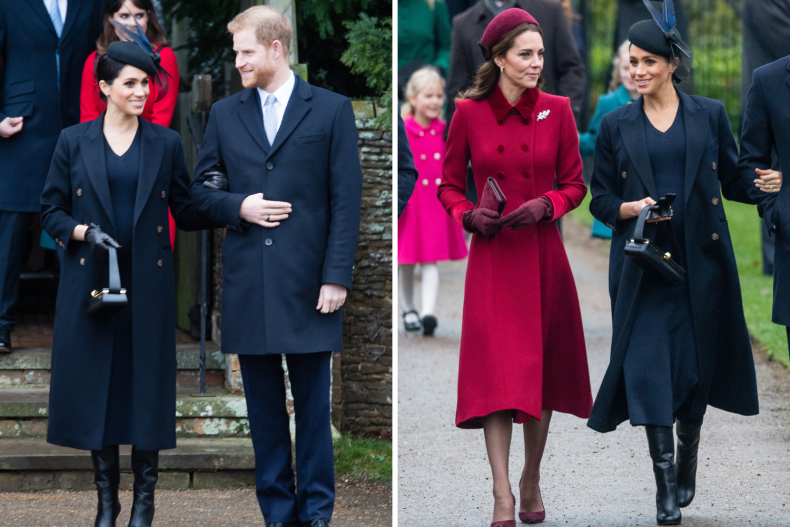 Meghan Markle, Commonwealth Day 2019
Meghan Markle debuted a statement Victoria Beckham dress for the annual Commonwealth Day service at Westminster Abbey, London, in 2019. She paired the cream midi dress with printed chain link detail with a simple longline coat and pillbox hat.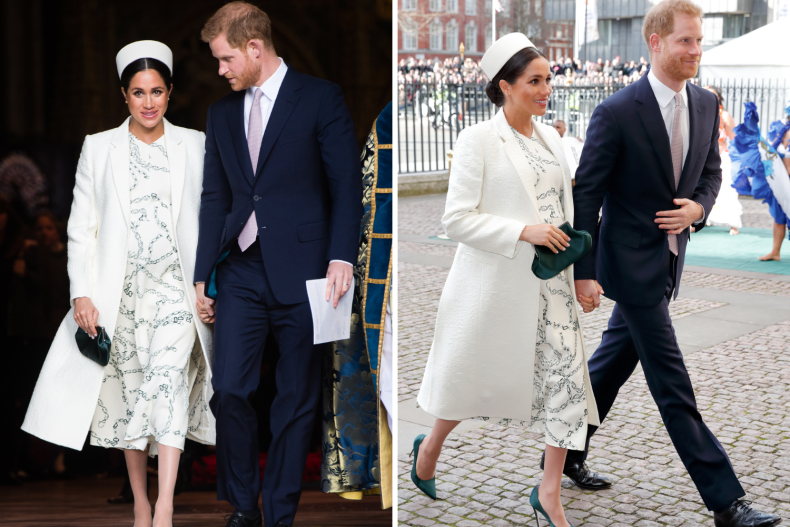 Meghan Markle, Endeavour Fund Awards 2020
Meghan Markle's most-famous Victoria Beckham fashion moment took place at the 2020 Endeavour Fund Awards, an event that she has attended with her husband on a number of occasions.
Meghan's bold blue dress made a statement, with the duchess later saying that her wardrobe for her final engagements in Britain implemented a "rainbow" of colors. She had purposefully dressed in muted tones before then to fit in with the rest of the royal family.
The pencil midi dress was immortalized in a series of famous images taken of the duchess and Prince Harry against the backdrop of falling raindrops illuminated by camera flashes.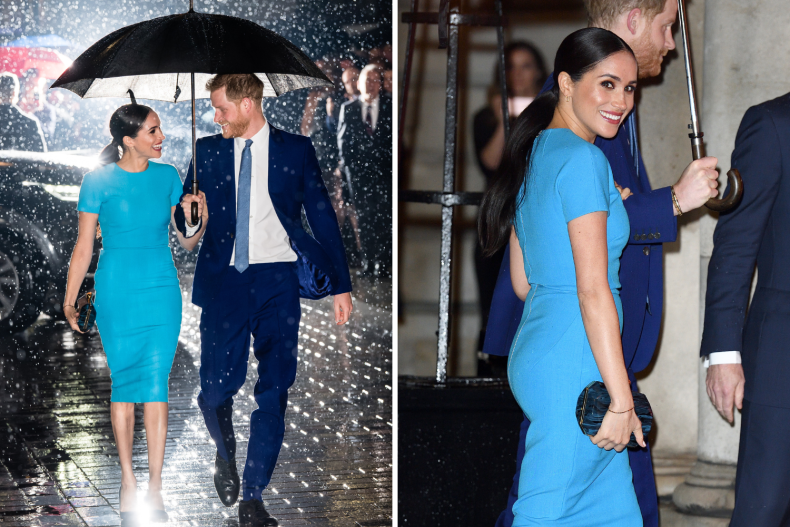 Kate Middleton, 'Shaping Us' Leeds Launch 2023
Kate Middleton's Victoria Beckham cotton-blend midi dress was worn for a round of launch engagements promoting her "Shaping Us" early years childhood development awareness campaign on Tuesday. It was shown to best advantage at the University of Leeds, northern England, where she spoke with students.
The duchess paired her dress with gold accessories and a statement gold-and-cream belt.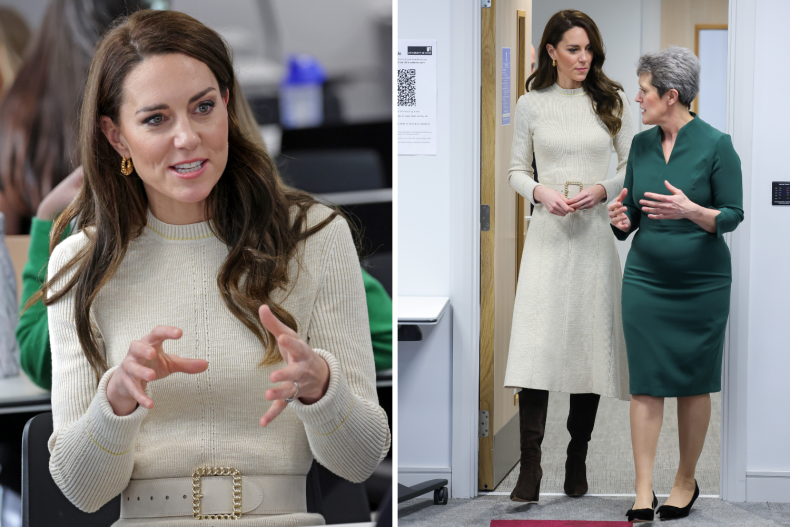 James Crawford-Smith is Newsweek's royal reporter based in London. You can find him on Twitter at @jrcrawfordsmith and read his stories on Newsweek's The Royals Facebook page.
Do you have a question about King Charles III, William and Kate, Meghan and Harry, or their family that you would like our experienced royal correspondents to answer? Email royals@newsweek.com. We'd love to hear from you.