The Biden administration has declared monkeypox a public health emergency as cases of the disease continue to spread in the U.S., according to various news reports that said the announcement came during a briefing with the Department of Health and Human Services (HHS).
As of August 3, there were a total of 6,617 confirmed monkeypox cases in the U.S., according to the Centers for Disease Control and Prevention (CDC). A CDC map of the outbreak showed that at least one case had been detected in all U.S. states apart from Montana and Wyoming as of Wednesday.
"We are prepared to take our response to the next level in addressing this virus, and we urge every American to take monkeypox seriously," HHS Secretary Xavier Becerra told reporters, according to NPR.
As the U.S. continues to contend with the ongoing COVID-19 pandemic, though data shows that COVID cases are significantly lower now than they were during the Omicron-driven surge in late 2021 and early 2022, many details on what monkeypox is, its symptoms and how it spreads may remain unclear.
According to the CDC, it is a rare disease resulting from infection with the monkeypox virus, which is part of the same family of viruses as the one that causes smallpox. The symptoms of monkeypox—which can include fever, headache, exhaustion and a rash—are similar to those of smallpox, but monkeypox is milder and rarely fatal, the CDC said.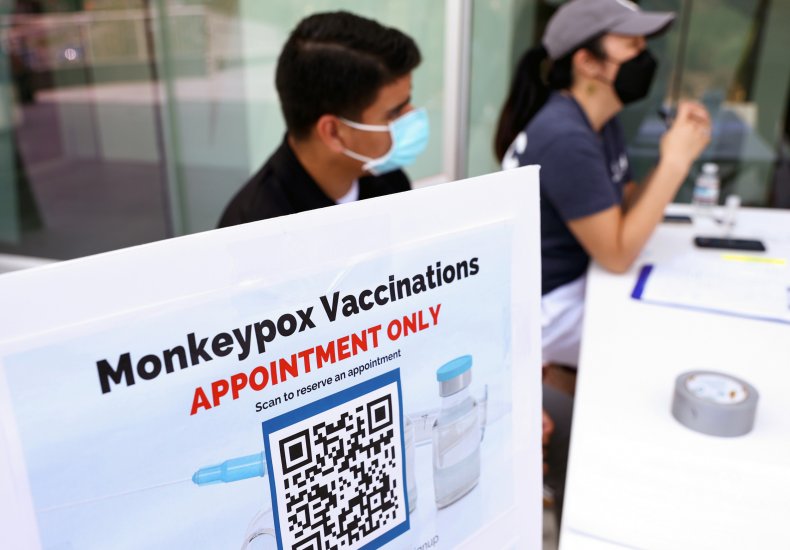 The CDC describes several ways that monkeypox can spread, particularly through close contact, including by touching monkeypox rashes, scabs or the body fluids of someone with monkeypox. Monkeypox can be spread through respiratory secretions and by touching objects, fabrics and surfaces that have been used by someone with monkeypox.
Monkeypox transmission can occur during intimate contact such as oral, anal and vaginal sex, as well as touching the genitals of someone with monkeypox. Hugging, kissing and prolonged face-to-face contact can also cause monkeypox spread.
Someone who is pregnant can spread the monkeypox virus to their fetus via the placenta, according to the CDC. People may also contract monkeypox when they are scratched, bitten, consume meat from and use products from infected animals.
A person with monkeypox can spread it to others from when the symptoms start until the rash they develop from monkeypox is fully healed and a new layer of skin has been formed. Research is still underway on whether monkeypox can be spread via semen, vaginal fluids, urine or feces, and whether it can be spread when someone does not have symptoms, the CDC said.
The Biden administration announced a team this week that would lead the U.S. monkeypox response. Though the U.S. has a stockpile of vaccines that can be used to treat monkeypox, availability and supply of the shots can differ depending on the state.
Newsweek reached out to the U.S. Department of Health and Human Services for comment.
Uncommon Knowledge
Newsweek is committed to challenging conventional wisdom and finding connections in the search for common ground.
Newsweek is committed to challenging conventional wisdom and finding connections in the search for common ground.
About the writer
Zoe Strozewski is a Newsweek reporter based in New Jersey. Her focus is reporting on U.S. and global politics. Zoe joined Newsweek in 2021. She is a graduate of Kean University. You can get in touch with Zoe by emailing z.strozewski@newsweek.com. Languages: English.