Graphic Shows What Percentage of Texas' Energy Is Renewable
Texas generated the vast majority of its energy using fossil fuels in 2020, data from the Electric Reliability Council of Texas (ERCOT) shows.
It comes as millions of Texas residents have been left without power after a brutal winter storm swept through the country.
The conditions led President Joe Biden to approve a state of emergency for Texas, as at least 24 people have been killed.
For many, power will not be restored for days, Sylvester Turner, mayor of Houston, said on Wednesday.
Power is slowly coming back online, however, with Governor Greg Abbott saying 1.2 million state residents have had electricity restored.
The issues are multi-faceted, with no single power source to blame for the state-wide blackouts.
The graphic below, provided by Statista, illustrates that 46 percent of Texas's energy was generated by natural gas in 2020, with coal producing a further 18 percent.
Wind power accounted for 23 percent of the total share, while nuclear and solar produced 11 and 2 percent respectively.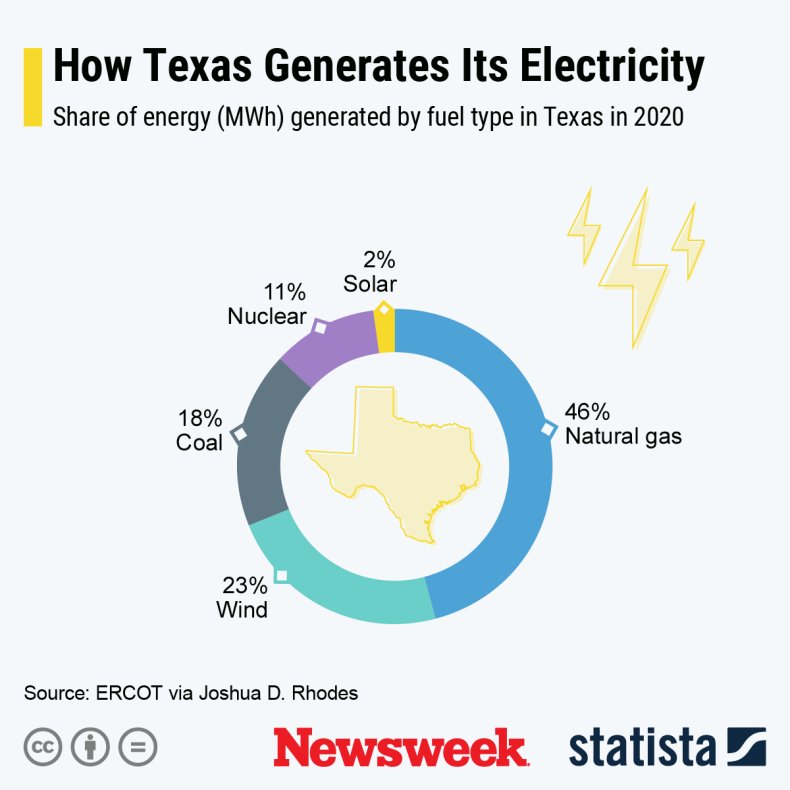 All of these sources appear to have been affected. Abbott told WFAA on Tuesday that natural gas providers have not been able to transport their product because "it's frozen in the pipeline. It's frozen at the rig. It's frozen at the transmission line."
Bruce Bullock, director of the Maguire Energy Institute at Texas' Southern Methodist University, said: "We're going to have to look at our natural gas plants and see how they can be fitted to better perform in cold weather and look at the system as a whole."
Others have pointed to frozen wind turbines. Sid Miller, the state's agriculture commissioner, said in a Facebook post: "We should never build another wind turbine in Texas. The experiment failed big time. Governor Abbott's Public Utility Commission appointees need to be fired and more gas, coal and oil infrastructure built."
On the other hand, Sam Newell, head of the electricity group at the Brattle Group energy consulting firm, said Texas' wind turbine woes were "an order of magnitude smaller" than problems with natural gas, NBC News reported.
ERCOT said in a press release on Thursday that 40,000 megawatts of energy generation is still offline due to Texas's winter storm.
"Of that, 23,500 MW is thermal generation and the rest is wind and solar. It is possible that some level of rotating outages may be needed over the next couple of days to keep the grid stable."
It shows a slight improvement from Wednesday evening, when 43,000 MW was offline. Based on ERCOT's own figures, it appears the improvement overnight is due to thermal energy coming back online.