How Patrick Mahomes' Brother Became Breakout Star of Super Bowl LVII
Patrick Mahomes is enjoying the downtime after a hard NFL season that culminated in him winning his second Super Bowl with the Kansas City Chiefs.
While the quarterback helped lead the AFC Champions to a 38-35 victory over the Philadelphia Eagles, he is not the only Mahomes who has been stealing the headlines since lifting the Vince Lombardi Trophy.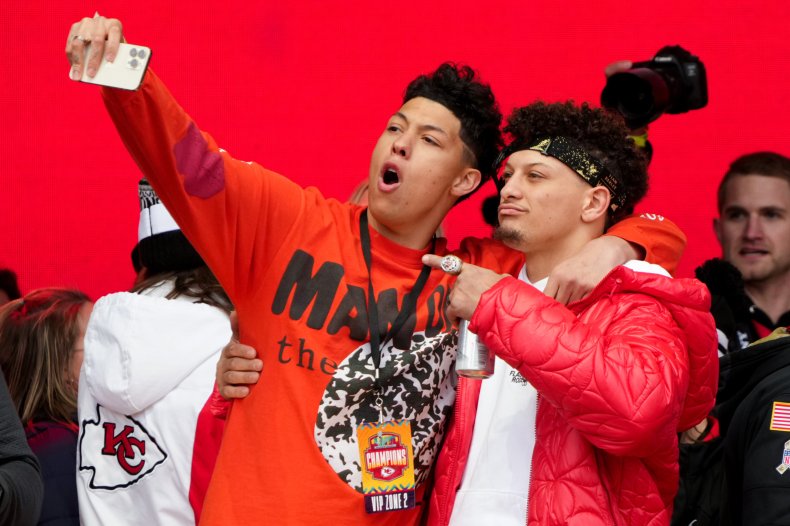 Younger brother Jackson, arguably the breakout star of the post-Super Bowl celebrations, has garnered as many headlines as the more-famous Patrick, 27.
Unfortunately, not all of these have been positive. Many on social media have accused Jackson of trying to steal the limelight from his older brother. The 22-year-old has put himself left of center of much of what has been going on in the past few weeks.
Newsweek will show how Jackson has made a name for himself.
Dancing During TV Interview
Jackson felt some heat on social media after he was seen appearing in the background of a post-game interview being given by Patrick on the field. The younger brother bust out some dance moves during the TV broadcast before checking his phone and moving away from being in shot.
At the time, it seemed that Jackson didn't realize that he was on camera. He appeared to apologize to someone off screen before moving back out of the way.
It was his first big appearance of many during the subsequent celebrations.
Branded 'Embarrassing' for Super Bowl Celebration
On his Instagram and TikTok pages, Jackson shared a video of him joining the happiness on stage at the Chiefs' victory parade in Kansas City on February 15. He captioned the clip: "Patrick and I just vibing at the parade!"
The clip has received more than 950,000 views across social media, and tens of thousands of likes. However, there have been more than a handful of dissenters, who believe he shouldn't have been so prominent.
One comment read: "Bro thinks he's on the team."
Another viewer wrote: "Can Jackson get off the dam stage? He is not connected to the football team. Always in Patrick's space. It not about you Jackson. Enough is enough."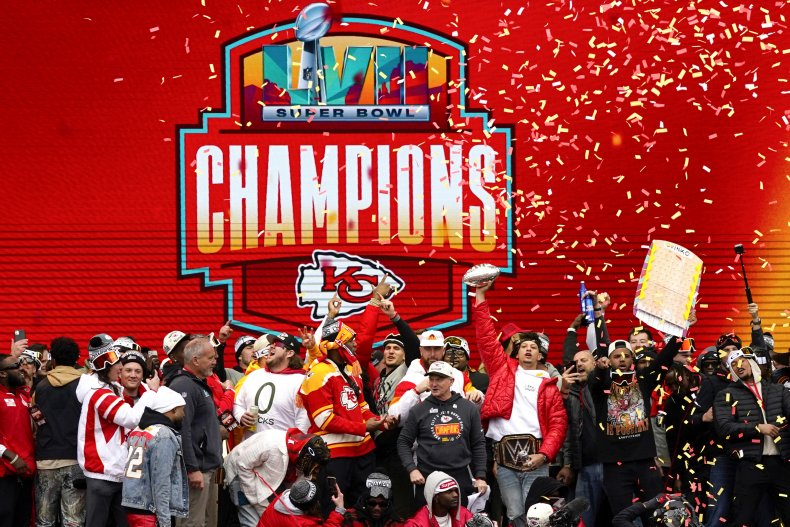 Among the negative comments, there were some that supported Jackson and told the haters to back off and let him enjoy his brother's success.
One wrote: "This man has lived with his brother his whole life...many more years than Patrick has been in this 'shallow' limelight. Shame on anyone who judges him. He loves his brother and his brother loves him....end of story."
Thanks Mom After 'Best Week'
After a joyous time, Jackson took to Instagram to pay thanks for those who helped make it a memorable couple of weeks, as well as sharing love for his mom.
Jackson posted a picture of him with Randi Mahomes and captioned it: "Had the best week for Super Bowl. Was so awesome getting to spend the whole week with @randimahomes by my side. love you mom always!!"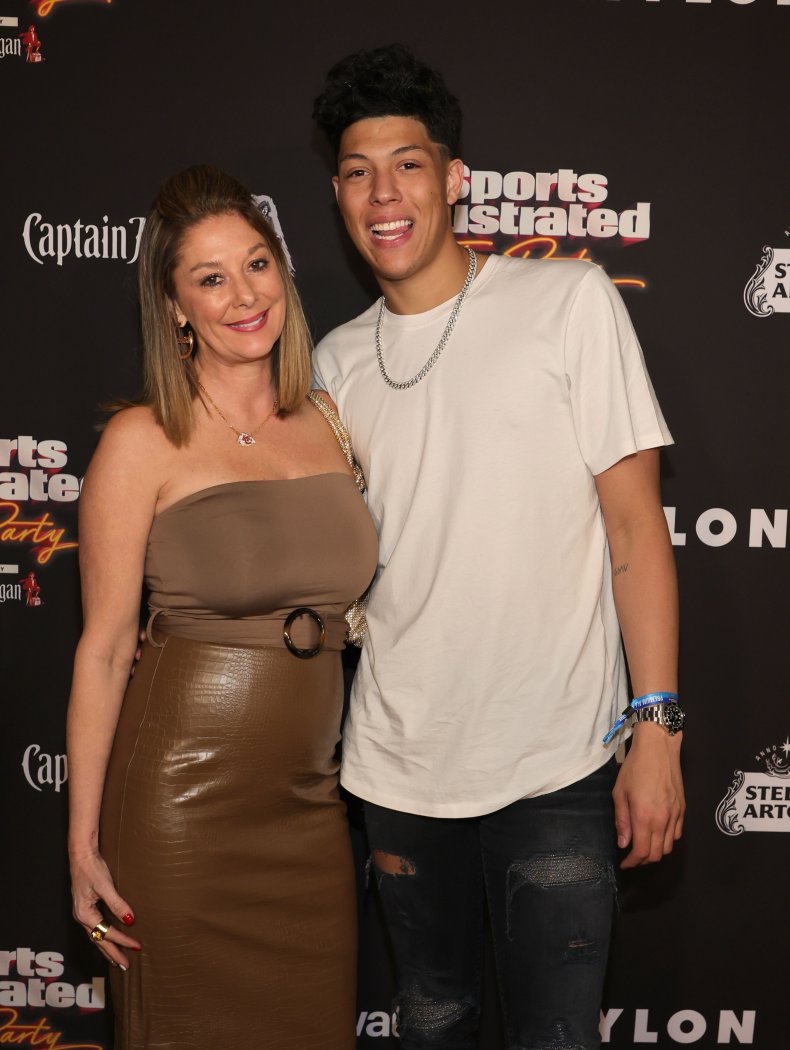 Told to 'Get a Job'
While posting a photo of him with his mom seemed wholesome enough, there was plenty of fallout as the haters began attacking Jackson within moments of the pic being posted.
Many criticized the younger Mahomes brother in the comments, with one person writing: "Do something with your life." Another added: "Get a job."
Jackson is a social-media influencer who has more than 1.1 million followers on TikTok alone.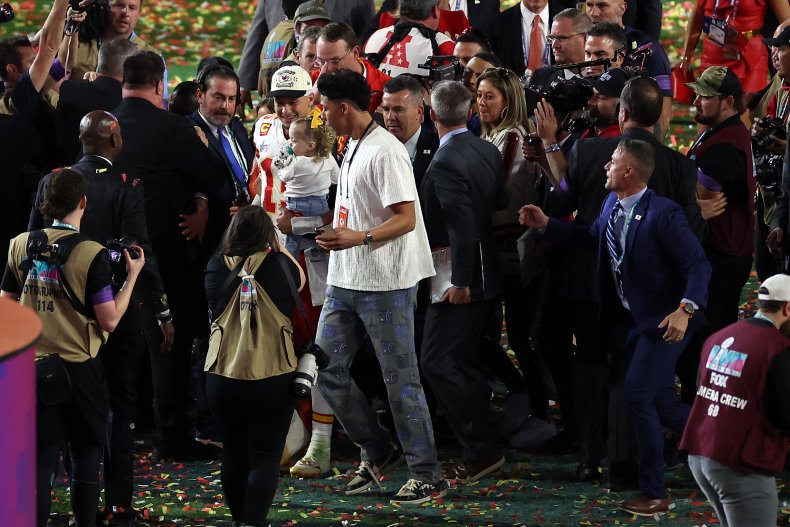 Shades JoJo Siwa
Jackson has had a moment of self-awareness but, in doing so, may have inadvertently shaded social-media star and former Dance Moms alum JoJo Siwa in the process.
His latest TikTok clip has gone viral with more than 2.2 million views. Jackson uses a clip of Siwa, with a caption that reads: "I know someone who gets more hate than you..."
Do you have a tip on a sports story that Newsweek should be covering? Do you have a question about the NFL? Let us know via entertainment@newsweek.com.