Jackson Mahomes Shades JoJo Siwa Amid Online Backlash
Jackson Mahomes has shaded teenage social media sensation JoJo Siwa with a slight on TikTok.
The 22-year-old brother of Kansas City Chiefs quarterback Patrick Mahomes, 27, has taken some heat in recent weeks as he faced a huge backlash online for his behavior following the Chiefs win over the Philadelphia Eagles in the Super Bowl.
Jackson's celebrations of his brother's successes over recent times has seen him called out on numerous occasions, but over the past couple of weeks (as the Chiefs celebrated a second Super Bowl win in four years) the trolling increased to an almost deafening level.
The younger Mahomes brother has more than 1.1 million followers on TikTok and has now brought in former Dance Moms star Siwa, who boasts more than 45 million followers and more than 1.8 billion likes on the social media site, as he posts a self-deprecating comment which also seems to shade the reality star in the process.
In the clip, Siwa is seen racing across a room towards the camera, as 'Mrs. Right'
by Mindless Behavior is played.
Mahomes seems to have added a caption which indicates that Siwa is a vilified figure on social media. It read: "I know someone who gets more hate than you..."
As Siwa mouths "I wanna say hi," Mahomes points at himself as he has suffered a lot of abuse online over the past few weeks.
This time there was some respect for Mahomes, as many praised him for realizing the situation he has been in since the Chiefs' Super Bowl triumph.
The top comment, with more than 34,000 likes was: "At least he's self aware"
Another agreed, adding: "At least he's not completely clueless"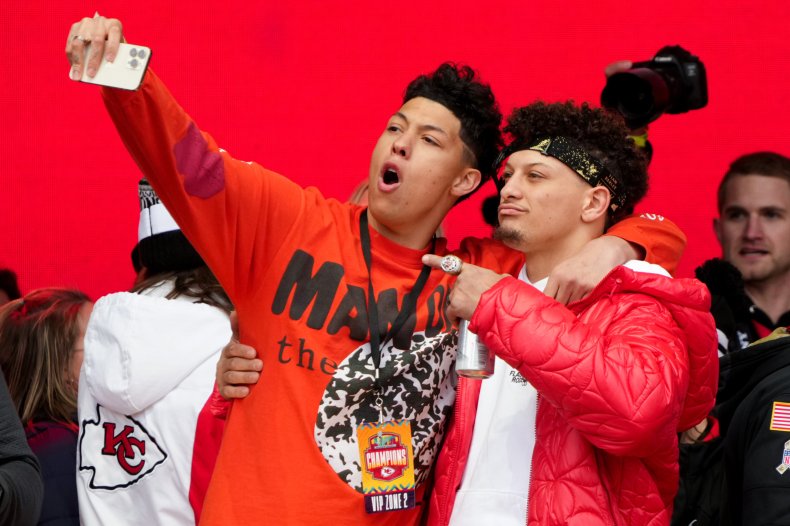 Others were changing their opinion on Jackson, with one user declaring: "This might be your best tiktok yet."
While a fourth admitted: "I actually kinda respect you for this one."
Jackson has been hitting the headlines in recent weeks as he joined the Super Bowl celebrations to such an extent he was accused of many of trying to take the limelight from his MVP winning brother.
The younger Mahomes brother was seen dancing in the background of a postgame interview on the field after the Super Bowl, before being told to move back by a TV producer.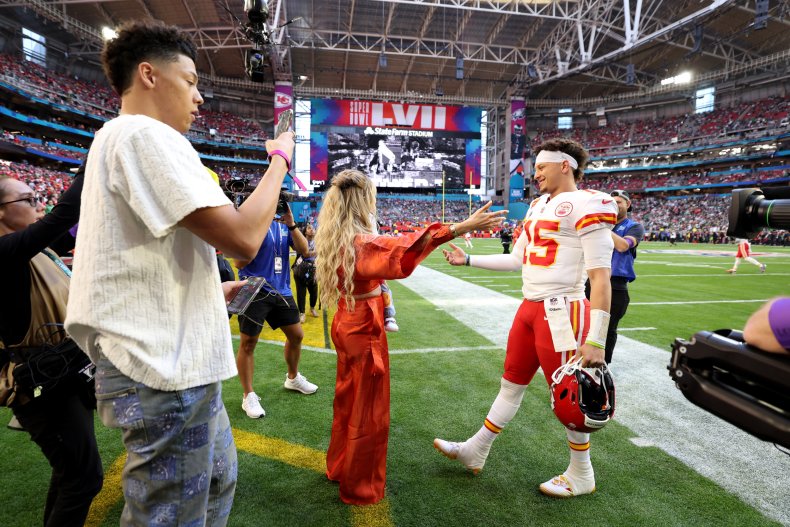 He then enraged Chiefs fans after being on stage at the team's victory parade in Kansas City, with his dancing once again called into question as it was branded "embarrassing" by internet trolls.
He then posted a picture of himself with mom Randi Mahomes and captioned it: "Had the best week for Super Bowl. Was so awesome getting to spend the whole week with @randimahomes by my side. Love you mom always!!"
This was like a red rag to a bull for many, who tore into Jackson in the comments.
One person hit out at Jackson, telling him: "Do something with your life."
While another felt that he should be making his own way now, commenting: "You should get a job, Jackson."
The TikTok clip, even if it was not meant to shade Siwa, is a nod to the heat he has been getting and has proved that he is not totally unaware of what is happening outside his bubble.
Do you have a tip on a sports story that Newsweek should be covering? Do you have a question about the NFL? Let us know via entertainment@newsweek.com.