How Rash of Flight Cancellations May Affect Southwest's Top Airline Quality Ranking
Southwest Airlines was ranked the top airline of 2021 by the Airline Quality Rating (AQR), but a rash of flight cancellations over the weekend could potentially jeopardize its standing.
Thousands of Southwest flights were canceled over the weekend, and hundreds more were canceled Monday due to air-traffic control issues and poor weather in Florida, according to the airline.
The Southwest Airlines Pilots Association blamed poor planning and a schedule that does not leave a margin for recovery when things go wrong for the cancellation and delays.
Daniel Burnham, a member operations specialist with Scott's Cheap Flights, told Newsweek that it is possible the airline's AQR could be lower as a result of the delays, but questions how it will impact the company overall.
"I question whether lower rankings will have a long-term reputation impact on Southwest, given that few consumers closely track these indices and primarily make travel decisions based upon price and convenient scheduling," he said.
"Southwest has been a market leader in terms of low complaint rates to the US Department of Transportation, so they have a fair degree of latitude in the AQR rankings for their complaint and on-time performance numbers to dip for a single month," Burnham added.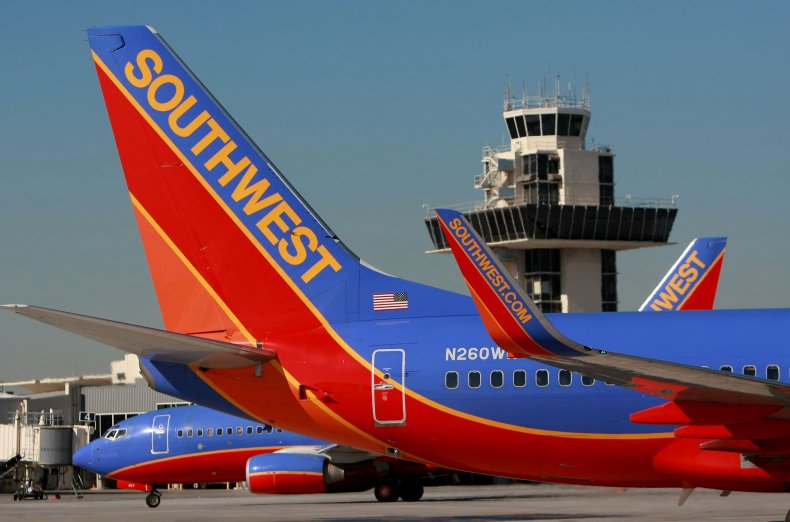 He urged Southwest to focus on rehiring its staff throughout its organization to match increased consumer demand for domestic travel.
"Increasing slack in the system will help them to better manage irregular operations during peak holiday travel periods," he wrote.
The AQR measures airlines on their customer complaints, mishandled baggage, denied boardings and how on-time their flights are. Being on time carried the heaviest weight in the algorithm, according to the 2021 report.
Burnham pointed out that canceled flights are not a metric included in the formula.
When it comes to on-time flights, Southwest ranked toward the top, only below Hawaiian Airlines, Delta Air Lines and Alaska Airlines, according to the report.
No other airline experienced widespread delays over the weekend. On Sunday, when 1,124 Southwest flights—30 percent of its total operation—were delayed, Delta Air Lines only reported three cancellations, while American Airlines had 167 delays, according to FlightAware, a site that tracks commercial flights.
On Sunday, SWAPA dismissed claims the cancellations were due to sickouts protesting the airline's vaccine mandates.
"Under the RLA, our Union is forbidden from taking job action to resolve labor disputes under these circumstances. SWAPA has not authorized, and will not condone, any job action," the airline said in a statement.
The cancellations come at an already grim time for the airline industry, which was hit hard by the COVID-19 pandemic, as fewer people have been traveling.
Southwest said in August that it no longer expected to make a profit in the third quarter due to a poor travel outlook, as rising COVID cases fueled by the highly contagious Delta variant halted many peoples' travel plans. The company was profitable during both June and July without government assistance, for the first time since the pandemic began.
In the first half of 2021 alone, U.S. commercial airlines reported $4.3 billion in pre-tax losses, according to Airlines for America, an airline industry advocacy group.
In an October 8 report, the organization warned, "After several months of steady increases, new ticket sales have subsided in large part due to a resurgence of COVID-19 cases and hospitalizations."
Some Southwest workers have recently voiced concern over the airline's vaccine mandate, with the pilots union filing a lawsuit and authorizing its workers to demonstrate against the mandate. The union has also authorized $1 million in support of those protests, which could begin this fall.
Newsweek reached out to Dr. Dean Headly, one of the researchers for the AQR, for comment Monday evening but did not hear back before publication.
Correction 10/12/2021, 12:20 p.m. ET: This story was updated to correctly reflect Daniel Burnham's job title as a member operations specialist with Scott's Cheap Flights.