Southwest Airlines Pilots Association has rejected "false claims" from conservative figures that the recent mass flight cancellations were due to a vaccine mandate walkout protest.
Southwest Airlines canceled more than 1,000 flights on Sunday, with hundreds more already canceled early Monday morning, blaming "disruptive weather" and an "FAA [Federal Aviation Administration]-imposed air traffic management program" for the high volume of cancellations throughout the weekend.
"Although we were staffed for the weekend, we could not anticipate the significant disruption that was created from unexpected ATC [air traffic control] issues and bad weather across our Florida stations," Alan Kasher, executive vice president of daily flight operations, told staff on Sunday in a memo seen by Newsweek.
"As we know, irregular operations disrupt even the best plans and can make it difficult to recover the operation quickly."
Texas Senator Ted Cruz was one of those who speculated that the mandate introduced by President Joe Biden, that all federal workers must be vaccinated against COVID-19, was the reason for the cancellations.
"Joe Biden's illegal vaccine mandate at work. Suddenly, we're short on pilots & air traffic controllers #ThanksJoe," Cruz tweeted.
Southwest Airlines previously said in a statement that as a federal contractor they have "no viable choice" but to comply with the government's vaccine mandate.
A number of their right-wing figures also made the same speculation on social media.
Filmmaker and former California congressional candidate Errol Webber tweeted: "Southwest Airlines employees, keep pushing back! Air Traffic Controllers, keep pushing back! Hold the line! Make the airline industry crack."
Breitbart News reporter Alana Mastrangelo added: "Southwest employees are true patriots. Rebellion against tyranny is such a beautiful thing."
Political commentator Chad Prather, talk show radio host Jessie Kelly, and Jillian Anderson, a former Fox News producer turned talent booker for Candace Owens, also made similar comments on Twitter.
However, Captain Casey Murray, president of the Southwest Airlines Pilots Association (SWAPA), dismissed the "false claims" of a vaccine mandate-related walkout as the reason for the disruptions in a statement on Sunday.
"I can say with certainty that there are no work slowdowns or sickouts either related to the recent mandatory vaccine mandate or otherwise. Under the RLA, our Union is forbidden from taking job action to resolve labor disputes under these circumstances. SWAPA has not authorized, and will not condone, any job action," Murray said.
"SWA has claimed that the immediate causes of this weekend's meltdown were staffing at Jacksonville Center and weather in the southeast U.S., but what was a minor temporary event for other carriers devastated Southwest Airlines because our operation has become brittle and subject to massive failures under the slightest pressure.
"Our operation and our frontline employees have endured continuous and unending disruptions since the first time our airline made headlines in early June due to widespread IT failures. Our Pilots are tired and frustrated because our operation is running on empty due to a lack of support from the Company."
Murray said the union is due to meet with Southwest Airlines Vice President of Flight Operations Bob Waltz on Monday to discuss these issues and "many other concerns our pilots have."
The claims were also dismissed by Southwest Airlines in a statement to Newsweek.
"Our operational disruptions over the weekend were not a result of Southwest Employee demonstrations," a spokesperson said.
"Bad weather and ATC issues in Florida, a large operation for us, on Friday night created significant flight disruptions throughout our network and we spent the weekend working to recover from the high number of displaced Crews and aircraft.
"Today's operation is closer to normal with a small number of cancellations linked to our recovery efforts."
The speculation that pilots are actively opposing the vaccine mandate appears to have stemmed from the SWAPA's previous statement in which they criticized the airlines for announcing they will be implementing the measure and ensure that all its workers are vaccinated by November 24 unless exempt.
"We want to be perfectly clear: SWAPA is not anti-vaccination, but we do believe that, under all circumstances, it is our role to represent the health and safety of our Pilots and bring their concerns to the Company," the union said.
SWAPA said that they have not had any "meaningful conversation" with Southwest about the possibility of any other type of qualified exemptions, such as levels of antibodies or natural immunity.
The union added that SWAPA would be filing a Temporary Restraining Order (TRO) in order to stop Southwest Airlines from proceeding with the mandate.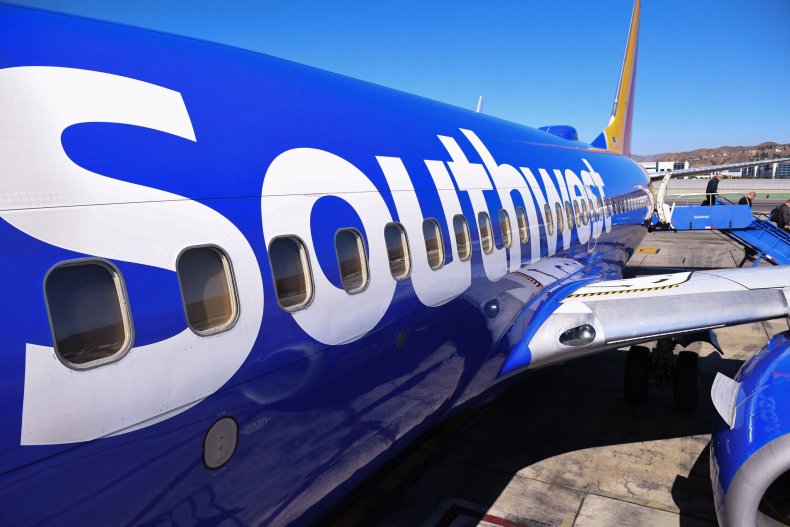 Update 10/11/21, 9:13 a.m. ET: This article was updated with comment from Southwest Airlines.