How Taiwan's Military Power Compares to China
Tensions are surging around the island of Taiwan following House Speaker Nancy Pelosi's controversial visit.
China, which regards Taiwan as part of its territory, reacted with fury to the trip and has begun four days of live-fire military exercises in six zones around the island, some of which encroach on Taiwanese territorial waters.
In response, Taiwan has accused Beijing of imposing a de facto blockade and said it is "preparing for war without seeking war".
However, if open conflict does break out, Taiwan will be severely outgunned on the ground, in the air and at sea, according to a U.S. report.
In 2021, the Department of Defense published a report to Congress titled "Military and Security Developments Involving the People's Republic of China", which analyses the relative strength of the Chinese and Taiwanese militaries in depth.
Based on 2020 data, it concluded China has 1,040,000 troops, versus just 88,000 for Taiwan.
China can support its troops with 6,300 tanks and 7,000 artillery pieces, whilst Taiwan can field 800 and 1,100 respectively.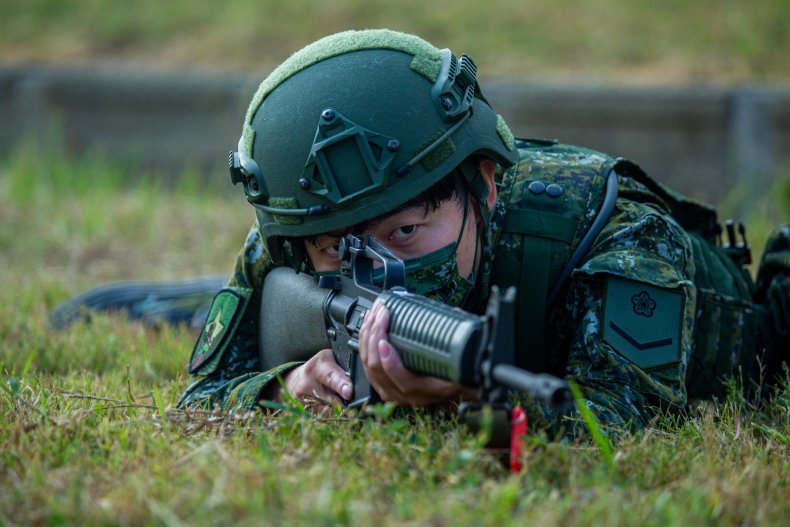 Beijing also holds a massive naval advantage, with Taipei having no equivalent to its two aircraft carriers.
The Chinese can deploy 32 destroyers and 48 frigates, as against four and 22 respectively for Taiwan.
In submarine warfare, Beijing is utterly dominant, with nine nuclear attack and six ballistic missile submarines.
Taiwan doesn't have any of either, and only has two diesel attack submarines versus 56 for China.
The comparison in the air is also starkly lopsided, with Beijing fielding 1,600 fighter aircraft versus 400 for Taiwan.
China also has 450 specialist bomber aircraft and 400 transport aircraft, whilst Taipei only has 30 transport planes and no bombers.
Despite its clear superiority in forces, an invasion of Taiwan, which would likely require one of the biggest amphibious assaults in military history, would not be easy for China.
Along with entrenched Taiwanese defenders, Beijing could face forces from Taiwan's allies such as the United States and Japan.
While the U.S. military, by far the best funded in the world, only has 30 military personnel in Taiwan itself, it has over 79,000 soldiers stationed permanently in nearby Japan and South Korea.
The United States has historically maintained a policy of "strategic ambiguity" over its intentions if Taiwan is invaded.
However, in October 2021 President Joe Biden said the U.S. has a "commitment" to defend Taiwan, which lies just 81 miles from the Chinese coast at its nearest point.
The remarks were later clarified by the White House, which insists U.S. policy remains unchanged.
Japanese support for Taiwan has also become more forceful over the past couple of years, breaking with its previous policy.
In June 2021 Yasuhide Nakayama, Japan's then deputy defense minister, told a conference "we have to protect Taiwan, as a democratic country".
Speaking to the BBC in July, General Mark Milley, America's top general, said there are "no indications or warnings" that a Chinese attack on Taiwan is imminent.
However, he warned China "clearly is developing a capability" to attack, adding "we watch it very carefully".
The Chinese and Taiwanese foreign ministries have been contacted for comment.